Thursday, April 19, 2007
Page 11
REMINISCING (Column)
Jevne Helps Out Uncle Sam By Firing His Sales Force
By ROGER M. GRACE
Grocer Hans Jevne had a small army of salesmen who went door-to-door, soliciting orders. During the final phase of World War I, he did the patriotic thing. He fired them.
The correlation between issuing pink slips and serving the national interest is not apt to be instantly discerned. But the fact is that Jevne was acceding to a request of the Commercial Economy Board of the National Council of Defense, a request made to grocers across the nation.
This ad for H. Jevne Co. appearing in the Los Angeles Times on Aug. 14, 1918, explains it: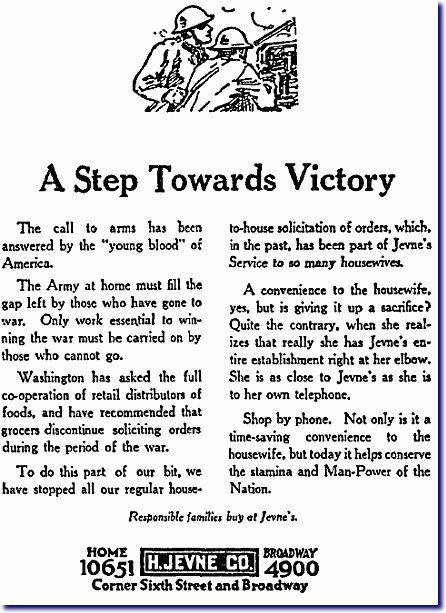 (You'll notice there's no longer reference to Jevne's smaller store in leased premises at 208-210 S. Spring Street. Jevne did still have operations there, however; when he closed his retail business in 1920, his fixtures and oak shelving were offered for sale there.)
Other local merchants likewise proclaimed in 1918 ads their compliance with government requests. One, for the Packard dealership of Earle C. Anthony (who became longtime owner of KFI radio and a dabbler in TV station ownership), makes note that the Council of National Defense was "urging all communities as far as possible to adapt the motor truck to their local needs and encourage its use in any way to help ease existing transportation problems." Again, how the use of trucks equates with getting behind the war effort is not immediately clear. The ad explains:
"EFFICIENT HAULING is now a patriotic duty. It will release railway cars for government use."
The May 5 ad announces that the Packard Motor Car Co. was promising a total of $5,000 in "awards" to Packard truck users who demonstrated "efficient hauling" by them.
Anthony was then located at 1000 S. Hope Street.
The auto dealers also cooperated by entering into a pact to cut out selling on credit. An Aug. 15 ad says: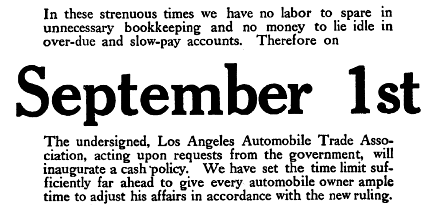 Here were competing dealerships banding together to formulate a policy against credit-selling. This came shortly on the heels of the prosecution of the city's bread makers—Jevne being the lead defendant—for an antitrust conspiracy in the form of agreeing that their loaves would not be sold by retailers for less than 15-cents. (There will be more about that later.)
But the auto dealers, unlike the bread-makers, were truly not acting voluntarily. The Times's news report, appearing the same day as the ad, notes that where the Commercial Economy board has made a recommendation, industry compliance had followed, and "it has never yet been necessary" for the board "to issue a drastic order."
The article continues that if there were to prove "reluctant members" among the auto dealers, "there will no doubt be a drastic order follow which they would probably not relish."
Copyright 2007, Metropolitan News Company