Thursday, April 5, 2007
Page 15
REMINISCING (Column)
Jevne Sold Perfect Food For Breakfast: Fish
By ROGER M. GRACE
Our daughter, Lisa, used to make fun of her parents' eating habits.
She'll bring us a carton of eggs she gathered that morning at her ranch in Agoura, and we'll consume four or five of them that night. In fact, we used to eat eggs at night, on occasion (especially in the form of shrimp and onion omelletes), even before she started bringing us super-fresh ones. Eggs for dinner? That was too unconventional for Lisa.
It struck her as being about as bizarre as my consumption of seafood in the morning. There's no more invigorating food, I've found, than mollusks…clams, oysters, mussels. What a great way to start the day. Smoked fish is also an excellent first meal—not only kippers (smoked herrings), favored by Britishers, but smoked salmon, cold smoked mackerel, etc. That, however, struck Lisa as, well, strange.
She has, however, revised her view. She e-mailed me recently to say:
"Some guy is making a fortune with the 'Reverse Diet.' His book touts the health benefits of eating fish for breakfast and eggs for dinner. See, next time you come up with a wierd idea, make it a book."
Actually, fish for breakfast is nothing new. It's commonly consumed in the morning in many lands. In fact, it was at one time not unusual breakfast fare here. But taste in foods varies greatly with the times.
And that leads me to this week's column on past times in Los Angeles, centering on a grocer whose store once occupied the space our newspaper offices now fill, Hans Jevne.
Some of the foods he sold would be as unfamiliar to us today as sushi and pasta salads would have been to him. Here's a Jevne ad in the Times from Jan. 31, 1907, for finnan haddie (smoked haddock, cooked in milk), a dish not apt to appear these days on breakfast tables except those of persons haling from Scotland: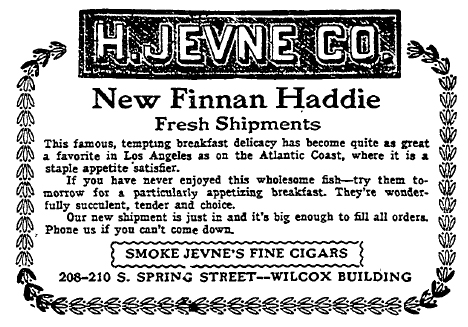 A Feb. 14, 1907, ad says that "[a]bout the most tempting breakfast delicacy you could think of is the delicious salt mackerel our Fish Department offers." The ad also suggests ordering "the succulent Norway Herring for a change."
Sounds pretty good to me.
On the other hand, some of what Jevne sold doesn't strike me as appetizing. A Dec. 28, 1915 ad announces the availability of "Raisinette," sold in pint or quart bottles. It was raisin juice. (I don't know how you can obtain a juice from something that's dried and waterless but, in any event, it doesn't sound enticing.)
Also offered for sale in the ad were pickled lamb's tongues…something I'd be willing to try, but which Lisa, a part of a generation that frowns on organ meats, would no doubt find revolting.
Jevne's 1912-13 catalogue lists under "coffee substitutes" not only Postum, still on the market, but products like "Caramel Cereal" and "Roasted Rye."
Among the spices listed is a product I didn't know of when I did a series of columns on Tabasco Sauce: McIlhenny's powdered Tabasco. Also, McIlhenny's green pepper sause, supposedly something relatively new, was being sold.
There were 14 brands of condensed milk listed, including "Hansen's Buttermilk Tablets."
For 33 cents, you could obtain a small bottle of Heinz's "mustard ketchup," not one of its enumerated "57 varieties" and probably not long produced.
Eggs were 55-cents a dozen and were warranted to be "Strictly fresh Ranch Stock." There might even have been some oddball customers back then who consumed the eggs for dinner.
Copyright 2007, Metropolitan News Company