Thursday, March 1, 2007
Page 15
REMINISCING (Column)
Jevne: Retail Grocer, Wholesaler, Bank Director, Civic Leader
By ROGER M. GRACE
When Norwegian immigrant Hans Jevne first opened up shop in downtown Los Angeles in November 1882, in a small space now within the confines of City Hall, selling groceries to members of the public was his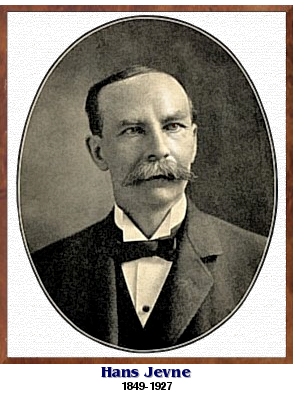 only pursuit. As his business expanded, as he became an "American success story"—to use a once hackneyed and now arcane phrase—his interests multiplied…though his primary and most visible role remained that of a retail grocer.
Jevne "was always on the main floor" of his store, "giving a kind smile and a glad hand of welcome to all who entered his door," Herman W. Frank writes in "Scrapbook of a Western Pioneer," published in 1934. But Frank (a founder of Harris & Frank clothiers) goes on to point to another side of Jevne, saying he was "the type of man with a civic spirit that helped build Los Angeles and the Los Angeles Chamber of Commerce."
Jevne was one of the organizers of the Chamber of Commerce in 1888, a time when the city was experiencing a drastic decrease in population…set then at about 50,000, down from 70,000 in 1880. Among of the group's early efforts was that of seeking to lure mid-west and southern farmers here by means of an exhibition dubbed "California on Wheels," located in a railway car. The car traveled through the farm regions over a two-year period, displaying agricultural products of this state.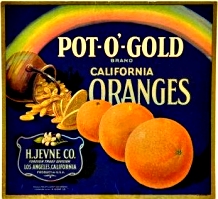 As a civic leader, Jevne pushed for causes—such as adoption of a city charter and construction of a deep water harbor in San Pedro—but didn't care to involve himself in partisan politics.
His business interests were varied. The one that went hand-in-hand with the retail grocery operation was his wholesale venture which encompassed the manufacturing of his own brands of products, including Pot 'O' Gold oranges. He produced La Crescenta brand olive oil and was involved in quite a different sort of oil as a director of Western Union Oil Co. and Edmonds Midway Oil Co.
Many of his activities were conducted in the Wilcox Building, at Second and Spring streets. The building was opened in 1896, and Jevne had the space on the first floor at the south end of it (where, as I've noted, this newspaper now has its offices).
On the evening of July 20, 1896—one week before H. Jevne Company opened its new store there—the Merchants and Manufacturers Assn. dedicated its offices in the building and celebrated the formation of its organization, an amalgamation of two existing groups. Jevne had been active in the Merchants' Association, serving on the Executive Committee, and was to be a key player in the fused alliance. He continued to play a major role in the staging of the annual Fiesta de Los Angeles which brought money into the city and was a leader of the group's opposition to an occupational license tax.
On the fifth floor was the California Club, of which Jevne was a charter member, a place where business was transacted over brandy and cigars. The first-floor corner space came to be occupied in 1901 by First National Bank of Los Angeles, of which Jevne was a director.
(Among the other directors of the bank were real estate investor Henry Huntington, who owned much of the county's electric railway system; Walter J. Trask, a founder of the law firm that became Gibson, Dunn & Crutcher and who was to serve as Los Angeles Bar Assn. president in 1910; C.H. Sessions whose 400-acre dairy ranch adopted the maiden name of his wife, Lynne Wood, with the land later becoming the City of Lynwood; and Jared S. Torrance who was to found the City of Torrance.)
"He was not only one of the city's most substantial business men," the 1932 book "California and Californians" says of Jevne, "but a citizen who took a keen and intelligent interest in the affairs of his community."
Harris Newmark—a leading merchant, a founder of Montebello, and an organizer of the Los Angeles Public Library—says in his 1916 book, "Sixty Years in Southern California," that "Jevne, since his advent here, has been identified with the most important steps in the evolution of the city."
Copyright 2007, Metropolitan News Company