Thursday, February 22, 2007
Page 15
REMINISCING (Column)
Just Tell the Operator: 'Give Me Main 99'
By ROGER M. GRACE
If you wanted groceries delivered to your home by the H. Jevne Co., you had but to place an order by using that handy, new-fangled device, the telephone. This ad in the Los Angeles Times on Nov 8, 1898 tells you what to say when the operator responds to your lifting the earphone from the hook: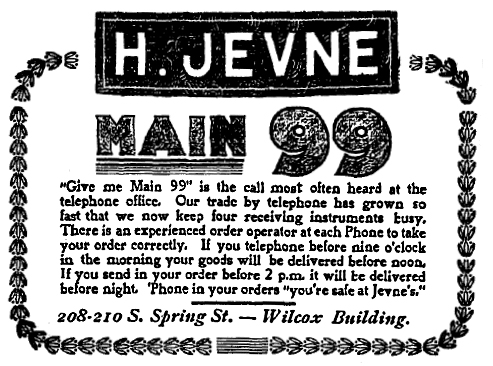 "MAIN" was a switchboard prefix. In 1891, there was apparently only one switchboard in these parts; a book on homemaking published that year by Jevne lists his phone number as simply "99."
Telephone service began in Los Angeles in 1881. The Los Angeles Telephone Company, which later changed its name to the Sunset Telephone and Telegraph Company, had a monopoly.
Boyle Workman, in the 1936 book, "The City That Grew," recounts that there arose "a rebellion against the excessive rates" charged by Sunset and "a group of Los Angeles men, headed by A. B. Cass, organize[d] an independent company known as Home Telephone and Telegraph Company." He notes:
"They were first to adopt the dial phone."
Henry O'Melveny, who was to go on to found O'Melveny & Myers, represented the company in securing a city franchise in 1897. Henry Huntington, the entrepreneur who had gained control of L.A.'s electric rail lines, owned a chunk of the new enterprise…which was in operation by 1903. Within a year, it had about 10,000 customers.
The problem for customers was that the two telephone companies used different systems, covered by competing patents. So, if you were a Sunset subscriber, you couldn't converse by phone with a Home subscriber, and vice versa.
Grocer Hans Jevne felt compelled to install lines of both companies, and he managed to secure the phone number of "99," familiar to customers, from Home. A March 9, 1909 ad reads: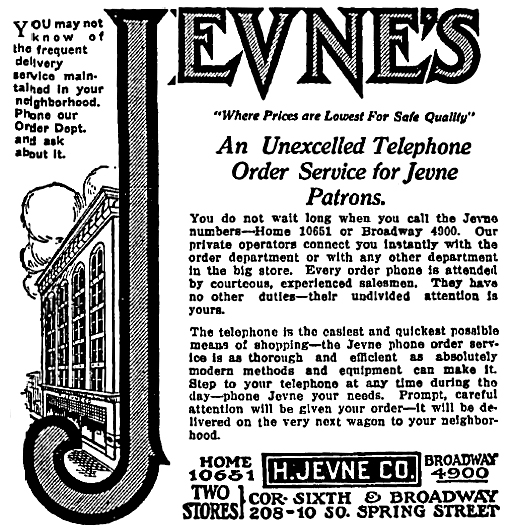 "Our telephone system touches every department of the store making it convenient to get any information you want. Try the Jevne prompt telephone system for anything you may need. Either Company Exchange 99."
By 1911, however, there were too many telephones in the area for two-digit numbers to remain. Here's an ad from March 17, 1912 with Jevne's new numbers:
Sunset and Home were absorbed in 1915 into Pacific Telephone and Telegraph Company. Jevne retained both phone numbers, though there was soon no need to use the prefix "Home"—that is, the numerals "10651," alone, sufficed.
Copyright 2007, Metropolitan News Company