Thursday, February 8, 2007
Page 15
REMINISCING (Column)
100 Years Ago, Electric Tracks Spanned County and Beyond
By ROGER M. GRACE
A hundred years ago, the map of Los Angeles County was criss-crossed by interconnected lines representing the tracks of street cars, vehicles propelled by electricity fed from overhead wires.
The Wilcox Building at Second and Spring in downtown Los Angeles, the structure which housed the upscale grocery store of Hans Jevne, could be reached by southbound rail cars coming from Burbank, Glendale, Casa Verdugo (an area later annexed by Glendale), Pasadena, Altadena and mountain areas to the north. It could be accessed from eastern and south-eastern points including Alhambra, Dolgeville (now part of Alhambra), Norwalk, and Clearwater (presently known as Paramount). Rail cars came north from Wilmington and San Pedro, and from Alamitos Heights and the city which later absorbed it, Long Beach. There were downtown-bound lines starting in the west at Redondo Beach, Playa del Rey, Santa Monica, and Ocean Park (then a city, later renamed "Venice," now an area of the City of Los Angeles).
The editor/owner of this publication in 1907, Susie P. Miller, could have travelled (and very well might have) by electric rail from her office in Sawtelle—then a city, just west of what would later become Westwood—to Jevne's…little suspecting that the Jevne premises would, a century later, be the home of her newspaper.
A century ago, it was a quick trip to L.A. from Hollywood…which, at that time, also was a city. (Its founder, Harvey Wilcox, was not connected to the Wilcox Building in downtown L.A.)
Sawtelle and Hollywood were in 1907 part of the Pacific Railway's "Balloon Route Trolley Trip," traveled both by locals and by tourists. The route included the beach cities, as well as Laurel Canyon (then spelled "Canon," based on the Spanish, "Cańon"), Colegrove (South Hollywood), Sherman (West Hollywood) and Westgate (Brentwood). (A 1905 California Supreme Court decision tells of a special "lemon train" dispatched every now and then to Colgrove from Sherman to pick up lemons, destined for Santa Monica.)
There was electric traffic between Los Angeles and various points in Orange County. A passenger could get on an electric car in Huntington Beach (named after the railway's owner) and go to Santa Ana, from there to Watts, and on to downtown L.A.
By this time, Second and Spring, though not lacking in electric car traffic, was no longer where the lines converged. On Jan. 15, 1905, the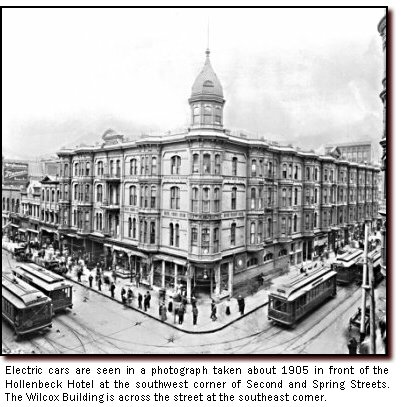 Huntington Building, on the southeast corner of Sixth and Main, opened. It served both as an office building and the downtown terminal of the Pacific Electric Railway Company, formed in 1901 by real estate magnate Henry Huntington, nephew and heir of Southern Pacific Railroad president Colis Huntington.
Henry Huntington in 1898 had bought up the stock of the Los Angeles Railway Company, and proceeded to acquire other transit companies, tearing out what cable lines still remained, constructing electric lines in their place.
Today, southbound buses go past our building on Spring Street. Public transportation began on that street 132 years ago. It was in 1874 that a horse-drawn street car system was installed on Spring, with passengers going to and from the business area surrounding the plaza into the residential area south of First Street.
By 1907, electric railways had supplanted cable lines...which succeeded horse-drawn cars on tracks...which came after horse-drawn conveyances that weren't on tracks. A July 1, 1903, California Supreme Court opinion had an upbeat prognostication as to the future of electric transit, saying:
"Electric roads…were first operated upon the streets of a municipality. They next extended out upon the suburban roads and county highways. They now run freely between counties. They are projected over all parts of the state, and, if the expressed conviction of many prominent engineers is to be credited, it will not be long before even between states they will to a great extent have supplanted the present steam railroads."
Copyright 2007, Metropolitan News Company