Thursday, January 18, 2007
Page 11
REMINISCING (Column)
H. Jevne Co. Store Accessible by Various Transportation Modes
By ROGER M. GRACE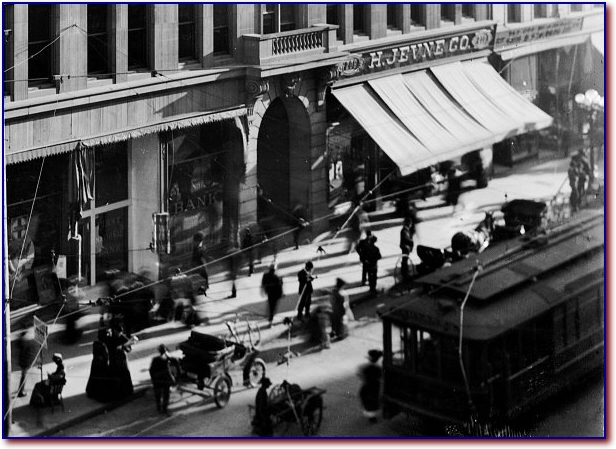 There it is, in the photo above, to the right. H. Jevne Co., at 208-210 South Spring Street. If you'd been around 100 years ago today and were tantalized by Jevne's ad in the morning Times for fresh-out-of-the-oven rye bread, or by delicacies mentioned in other days' ads, you might have been inclined to head off to the store, L.A.'s upscale supermarket. If so, you would probably have had no difficulty getting there. Depending on your distance from the store and your financial means, you could have come by foot, bicycle, horse, buggy, carriage, automobile, train, or electric railway car.
The Wilcox Building at Second and Spring, in which the Jevne store was located from 1896-1920, is now part of the southern sector of the Civic Center. It's a block south of City Hall, immediately south of where the new police headquarters is being constructed, and a block north of the Ronald Reagan State Building. It's kitty-corner to the Los Angeles Times Building, and north and east of a business district.
But it used to be that a residential area was to the south…receding farther and farther south as the business district expanded in that direction…and homes on Bunker Hill were but a few blocks to the west. So, this same store I described last week as serving customers throughout the southwest U.S. was, to some, a neighborhood market.
As of 1901, denizens of mansions on Bunker Hill (or their servants) could take either of the cable-hoisted funicular cars, Olivet or Sinai, down to Third and Hill (no charge), walk one block east and three-quarters of a block north to Jevne's, do their shopping, and take one of the twin cars back up the 320-ft. slope for five cents. The conveyance was, of course, Angels Flight, billed as the world's shortest railway.
Here's a 1907 postcard depicting it: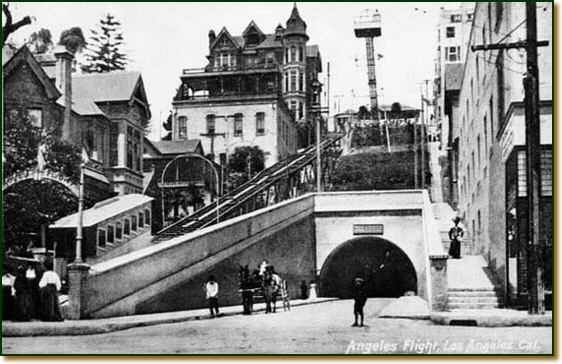 By the way, if you lived on Bunker Hill and wanted to go down to the courthouse at Broadway and Temple Street, you'd take Court Flight to Broadway. (It was destroyed in a fire in 1943.)
Some customers came to Jevne's by motor cars—though not many. By 1904, there were an estimated 1,600 automobiles in Los Angeles. However, "automobilists" were nearly all men, who generally used their vehicles for recreation, and weren't apt to participate in grocery shopping.
The few customers who did come in motor cars a century ago encountered a luxury in downtown Los Angeles: paved streets. In fact, Spring and the north-south street parallel to it one block east, Main, in 1888 had become among the first paved streets in the city.
Far more common than autos were horses. You could hitch your steed (whether saddled or pulling a vehicle) outside H. Jevne's, but couldn't tarry. The store was in a tiny sector of the central city designated as a zone with restricted hitching…a half hour, later 20 minutes.
If you came in by train from Bakersfield, or Santa Ana, San Diego, Tucson, or wherever, you could catch an electric railway car (street car) from the train station to Second and Spring. In fact, tracks led to Second and Spring from points throughout the county.
There will be more about horse-hitching and the "electric roads."
Copyright 2007, Metropolitan News Company
MetNews Main Page Reminiscing Columns