Thursday, January 11, 2007
Page 11
REMINISCING (Column)
Norwegian Immigrant Operates Premier L.A. Grocery Store
By ROGER M. GRACE
Supreme among grocery stores west of the Mississippi a century ago was H. Jevne's. It was located right here, where I'm now plunking out this column, at 210 S. Spring Street…the location since 1990 of Metropolitan News Company offices.
I have no idea what was being sold at this spot where my desk and PC are now. Caviar? Wines? Laundry soap? Cheeses? Perfumes? Mops? Candles?
Jevne had them all. Here's an ad which appeared 100 years ago today in the Los Angeles Times featuring smoked bloaters: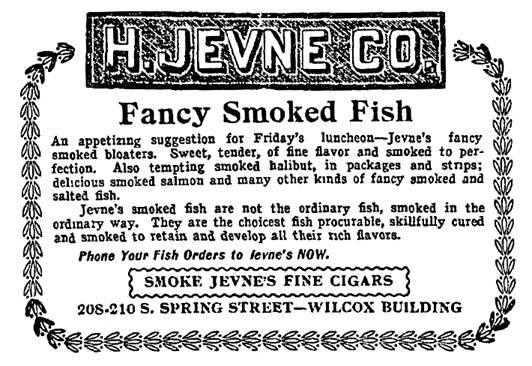 Aside from Jevne ads appearing in the local dailies, they were to be found in out-of-state newspapers. Residents elsewhere were urged to send away for a free catalog and place their orders for shipping, or take the train to L.A. to stock up on merchandise.
"Buy Groceries in Los Angeles." That was the heading on a June 18, 1901 Jevne ad published in the Arizona Republic, which continues:
"Go to Jevne's for hundreds of dainty delicacies that no other grocery store in the Pacific southwest carries....Make a list before you leave on a trip to the coast."
A July 17, 1901 ad in the same newspaper advises:
"Free writing and waiting room at Jevne's in Los Angeles. Have your mail addressed in our care. Come to us for any information you wish. Use us in any way you can. We're always glad to make strangers welcome no matter if you wish to buy groceries, wines or cigars of us or not…."
I don't recall seeing any such an invitation in recent Ralphs, Vons or Albertson's ads.
"Buy enough [groceries] to last six months or a year," an Aug. 8, 1901 ad in the Arizona newspaper suggests.
A steadily growing number of H. Jevne products, such as Jevne Coffee, La Crescenta Olive Oil, and Pot o' Gold Oranges, were available in the early 1900s in grocery stores in Southern California, Arizona, and New Mexico.
The proprietor of H. Jevne Co. was Hans Jevne, born Feb. 28, 1849 in Hamar, Norway. On Oct. 18, 1866, he and his brother Carl came to Chicago to go to work for their older brother, who ran a Norwegian food market. Odd S. Lovoll, in his 1999 book, "The Promise Fulfilled: A Portrait of Norwegian-Americans Today," makes mention of that establishment:
"Norwegian food items were offered to the Norwegian community at immigrant retail stores, such as the one opened in 1865 by the young Christian H. Jevne. Jevne expanded to become a large wholesale and import concern, importing cheese, fish, canned goods, and aquavit directly from Norway."
Operations expanded, and the store came to serve the populace at large. The first electric light in Chicago is said to have been installed there in 1880, and the store utilized two novel devices: an electric coffee bean roaster and an electric coffee mill.
Hans Jevne worked "first as salesman and afterward as manager in his brother's mammoth establishment, for seventeen years—with but ten days' vacation," according to "Illustrated history of Los Angeles County, California," published in 1889. In that capacity, the book notes, Jevne became a "master of the grocery trade in every detail."
Moving with his wife and 7-year old son to the West Coast in February 1882, for sake of his wife's health, and to Los Angeles the following November, Jevne opened a small shop on North Spring Street, soon shifting to a larger space nearby, and in 1896 relocating to the recently opened Wilcox Building at South Spring and Second Streets. The southern portion of the building where Jevne had his store, and where we now have our offices, was, prior to erection of the building, site of the Empire Livery Stable.
"A History of the Norwegians of Illinois," published in 1905, says that Jevne, as a Los Angeleno, "has grown up, so to speak, with the town, has prospered, and now owns one of the largest as well as the best equipped stores in the country."
There will be more about Jevne next week.
Copyright 2007, Metropolitan News Company