Wednesday, December 19, 2007
Page 7
PERSPECTIVES (Column)
What's Said About DA Dockweiler: 'It Ain't Necessaily So'
By ROGER M. GRACE
Fifty-Fifth in a Series
JOHN F. DOCKWEILER served as Los Angeles County district attorney for barely over two years. He neither distinguished himself nor disgraced the office.
But you would think him to have been in cahoots with the underworld from E.J. Fleming's 2004 book, "The Fixers: Eddie Mannix, Howard Strickling and the MGM Publicity Machine." There and elsewhere, he's been mischaracterized.
And he's hardly the only DA in history of the county who has been. In researching these columns on past DAs, I've found it amazing how mangled historical accounts can get. (There has no doubt been some unintentional perpetuation of myths right here, based on a reliance on earlier published renditions which I assumed to be accurate, but weren't, or misstatements simply based on not getting matters straight.)
A prize example of the twisting of history is this recitation by Fleming:
"It seemed that Dockweiler might be a reformer, but beneath the public veneer, he was no different than his predecessors. Just a few months after the election, on August 16, 1940, Ben 'Bugsy' Siegel was arrested for the Hollywood murder of mob turncoat Ralph Greenberg. He was placed in L.A. County Jail, but local chefs prepared meals, he had two telephones, and he was allowed unlimited visitors day or night. On December 11, Dockweiler dismissed the indictment and Siegel walked away free. The same day, writer Florabelle Muir uncovered a $50,000 contribution ($750,000 today) from Siegel to Dockweiler. A year later, as Dockweiler began an investigation into the L.A. police, he died at his desk of pneumonia. He wasn't reportedly ill at the time."
Aug. 16, 1940, when Siegel was arrested, was before the Aug. 27 primary, let alone the Nov. 5 general election at which Dockweiler won the office…and he was not sworn in until Dec. 2. The favored treatment Siegel received while in jail began during the term of of Dockweiler's predecessor, Buron Fitts. It also ended while Fitts was district attorney…not that Fitts had anything to do with the matter.
On Nov. 22, Sheriff Eugene Biscailuz suspended (and later fired) the jail physician, Dr. Benjamin Blank, because of his various acts of kindness toward Siegel, a friend of his from a time predating the incarceration. Favors included the doctor letting Siegel yak on the phone in his private office and make use of his private shower.
A United Press report of Nov. 23 says:
"Records showed that Siegel was allowed 18 leaves recently 'to see his dentist' Biscailuz said. Dr. Blank had certified that Siegel's teeth needed treatment. At the same time, it was disclosed that $32,000 in cancelled checks written by Siegel to Blank, had been found among papers seized in Siegel's home."
During one of the leaves of absence, Siegel was photographed with Fitts; on another occasion, he was seen having lunch with British actress Wendy Barrie at a Wilshire Boulevard cafe. None of this had anything to do with Dockweiler.

The indictment of Siegel was dismissed by Los Angeles Superior Court Judge Arthur Crum, at Dockweiler's request, because New York authorities would not send the two key witnesses, who were in their custody, to Los Angeles.
As reported by United Press:
"Siegel's lawyers fought the dismissal motion bitterly. They demanded that he be put on trial immediately, trusting that this would result in quick acquittal, as the prosecution feared it would. Siegel then could never again be tried for the slaying. As it is, Dockweiler announced he is pursuing the case further, and hopes to obtain additional evidence."
In newspapers on Dec. 12, a headline in the Herald-Express reads, " 'Bugsy' Siegel Free, Tells Disappointment," and one in the Examiner declares: " 'Bugsy' Says He's Victim of a 'Gross Injustice.' "
It does not seem plausible that Siegel made a pay-off to Dockweiler to take an action that was plainly contrary to his interests.
The Times, in an editorial on Dec. 12, finds Dockweiler (whose election it strongly disafavored) blameless.
"It is not, of course, the fault of Dist. Atty. Dockweiler that Siegel's codefendants were not available for a joint prosecution, nor that Dist. Atty. [William J.] O'Dwyer of Kings County, New York, was unwilling to bring his key witnesses here for the trial of Siegel alone."
The allegation that Dockweiler was "no different than his predecessors" is unfortunate given that his immediate predecessor had been indicted (though acquitted) of felonies, and the DA before that went to prison for his crimes. Dockweiler was not charged with any public offenses, nor even suspected of any.
By the way, Dockweiler was "ill" at the time he contracted pneumonia; he had ongoing ailments that rendered him vulnerable to disease if he over-exerted himself.

In his 1997 book, "City of Nets: A Portrait of Hollywood in the 1940's," Otto Friedrich recites that when authorities in New York "mysteriously changed their minds" and agreed to provide the witnesses, "Siegel was reindicted"…but then, "the main witness suddenly fell out of a New York hotel window while in police custody, and so the new indictment had to be dropped."
The book continues:
"It was perhaps only coincidental that the Los Angeles district attorney who finally cleared Siegel was the same John Dockweiler who was later to prove so self righteous in the prosecution of Errol Flynn—and that this same Dockweiler had also received a thirty-thousand-dollar campaign contribution from Siegel. Dockweiler loudly declared that he had been unaware of Siegel's donation, and when it became publicly known, he refunded the money to the newly liberated gangster."
That's not quite the way it happened.
There was nothing mysterious about the decision of the Brooklyn-based DA in late 1941 to transport the witnesses here, contrary to his decision the year before. As of December, 1940, it was only Siegel who was to be tried, and not the other four indicted defendants. There was the prospect of multiple trips here with persons the authorities needed in New York.
But all that had changed. The alleged triggerman, Frank Carbo, had surrendered on Aug. 18, 1941. Siegel and Carbo, reindicted on Sept. 22, would be on trial together. Two of the others who had initially been indicted (and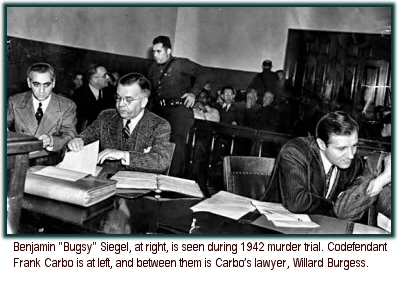 were presently on trial on charges in New York) were not reindicted, nor was the fifth man, as whom Dockweiler determined there was insufficient evidence.
One of the two key witnesses, Abe Reles, did fall to his death on Nov. 12, 1941, while in police custody in New York. The official version—disbelieved by some at the time—did not have him falling from a window. The Associated Press dispatch relates:
"Asst. Dist. Atty. Edward Helfernan said Reles, 35, fell onto a sun deck after leaving his sixth-floor window on an improvised rope of wire and bed sheets."
Whatever, the circumstances of the gangster's death, it did not mean that the indictment "had to be abandoned." To the contrary, Siegel and Carbo did go on trial. The Los Angeles Superior Court judge who presided was A.A. Scott (of whom I've spoken before, in non-laudatory terms).
So, it is not true that Dockweiler "cleared Seigel." And nothing as to his office's prosecution of actor Errol Flynn on statutory rape charges has the least relevance.
The other key witness was one Al Tannenbaum, a confessed member of a New York-based crime syndicate known as "Murder, Inc." He testified that he brought the murder weapons from New York and gave them to Frank Carbo; was a passenger, along with Carbo, in the automobile driven to the murder scene in Hollywood by Siegel on Nov. 22, 1939; and that he trailed that auto after the shooting in a "crash car" which he would bash into a police car if he spotted it trailing the get-away vehicle.
The victim, Harry Greenberg, was an ex-hood who had supposedly demanded, rather unwisely, $5,000 for his silence about Murder, Inc.'s activities. A witness on the scene identified Carbo.
At the conclusion of the prosecution's case, Scott dismissed the charges against Siegel, explaining:
"A careful examination of the record before the court discloses that suspicion, even of a grave nature, must be conceded as far as the defendant Siegel is concerned…but that is insufficient to establish the corroboration required by law."
Uncorroborated testimony of a coconspirator was not enough, he held.
(The prosecution of Carbo continued, resulting in a hung jury, with 10 voting in favor of conviction.)

The Los Angeles District Attorney's Office has a web site which includes a section with information on each of the past DAs. It's riddled with inaccuracies.
This series of columns was launched after I came across the "history" portion of that web site. I thought I'd come up with three or four columns, centered on information contained there.
I soon found that the stories of the past district attorneys were too fascinating to be squeezed into just a few installments…and also came to realize that information on the web site could not be relied upon. It had the wrong dates when the early DAs served, missed one administration (a brief one), and otherwise bolixed the accounts. The history is taken from a 2001 book, "For the People—Inside the Los Angeles County District Attorney's Office 1850-2000," by Michael Parrish.
With respect to Dockweiler, it says that the Seigel case "finally went to trial in January 1942" and "was dismissed by the judge after the prosecution's star witness conveniently fell to his death from a New York hotel room window." Scott obviously did not dismiss the case, as implied, as a consequence of the death of that witness when the death occurred Nov. 12, 1941, and the trial started Jan. 19, 1942.

Inaccuracies in recitations of historical events are common…far more common than I would have imagined prior to undertaking this series.
By the same token, in looking at old news accounts containing quotes from speeches or testimony, it's amazing to see how different one version is from those in rival newspapers. While newspapers, in present days and past ones, have been regularly infected by inaccuracy, it remains that renditions in newspapers have a far higher reliability factor than accounts in books published years after the events described…especially accounts based on memory. What especially gets garbled in historical accounts is the sequence of events—which resort to the original news stories could set straight.
As it stands, there is a rampant lack of meticulousness in pinning down the true facts when reciting history, and it's bound to get worse. On the Internet, one errant account—such as those in abundance on Wikipedia—is apt to be blindly accepted and repeated time and again on other web sites.
The moral of all this is that in reading historical accounts, it's a good idea to bear in mind that, to borrow from lyrics of Ira Gershwin in "Porgy and Bess": "It ain't necessarily so."
Copyright 2007, Metropolitan News Company