Tuesday, October 9, 2007
Page 7
PERSPECTIVES (Column)
'Uncle Jerry' Faces the Music in Court, in State Bar Proceeding
By ROGER M. GRACE
Emblazoned across the top of the Sept. 18, 1974 late final edition of the Los Angeles Times is the headline:
DORIS DAY WINS
$22 MILLION
The story, by then-staff writer Myrna Oliver, begins:
"Entertainer Doris Day was awarded $22,835,646 for fraud and malpractice from her former lawyer and business manager, Jerome B. Rosenthal, whose conduct was repeatedly denounced as 'gross and outrageous' by Superior Court Judge Lester E. Olson.
"The one-hour oral decision by Olson, who handled the 99-day trial without a jury, ended 13 consolidated lawsuits involving Rosenthal's handling of the finances of Miss Day and her late husband and manager, Martin Melcher, over 20 years.
"Olson said the civil trial, including 14,451 pages of transcript from 67 witnesses, cost taxpayers at least $250,000 even though the parties must bear the more than $62,000 cost of transcripts."
The next morning's expanded report refers to Olson having criticized Melcher "for remaining in 'blind awe' of Rosenthal."
My understanding is that Rosenthal and Melcher had adjoining offices, each keeping a close eye on the other, each knowing how cunning and deceptive the other was.

Occasioning my recitations about Rosenthal is my having learned recently that he died Aug. 15. Despite his onetime prominence as a Hollywood attorney, there was no public disclosure of his death at the time, and consequently no note was taken of it…and it's now a bit late for an obituary here on a news page.
As I mentioned last week, Rosenthal was known to me in the 1950s as "Uncle Jerry"—the younger of my father's two sisters being married to him. (They separated in 1958 and were divorced in 1964.) Uncle Jerry was hardly ever a hero to me. Nonetheless, I think his career is worthy of note. His list of clients was a Hollywood "Who's Who." No lawyer had more chutzpah…manifested in such ways as suing clients he had fleeced for additional fees.
He was a phony, a swindler, and, though he was never criminally charged, he probably should have been. He did do time in jail, but that was for civil contempt.
Jerry's story is of value if only as a primer for lawyers on how not to mess up their lives by being too sly.

Olson's decision was upheld on appeal. With all said and done, the final award—in a judgment entered March 31, 1975, including $1 million in punitive damages tacked on—came to $26,396,511. The judgment in favor of Day was on a cross-complaint; it was Jerry who instigated the litigation in 1968, claiming, without a scintilla of proof, that sums were due him under an oral contract with Marty Melcher under which he owned 50 percent of what Olson referred to as the "Day-Melcher empire."
The Aug. 8, 1985 Court of Appeal opinion by Acting Justice Martha Goldin, on loan from the Los Angeles Superior Court, quotes some of the comments by Olson in announcing his intended decision on Sept. 18, 1974, including these:
The tragic drama in this case started to unfold back in the late '40's or early '50's when Jerome B. Rosenthal began to represent Doris Day and Martin Melcher.
It involves.... [¶] an attorney so intent on doing business with his clients, with their money ... that he lost sight of ethical and legal principles.
...
The case from beginning to end oozes with attorney-client conflicts of interest, clouding and shading every transaction and depriving Doris Day and Martin Melcher of the independent legal advice to which they were entitled. It involves kick-backs, favored treatment of one client over others; it involves amateurish attempts to deal in the hotel and oil business that would be humorous but for the tragic consequences. It involves the extraction of fees from Doris Day and Martin Melcher and fees from other clients or entities for the same work performed. It involves an undertaking to provide financial and investment advice and a complete and utter failure to provide it. It involves a tortured effort by Rosenthal to maintain for years in the future the indentured position in which he had held Doris Day since 1956, even after she had ceased to permit him to act as her attorney. It involves a percentage retainer agreement that in the context of the facts of this case is void and against public policy because of the violation of the rules of professional conduct....
Goldin (now, like Olson, a private judge) was none too gentle on Uncle Jerry, either. In the course of an impressively well-crafted opinion that was breezy though long—106 pages as a slip opinion, and 40 pages in the Official Reports—she declares:
"Rosenthal's irresponsible 'representation' of the Melchers trampled on basic attorney obligations: he abandoned the Melchers' best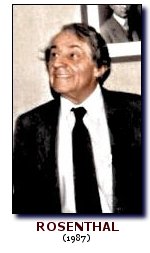 interests in deference to his own; he failed truthfully to disclose potential and actual conflicts of interests; and among other things, he failed to provide competent and independent legal advice."
Goldin points to various breaches by him of provisions of the Rules of Professional Conduct, saving this for last:
"…Rosenthal breached the one rule with which everyone is familiar-rule 9. It is the rule which warns a lawyer never, never to commingle. Rosenthal commingled, depleted, misapplied and never, never accounted, all contrary to the rule."
Marty Melcher died in 1968, and shortly after that time, Day's son by a previous marriage, Terry Melcher, discovered that his mother was virtually penniless through mismanagement of funds by Jerry. Up to that point, Goldin notes, Jerry had been paid $2.5 million for services to Day and Marty Melcher since 1953. That was, the jurist interjects, "exclusive of all the other money he acquired without their knowledge" as the result of handling their financial affairs.
"Rosenthal's true antagonism toward his clients came to the fore," Goldin writes, when Terry Melcher, as administrator of his step-father's estate, told Jerry he was fired. The opinion recites that Jerry sought to have Terry Melcher removed as administrator, and beyond that….
"He also instituted eighteen legal proceedings against his former clients, 'misusing confidential information acquired in the course of the attorney-client relationship to the detriment of his former clients.' At the same time he wrongfully retained from the Melchers files and records containing vital information directly relating to the litigation."
Goldin says that Olson "thought that Rosenthal's testimony was 'the biggest balloon of hot air I have ever heard of in my life' " and "found that Rosenthal was an all pervasive liar." There was "more than sufficient factual basis" for that conclusion, she observes.
Review was denied by the California Supreme Court on Oct 16, 1985, and the U.S. Supreme Court denied certiorari on March 3, 1986.

That's not to say that Day received the full $26 million. She didn't. With Jerry professing indigency, she settled with his insurers for $6 million in August of 1977, with the money to be paid in 23 annual installments.
That triggered further litigation by Jerry. He sued the insurers to establish their duty to continue to fund his appeal. Although he no longer faced the prospect of a financial obligation to Day, the judgment against him, he proclaimed, was a "blot on his escutcheon."
Jerry added as defendants Irell & Manella, the law firm representing Day, and the lawyer assigned to the case, Robert Winslow (now deceased), for allegedly inducing the insurers to breach their contracts with him by settling the case without his consent.
Los Angeles Superior Court Judge Robert I. Weil (also deceased) sustained a demurrer to the cause of action against Winslow and his law firm, without leave to amend. Those defendants were shielded from liability based on their communications with lawyers for the insurance companies, he held, by virtue of the litigation privilege. The Court of Appeal, in an opinion by Justice Lynn Compton (since retired), affirmed on Aug. 17, 1982, finding that Weil's analysis was right.
Compton notes:
"It should be observed that the appeal in the underlying case is still pending and viable. The nature of the judgment appealed from is such that a resolution of the validity of Rosenthal's affirmative claims, claims on which he has supplied his own counsel, will in large measure determine the validity of Day's claims against him.
"Thus, Rosenthal has not been left naked of representation on appeal. It appears simply that he is desirous of having counsel provided by the insurer group to handle the laboring oar."
Rosenthal settled with the insurance companies.
An obvious question is why the Court of Appeal, in Day v. Rosenthal, considered Jerry's contentions as to his non-liability to Day when he faced no liability, his insurers having bought peace for him. Why did the appeals court not simply concern itself with Jerry's appeal from the adverse judgment on his claims against Day?
Goldin explains in the opinion that "the issues raised by Rosenthal qua defendant are intertwined with those argued by him qua plaintiff, and illuminate issues which this court must reach. Therefore, all pertinent questions, whether they affect Rosenthal qua plaintiff or defendant, will be discussed."

Day and her son complained about Jerry to the State Bar on Dec. 4, 1969, later asked that the matter be put in abeyance, then reactivated their complaint in Sept. 3, 1971. It would not be until July 13, 1987, that the California Supreme Court issued is opinion disbarring him, and Sept. 11, 1987 when his name was stricken from the rolls of attorneys...more than 16 years after his misconduct was, for the second time, brought to the State Bar's attention.
Was it a matter of bureaucratic dilly-dallying? Partly. Mostly, however, it was the outgrowth of Jerry's stalling tactics, tactics which succeeded in affording him several more years in law practice than he should have had.
I was reliably told during the time the State Bar inquiry was in progress that when a hearing was slated to be held, Jerry would check into a hospital the night before and get a note from his doctor saying that he was sick. (A 1983 bid by Rosenthal to file a late appeal in an unrelated matter was on the ground that his tardiness was excused based on illness. It emerged that a Dr. Arnold Kadish attested to Jerry's ailments.)
Isn't it strange that someone who constantly complained of health problems managed to live to age 96? His wailing included telling the Times, in remarks published Oct 26, 1979, that the litigation with Day was taking its toll on his health. The 1987 opinion disbarring him says that throughout Jerry's presentation of his defense, "he frequently reraised claims about his ill health and 'brain pain' attacks."

One delay did seem warranted: on April 16, 1974, Jerry asked that the formal hearing be put off until after Olson issued his ruling, and, on May 10, that motion was granted. Olson's intended decision was announced Sept. 18, and on Nov. 6, 1974, the first hearing before the panel was held.
As of the fourth hearing, no evidence had yet been taken; Jerry was raising preliminary procedural issues. It was at that hearing that Jerry forced a major delay by claiming indigency and demanding that free counsel be provided to him. That had to be referred to the State Bar Board of Governors. The board turned Jerry down at its May 9, 1975 meeting; Jerry sought review of that decision by the California Supreme Court, which on Jan. 14, 1976, told him "no."
He then sought injunctive relief in the U.S. District Court for the Central District of California. It was denied on March 16, 1976, by then-Judge Malcolm Lucas (later chief justice of California and now an arbitrator). His decision says "that the due process clause does not require the appointment and payment of counsel by the State Bar in bar disciplinary proceedings."
The evidentiary hearing finally began in April, 1976, and the State Bar rested in June, 1979.

Here's one instance of Jerry, at a session in November, 1979, dragging out the proceedings:
Chairman Mitchell: "We understand. Mr. Rosenthal, you are ready to proceed with some evidence?"
Mr. Rosenthal: "Not this evening. It's 10 minutes after 8:00, and I don't want to tell you men that I'll be ready to present at the next time. I'll just pursue my rights as I'm best able and as I see them."
Chairman Mitchell: "It seems, Mr. Rosenthal, that we are going to have to proceed with some evidence in the defense of this matter on some occasion sometime. We have asked you on a number of occasions to do that. You are either going to produce evidence in support of your defense in these proceedings or not. And if you elect not to, then we will simply have to close the proceedings and determine it on the evidence which has been produced."
Mr. Rosenthal: "A-ha."
Chairman Mitchell: "So we once again beg you, implore you, suggest, request, hope and expect, and I'm not trying to be facetious when I use those words, we ask again that you be ready to produce evidence at the next hearing in these proceedings...."
Finally, the point came where Jerry could drag out the proceeding no farther. On Dec. 20, 1985, the State Bar of California Local Administrative Committee No. 53 filed its report in the State Bar Court clerk's office recommending disbarment. This came after 80 days of hearings, spread out over 11 years.
The Review Department on May 23, 1986, unanimously adopted the panel's findings of fact and conclusions of law.
The matter now went to the Supreme Court. I'll tell of the further adventures of Uncle Jerry in a future column.
Copyright 2007, Metropolitan News Company