Tuesday, May 22, 2007
Page 7
PERSPECTIVES (Column)
Erstwhile Supporter Seeks Woolwine's Ouster; Former Rival Defends Him
By ROGER M. GRACE
Thirty-Seventh in a Series
THOMAS LEE WOOLWINE, 27th Los Angeles County district attorney, was a man who inspired ardent admiration from some, drew fervent dislike by others, and left few among the populace with neutral feelings toward him. Over time, some detractors were converted to friends, some friends were turned into enemies.
Consider this turnabout:
•1910: a prime backer in Woolwine's ill-starred bid to wrest the post of Los Angeles district attorney from incumbent John D. Fredericks was the owner/publisher of the Los Angeles Evening Express, tycoon Edwin T. Earl. Woolwine was the nominee not only of the Democratic Party, but of the Good Government (popularly known as "Goo Goo") Party supported by Earl.
•1914: When Woolwine again sought the DA's post, Earl in the primary backed Vincent Morgan, 32, who had been admitted to practice only five years earlier. Morgan came in third, making a faint showing. Coming in first was Fredericks's chief deputy, W. Joseph Ford, with Woolwine a close second. Earl endorsed Woolwine in the run-off, dismissing Ford as a Fredericks clone. An election day editorial in the Express, on Nov. 3, says: "Woolwine's whole public record is familiar to the people of this community, among whom he has lived for 18 years. He has rendered courageous service to the cause of good government and proved himself to be a fearless incorruptible enemy of everything evil in administration."
•1916: Earl had become a seething foe of Woolwine and was seemingly an architect of a court effort to oust him from office. The action seeking Woolwine's removal was based on an asserted neglect of duties. It was the same sort of citizen's action, then permitted, filed against District Attorney John A. Donnell in 1895 predicated on his decision not to prosecute Los Angeles Times President Harrison Gray Otis for criminal libel. Woolwine's defender in the court fray, ironically, was Ford. The proceeding was brought by 28-year-old lawyer Randall J. Hood, admitted to practice five years earlier. Hood was acting at the behest of Los Angeles County Supervisor Richard H. Norton Sr., a mining engineer and lawyer who, in turn, was apparently directed by Earl.

The championing of Woolwine's cause by Ford was surprising—would you expect the current district attorney, Steve Cooley, to be represented in a civil matter by Gil Garcetti, whom he toppled at the polls in 2000?—but was not startling.
In contrast to the clamorous hate-match that took place four years earlier between Woolwine and Fredericks, the 1914 Woolwine-Ford contest was civil, if not mellow.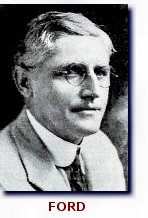 In the general election, Woolwine drew 115,418 ballots, with 74,514 going to Ford.
Ford explained his pro bono representation of Woolwine in a June 2, 1916, public statement, reading, in part:
Shortly after going into office Mr. Woolwine…found it necessary to discharge several employees of his office in order to maintain the discipline and integrity which is essential to efficiency. Ever since that time these discharged employees have sought to hamper the District Attorney in the discharge of his official duties. They have been aided in this attempt by a member of the legislative department of the county, who has sought to usurp the executive functions which the law has wisely vested, in accordance with American tradition, in a separate department known as the District Attorney's department. Mr. Woolwine has successfully maintained his right, which the law has made his duty, to exercise the judgment and discretion vested in him when the people elected him District Attorney of this county.
As a citizen of this county, I believe it to be my duty, and the duty of all honest citizens, to assist Mr. Woolwine in maintaining the integrity and independence of his office. During nine years of personal acquaintance and association with Mr. Woolwine, and despite political differences and clashing ambitions, I know him to be thoroughly honest, fearless and independent.

The "member of the legislative department" was Norton. The Times had termed Norton "the main Earl representative on the board." He had taken sundry stances antagonistic to Woolwine…some petty, such as publicly demanding to know from Woolwine the whereabouts of roulette wheels confiscated during Fredericks's regime. Some were major; he tried to block necessary investigation fees in connection with Woolwine's prosecution of two conspirators in the 1910 bombing of the Times Building, resulting in 21 deaths, and otherwise sought to stymie the office through denials of funding.
The particular ex-employee whose activities led to the petition for removal was former Chief Deputy District Attorney Harry Ellis Dean.
In a letter of June 22, 1915, Ellis announced to Woolwine that he was leaving his post on July 6 or "at your pleasure," spelling out: "I am not in accord with your official acts and administrative policies." In a response, Woolwine wrote: "...I desire to say that your resignation is hereby accepted to take effect immediately for the reason that I do not believe that any useful purpose may be served by delaying the matter until the sixth of July."
Ellis was quoted in the June 24, 1915, issue of the Los Angeles Examiner as telling a reporter:
"Mr. Woolwine is constitutionally devious. He has an artistic temperament. He has a passion for public approbation....He is not only fond of the limelight; he wants it all. Every time my name appeared in the papers 'Tom' jumped on me; he couldn't stand it."

On Feb. 21, 1916, Dean, though now a private citizen, drew up papers preparatory to a prosecution of restaurateur Baron Long in connection with alleged gambling at the Vernon Country Club…gaining a search warrant from a justice of the peace. That jurist said later he had assumed a complaint had been issued by the DA's Office. Long was arrested, but Woolwine declined to prosecute. In fact, he personally appeared in the Justice Court on Feb. 24 to ask that the charges be dismissed.
The establishment in question, located in Vernon four miles south of the Los Angeles Civic Center, is said to have been the first hot spot for Hollywood celebrities. (Long was later to become owner of the Biltmore Hotel.)
In a statement entered on the record in the Justice Court, as reported by the Times, Woolwine set forth that the "gambling" in question was in the form of ongoing contests of a sort long conducted by various businesses. Though technically games of chance, they "had been allowed to run on the theory that they were within the law," but Los Angeles Superior Court Judge Frederick W. Houser had recently ruled that they weren't, Woolwine recited.
He said he had caused emissaries of his office to spread the word of Houser's ruling to proprietors of establishments throughout the county, including the Vernon cafe, instructing them to stop carrying on the contests. The district attorney explained:
"I deemed it only right and just that they be notified and be given a reasonable time to discontinue, and for the further reason that in many instances the particular games declared unlawful had been licensed by the various municipalities throughout the county."
Woolwine went on to say:
"In all justice I do not care to treat the people of Vernon any more harshly than the people at other places in the county; and further than that, I do not propose to surrender the jurisdiction of this office to a discharged mischief-maker masquerading under the high sounding title of 'Law Enforcement League,' who will stoop to anything for political purposes, and who is backed by a man in this city who would do anything to cast discredit upon my administration, for the simple reason that I will not go to his newspaper office and take orders from him."
The Times account notes:
"To this statement Mr. Woolwine subsequently added the following, over his signature:
" 'So that there may not be any mistake as to the publisher referred to, I mean E. T. Earl.' "

The decision not to prosecute Long was a major basis of the May 31, 1916, petition to remove Woolwine from office.
A June 7 account in the Times quotes Ford as arguing the previous day in Los Angeles Superior Court in favor of a demurrer by saying:
"The District Attorney is not a mere clerk, compelled to issue complaints to anyone and everyone who applies in order to air a grievance in the courts. He has discretionary powers and knew nothing of the charges against the club proprietor until after the complaints had been issued outside of his office."
Addressing himself to the allegation that Woolwine ignored his duty by failing to confiscate wine owned by a man convicted of illegally selling alcohol, Ford said:
"You may well realize, Mr. Hood, that ever since 1787 [when the U.S. Constitution was adopted], such procedure as that of confiscating property of this value has been held illegal, the people through their elected representatives having declared that no person's property should be taken from him without due process of law."
The judge, Frank R. Willis, the following day sustained demurrers to causes of action based on the non-prosecution of Long, but overruled demurrers to causes of action relating to non-seizure of the wine and to the non-prosecution of an official of the then-City of Venice for allegedly misappropriating $114 of public funds.

A headline in the June 10 issue of the Examiner reads: "LAWYERS CLASH WITH FISTS IN WOOLWINE CASE." The story begins:
"With the passing of the lie in Judge Willis' courtroom yesterday afternoon, Attorney W. Joseph Ford landed two swift blows on the mouth of Attorney Randall J. Hood, who attempted to retaliate and lively fisticuffs ensued for a moment until Bailiff Martin Aguirre brought to an unexpected climax the hearing of the charges against District Attorney R. Thomas Lee Woolwine brought by attorney Hood.
"So unexpected was the occurrence that it was not witnessed by the court, who was reading an affidavit filed by Hood. It was this affidavit that precipitated the row. Judge Willis stated that because he had not seen the fight, it would be presumed that nothing unusual had occurred and he then cited Hood to appear on June 15 and show cause why he should not be adjudged in contempt of court for filing the affidavit.
"The hearing was then was resumed and judgment entered in favor of the District Attorney."
In a statement of disqualification, according to the Examiner, Hood alleged that the judge had engaged in an ex parte conversation with Ford and Woolwine in chambers. The Examiner, the Times, and the Express all quote the affidavit differently as to an alleged winking incident, with the Examiner saying that Ford had given Willis a "knowing look and a wink."
That newspaper says that while Willis was reading the affidavit, Hood asked Ford if he objected to a change of judge, to which Ford responded:
"No, I haven't, but I have a whole lot of objections to the lies that are contained in this affidavit. Why don't you bring the man who saw me wink at the judge. Whoever he is, he is a liar."
Hood is said to have responded: "Well I saw you wink at the judge."
Ford's turn: "Then you are a liar."
Hood: "You're another."
Adopting the Woolwine approach, Ford proceeded to deliver two blows to the head of opposing counsel.
Even if Willis's attention was truly consumed by his reading the offensive affidavit, there was, of course, testimony available from the bailiff and others as to the encounter—although, indeed, it was not denied, both Ford and Hood apologizing to the court. The judge apparently dismissed it on a "boys will be boys" basis. That's the same judge who five years later would respond to Woolwine bashing opposing counsel in the head—which the judge did view—by merely imposing a monetary fine.

Bias was also evidenced, Hood's affidavit said, by Willis's refusal to grant a continuance of the proceeding. When Willis declared that he was sticking to that decision, Hood picked up his hat and left the courtroom. Willis nonetheless allowed Woolwine to testify, in order to clear his name.
Woolwine said, with respect to the Venice official, that there simply was not sufficient evidence to justify a prosecution. The Examiner quotes him as saying:
"I don't propose to be forced to prosecute a man when I haven't got the evidence, either by E. T. Earl or anybody else."
That quote was not contained in the Express's story.
Woolwine won the case, but that only assured him of remaining in office until December. Woolwine was elected in 1914 only to a two-year term; the new county Charter was shifting elections of district attorneys to presidential years, starting in 1916. His next challenge was to win reelection that year, with Earl committed to defeating him, and Dean as one of his four challengers.
Copyright 2007, Metropolitan News Company