Monday, April 16, 2007
Page 7
PERSPECTIVES (Column)
District Attorney John D. Fredericks Takes on Clarence Darrow
By ROGER M. GRACE
Thirty-Second in a Series
JOHN D. FREDERICKS, in his third term as district attorney, had behind him the fierce bout with Thomas Lee Woolwine, who sought to unseat him in 1910, and had a new antagonist…and a formidable one. Clarence Darrow, a renowned, deft and spell-binding trial lawyer, was his adversary—first as opposing counsel in a high-profile case, then as a defendant accused of attempted jury-rigging.
Darrow was lead defense lawyer for James and John McNamara, accused of dynamiting the Los Angeles Times Building, killing 21. Under circumstances detailed here last week, the defendants both wound up pleading guilty right after the jury had been selected at the trial of the younger brother, James.
Before and during proceedings in People v. McNamara, the rivalry between Fredericks and Darrow was intense.
Dennis McDougal, in his 2001 book "Privileged Son: Otis Chandler and the Rise and Fall of the L.A. Times Dynasty," writes:
"Each side eavesdropped on the other throughout the summer and into the fall. Darrow's telegrams were stolen and his phone conversations were bugged with a crude but effective tap connected to a hidden Dictaphone. His secretary turned out to be a Burns detective and one of Fredericks's deputy prosecutors turned out to be on Darrow's payroll. Darrow's waiter at the restaurant where he routinely ate was a Burns operative. Several other Burns detectives reported to Darrow on the sly for a fee. By the first anniversary of the [Oct. 1, 1910] Times bombing, the defense and prosecution were riddled with spies; everyone knew what everyone else was planning to do in court."
(McDougal doesn't have a high opinion of Fredericks. He comments that the DA "resembled Abraham Lincoln in looks but had the disposition of Boss Tweed.")

That Fredericks and Darrow were not simpatico is reflected by an exchange between them on Nov. 10, 1911, during voir dire. A venireman was superintendent of a company in which Harry Chandler, son-in-law of Times owner/publisher Harrison Gray Otis, had an ownership interest. This bickering ensued:
FREDERICKS: I don't think that's ground for challenge.
DARROW: We are not challenging. We just submit that this man, an employee, is not qualified to sit.
FREDERICKS: I have taken men situated just the other way.
DARROW: Not in this case you haven't. You haven't taken any employee of the McNamara brothers....
FREDERICKS: I don't like Mr. Darrow's accusation of unfairness.
THE COURT: I am sorry he made it.
DARROW: I believed it when I made it and I believe it now.
FREDERICKS: If there is anything personal in this matter, I suppose we can tend to that somewhere else.
DARROW: There is nothing personal, and if there was we certainly could tend to it somewhere else.

While plea negotiations were in progress, police arrested Bert Franklin, chief investigator for the defense, for attempting to bribe a prospective juror, George Lockwood, a former police officer.
As W.W. Robinson tells it in his book "Bombs and Bribery":
"The actual transfer of Lockwood bribe money took place on November 28 near a prominent downtown corner [Third and Los Angeles streets], with several of Fredericks' detectives hovering in the vicinity. While under observation, Captain C. E. White, Franklin's friend and depositary, handed a five-hundred-dollar bill to Lockwood and held back $3500 for Lockwood's vote of acquittal. Franklin was in a saloon near by. He came out at once to join White and Lockwood. After he and Lockwood had walked a little way down Third, he was arrested by detective Sam Browne—in the presence, fantastic though it may seem, of Clarence Darrow himself. Darrow had just crossed the street. Franklin was jailed and the next day bailed out with a $10,000 check written by Darrow against the McNamara account."
On Dec. 4—three days after the McNamaras changed their pleas to guilty—a story was carried by newspapers across the nation which begins:
"District Attorney J. D. Fredericks today informed the Associated Press that Bert H. Franklin, a detective employed by the McNamara defense and now under arrest in a charge of attempting to bribe George H. Lockwood, a venireman, with $4,000, actually paid to Robert F. Bain, the first sworn juror in the case, $400 and promised $3,600 at the end of the trial if he would vote for acquittal or cause a disagreement of the jury."
The Los Angeles Times's Dec. 12, 1911 report on Franklin's preliminary hearing says that Lockwood "declared that Franklin told him he would have to talk with Darrow about arranging a safe way to pay over the alleged bribe."
Lockwood testified that he initially turned Franklin down but then told Fredericks about the attempt. The district attorney asked him to play along with Franklin, Lockwood recited, and he agreed to do so.
Cross-examining Lockwood was attorney Henry T. Gage, the former governor. When he queried the witness if he had not been an accessory to the crime, Lockwood shot back that he was acting under Fredericks's instructions.
Bain testified as to Franklin bribing him. The Times quotes him as saying: "Franklin told me that Darrow had given him $20,000 to use"—inferentially, for such purposes.
Franklin was bound over for trial in the Superior Court.

On Jan. 29, 1912, Franklin testified before the Grand Jury. On that date, Darrow was indicted on two counts each of bribery and corruption.
A wire service dispatch from Tampa, Florida, where Fredericks was vacationing, quotes the prosecutor as saying: "There was no chance for Darrow to escape," adding:
"We knew that when Juror-Bain took his seat that be had been bribed and we knew who did it. I anticipated that the indictment would come today."
Franklin on Feb. 27, 1912 pled guilty to bribing Bain and to corruption in connection with the bribery. The Times's report the next day says that in an interview, Franklin denied that he had been promised immunity if he testified against Darrow. The article continues:
"'Dist.-Atty. Fredericks has treated me fairly all through this matter,' said Franklin, 'and I am perfectly willing to leave everything to him. I have the greatest respect for him, as an officer and what he says goes with me. No matter what happens I will take my medicine like a man.'"
He subsequently drew a mere $4,000 fine.

Darrow went on trial May 15, 1912 in connection with the alleged bribery of Lockwood. As quoted by the Times in its May 25 edition, Fredericks told jurors in his opening statement:
"We will show that the money used in this instance was part of a large fund raised by Darrow's agents in the East and sent direct to him. We will show that Darrow was the directing spirit in all of the attempted bribery cases.
"We will show also that Darrow paid thousands of dollars to other witnesses for the State for corruption purposes and as inducements to them to leave the State or not to testify. We will show that the Lockwood deal was one of a series of many acts engineered by Darrow to pervert justice in the McNamara case."

In testimony, Franklin told of his meetings with Darrow in the attorney's office in the Higgins Building at Second and Main Streets. The Times's May 29 account quotes Franklin as saying that during one of those meetings, "Mr. Darrow told me that $5000 would be a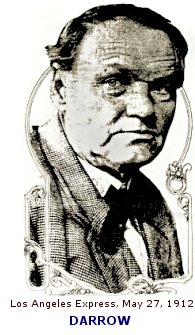 proper amount to be paid for a juryman, $4000 to go to the juror and $1000 to myself in each case."
In testimony on May 31, as reported the next day in the Times, Franklin identified Job Harriman—who had been the Socialist Party's candidate for mayor a year before and was one of the McNamaras's attorneys—as a bag man. Franklin said that on the morning of his arrest, he came to Darrow's office to pick up the $4,000 to give to Lockwood; that the money was not yet there; Darrow phoned Harriman, who arrived there a few minutes later; and Darrow gave cash to him in bills of large denomination (as he recalled it, one $1,000 bill and six $500 bills).
The prosecution contended that the money was derived from cashing a check for $10,000 made out to Darrow by the secretary of the American Federation of Labor. It alleged that Darrow had endorsed the check and sent it to the secretary-treasurer of the California Building Trades Council (a union), who in turn endorsed it and cashed it at a bank in San Francisco, sending the cash to Los Angeles. All this was in an effort to muddy the trail, according to the prosecution.
It was on June 5, while Assistant District Attorney W. Joseph Ford was seeking to have the check admitted into evidence that the proceedings turned tumultuous.

A banner headline in the Los Angeles Record that night read: "COUNSEL IN DARROW TRIAL CLASH IN OPEN COURT; FREDERICKS AND ATTORNEY APPEL FINED."
The lead paragraph of the news story says:
"The stormiest scene that the Darrow trial has yet witnessed marked the Wednesday session, when attorneys, with disheveled hair, angry faces, glaring eyes and trembling frames, created pandemonium in the court room and almost came to blows. The scene resulted in Dist. Atty. Fredericks and Atty. [Horace] Appel being fined for contempt."
The fracas was triggered when Darrow, himself a member of the team of lawyers defending him, mentioned that the defense had admitted the genuiness of the signatures. Fredericks made a hushed comment to him, prompting the lawyer/defendant to jump to his feet and to object, insisting that Fredericks's remark "was evidently meant for the jury."
All six of Los Angeles's major dailies recounted the dialogue—and all quite differently. Here's the version in the Evening Express:
Mr. Appel—"He said to my client, 'You would not admit it if we could not prove it.' I assign that as error, your honor."
Fredericks—"Nobody would have heard it. It was a little colloquy between ourselves and I assumed the defendant was man enough and had stamina enough to have a private conversation without bawling it out and trying to make capital of it."
Darrow—"I object to that statement and assign it as error. He is nearer the jury than to me. He has no right to make such a remark."
Fredericks—"I would submit that not one man on the jury heard what I said."
Appel—"We should remember these remarks your honor. I think it is cowardly to do this."
Fredericks—"I'll take care of my part of it."
The Court—"Gentlemen, just a moment."
Fredericks—"I am not playing the baby act."
Appel—"Well, you are inferring the we are, and I will tell you that I am just as much of a man as you are, I know you and am not afraid of you."
The Court—"Mr. Appel!"
Appel—"I have seen"—
The Court—"Mr. Appel! Be seated or I will instruct the bailiff to seat you."
The Examiner's report says that Appel "started as if to go around the table and attack Fredericks, shaking his fists." According to the Tribune, Appel "shook his clenched fist at the prosecutor." The Record's account sets forth that Appel "shook his fist in the face of the district attorney and offered to fight." The Times, the Herald, and the Express, however, made no mention of such aggression.
Los Angeles Superior Court Judge George H. Hutton found both Fredericks and Appel in contempt of court, fining the former $25 (equivalent of $521.84 in terms of 2006 dollars) and the latter $5 ($104.37).
The spectacle of the district attorney of this county being found in contempt is perhaps on a par with District Attorney Ira Reiner in 1986 being socked with a public reproval by the State Bar.
The June 5, 1910, incident was not the only one occurring during the trial evidencing what is now termed "lack of civility" on the part of the attorneys. Robinson says in "Bombs and Bribery":
"It was a violent, name-calling trial, with every witness called by someone else a 'liar' and a 'perjurer' and with the lawyers coming several times close to physical combat. Fredericks in a rage picked up an ink-well to throw at Appel, while on another occasion Joe Ford lifted a heavy ink bottle to hurl at [chief defense counsel Earl] Rogers."
More acrimony was to come. Harsh words would be spoken during closing arguments—which I'll tell about in the next column.

Copyright 2007, Metropolitan News Company