Wednesday, February 21, 2007
Page 7
PERSPECTIVES (Column)
1910 Candidates Blame Each Other for Non-Prosecution of Corrupt Officials
By ROGER M. GRACE
Twenty-Seventh in a Series
JOHN D. FREDERICKS and THOMAS LEE WOOLWINE, rivals in the acrimonious 1910 race for the post of Los Angeles County district attorney, each blamed the other for graft in city government having gone unpunished.
To reintroduce our players: Fredericks, a Republican, was seeking his third term as DA.
Woolwine, former chief prosecutor for the City of Los Angeles, was running on the Democratic and Good Government tickets (the latter ticket being that of a local ad hoc group).
In his opening campaign address on Sept. 30, 1910, Woolwine accused Fredericks of having "stifled" a 1908 grand jury investigation of then-Los Angeles Mayor A.C. Harper, then-Chief of Police Edward Kern, and others in connection with allegations of graft.
Woolwine had publicly alleged in 1908, while city prosecutor, that the mayor and other officials were providing protection from arrest to persons who operated houses of prostitution, in exchange for bribes. Harper responded by bringing a libel action against Woolwine for causing that charge to be published in the Los Angeles Examiner, and a separate libel action against the Los Angeles Express and its owner, Edwin T. Earl, for comments on the allegation in two editorials.
The 1908 grand jury declined to indict Harper or anyone else in connection with the alleged graft. The following year, Woolwine and the "Good Government Group," utilizing a provision placed in the city charter six years earlier, proceeded to spearhead a recall election against the mayor.
The election was held March 26, 1909, on the advice of the city attorney, even though Harper had resigned on March 11. Harper had quit right after Earl threatened that if he didn't, specified documentation of his role in protecting vice would be published. Following the resignation, Harper left town and dismissed his lawsuits. Kern likewise promptly resigned from his latest post, on the Board of Public Works.
A "special" grand jury, assembled at Fredericks's request by Los Angeles Superior Court Presiding Judge W.P. James on March 13, 1909, wound up indicting only one person, a police captain who was ultimately acquitted. That second grand jury opined "that the investigation into official misconduct can best be carried on secretly by the district attorney without the aid of the grand jury."

In his Sept. 30, 1910, talk, Woolwine reminded his audience that Fredericks "has never done anything to carry out the suggestion of the grand jury that he continue this investigation, and the fact remains that [of] all of the city officials who were accused of graft...not one of these has ever been punished." The speaker quoted the blue-ribbon panel as saying in its report:
"From the evidence adduced during the investigation it is the unanimous belief of this grand jury that large amounts of money were paid for the protection of prostitution in the so-called red light district to certain public and ex-public officials of this city under investigation other than those indicted."
Woolwine contended that Fredericks "has for many years been under the absolute domination of the Southern Pacific political machine and its agent, Walter Parker" and that Parker "has been the master of the district attorney's office." He asserted that Fredericks, under orders from Parker, "has not only failed to prosecute persons of influence and politicians guilty of crimes, but has used his office to suppress prosecutions, and has stood guard between such favored lawbreakers and the prison doors."
Parker is described in "Story of the Session of the California Legislature of 1909," a 1909 book by Franklin Hichborn, as "the Southern Pacific lobbyist who acts as [political] machine leader south of the Tehachepi."

Unremitting editorial attacks on Fredericks were published by the Express during the course of the 1910 race.
An Oct. 18 editorial in that newspaper, for example, points to Fredericks's duty in 1908 to prosecute participants in "an organized conspiracy of officers who protected vice," and comments:
"We hold him now to be unfit to retain the office he holds and utterly undeserving of re-election to it because he has completely failed in the discharge of that duty.
"Whatever the cause of that failure, whether it was incompetency or aught else, the fact of that failure remains. We unhesitatingly declare our conviction that had Tom Woolwine been district attorney in that crisis, the officials who escaped punishment because of Fredericks' lamentable incompetency would have been punished instead of being, as they are, free to support Fredericks for re-election."

The investigation of Harper had implicated a local underworld figure, Nick Oswald. After the Express began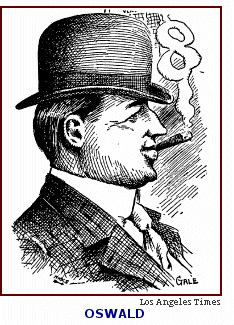 hammering at Fredericks in its editorials and news accounts, the incumbent turned the tables, alleging that during the time of the investigation of Harper, Earl gave Oswald $500, counseling him to skip town.
An Oct. 16, 1910 news report in the Times on a meeting the night before (arranged by the Republican County Central Committee to permit Fredericks to answer the various charges leveled against him) recounts a disruption:
"E.T. Earl, proprietor of the Evening Express, precipitated a dramatic clash at the Auditorium last night when, smarting under the District Attorney's charge that he had furnished Nick Oswald with funds to escape the meshes of the law following exposure of the Harper administration, he rushed toward the stage demanding to be heard. His arms were waving wildly above his head, and his face was white with rage.
" 'I demand to be heard,' he shouted."
Earl managed to get one foot on the stage, the Times's account says, noting that others interceded. The morning newspaper relates:
"As Earl was arguing with those about him, ex-Judge Wheaton A. Gray [who had been the first Court of Appeal presiding justice in Los Angeles] rushed toward him, and poising his giant frame for pugilistic action, shook his fist at Mr. Earl and yelled, 'I'll beat your damned head off if you attempt to come up on this platform.' "
Fredericks guided the former jurist to his seat, according to the account, and then, from the podium, addressed himself to Woolwine's charges. The Times quotes him as commenting, in his conclusion:
"Gentlemen this is free America. Let every man be heard. But Mr. Earl has a newspaper to preach to our voters—I am a poor man and have none. Therefore let him use his newspaper, and let me use this stage. Every dog has his day. I will have mine."
The Express did not report the incident involving Earl nor, for that matter, did the Los Angeles Examiner. The Express did, however, report on the meeting. In referring to Gray, the Express's article does not allude to his former status as an appellate jurist, nor even mention his first name. Its news report of Oct. 17 says:
"The meeting was presided over by a pompous old man named Gray."

It was during his address at that meeting that Fredericks sought to place the blame on Woolwine for thwarting his efforts to ferret out and prosecute crooks in city government. The Times's Oct. 17 edition quotes the DA as explaining:
Facts stated by the 1909 grand jury were that the District Attorney had employed detectives and was secretly and skillfully making an investigation to ascertain whether there was graft and kindred crime in Los Angeles, and these investigations continued until August of the same year.
At that time Mr. Woolwine, who was deputy city prosecutor in charge of work at the Police Station, probably heard of these secret investigations, and feeling that he was left out of the lime light, and without investigating the matter of informing the District Attorney of what he knew, came out with a public letter to Mayor Harper, and creating a great furor with regard to the whole situation.
We struggled along through September with our secret work, absolutely to find that it was of no avail. By reason of this agitation, and the continuance in the newspapers, Mr. Woolwine had aroused the very people we were attempting to obtain evidence against. As the 1909 grand jury said, 'agitation from other sources became so great and so public that further secret work was discontinued' and the matter was taken before the Grand Jury then in session without any legal evidence having been secured by anybody.
I realized that the chances for success were almost impossible under the circumstances along the lines I was investigating by reason of the agitation. Mr. Woolwine had stated that he had the evidence, and I invited him to take charge of the investigation before the grand jury. This invitation was in absolute good faith as far as I was concerned.
Fredericks was able to so recruit Woolwine because the city prosecutor—though appointed by the city attorney and paid by the city—was technically a deputy district attorney. Sort of in the manner in which municipal court judges where cross-assigned as superior court judges for a few years prior to court unification in 2000, Woolwine had been deputized so that he could try not only offenses created by ordinances, but also those that were misdemeanors under state law. (It wasn't until 1967 that the Legislature enacted a provision permitting DAs to authorize prosecution by city attorneys of such misdemeanors.)
After Fredericks issued his "invitation"—which included the words, "Now take off your coat and roll up your sleeves and get busy"—Woolwine sent back a response which said, in part:
"…I charge unhesitatingly that vice is being protected in this city by the Mayor and Police Commission, and that I have sufficient evidence upon which a fighting, conscientious, hard working District Attorney, with the power at his command, backed up by a grand jury that means business, will lead to disclosures fixing the responsibility for this deplorable condition. The moment the opportunity came, instead of assisting me, you attempted in a cowardly way to thrust all of the responsibility of your office upon me….Now I say to you to 'take off your coat and roll up your sleeves and get busy' and not attempt this cowardly evasion of your plain duty. I will go a step further and say would to God that I were District Attorney today with the powers that you have."
After further communication, Woolwine took charge of the Grand Jury investigation; was soon fired; then rehired; and fired again after he aggressively questioned Kern, resulting in Fredericks interceding and taking over. As portrayed in 1910 by the Woolwine forces, Fredericks was protecting the chief; as told by Fredericks, he stepped in to cut off bullying which he viewed as counterproductive to drawing out information.

In his Oct. 15 address, Fredericks maintained that the reason Earl could get the evidence and the DA's office couldn't was that Earl paid a gangster—Oswald—$10,000 for the information. At a rally on Oct. 20, he elaborated:
"I do not blame [Earl] for getting that information, for he needed to defend himself against heavy damage. But I do blame him for not coming to me with the information and giving me an opportunity to avail myself of it as District Attorney.
"He not only kept that knowledge from me, but declared that he had agreed not to divulge it. The result was that I had to go to the courts and ask that a special grand jury be called, in order to make him divulge that information. And on the very day that the special Grand Jury was called, his private detective, Paul Blair, testified before the Grand Jury that he gave Oswald $500 which he had received from Earl, and with that money, Oswald left the city.
"Furthermore, when Oswald was finally arrested Earl was the man who went on his bail bond."
The Express presented quite a different version. Its Oct. 24 editorial insists that, following the resignations, the newspaper had "sent word to Fredericks, informing him that all information relative to the Harper scandal was at his disposal."
Whichever version is true, the bottom line is that graft had undeniably existed in the City of Los Angeles while Fredericks was district attorney, and there was hard evidence of it—yet only one person was prosecuted by Fredericks in connection with the corruption, and unsuccessfully. With this pointed out in 1910 in speeches and editorials, and quite forcefully, it's no wonder the Woolwine campaign was building momentum.
Copyright 2007, Metropolitan News Company