Tuesday, September 26, 2006
Page 7
PERSPECTIVES (Column)
Fourth Time Was the Charmer for DA Hopeful Stephen M. White
By ROGER M. GRACE
Eleventh in a Series
STEPHEN MALLORY WHITE was elected Los Angeles district attorney on his fourth try, serving from January, 1883 to January, 1885. The reason White had such a tough time landing the office is explained by attorney/banker J.A. Graves in "My seventy years in California," published in 1927:
"Although he had loyally supported the Democratic ticket at all the elections since 1875, the Democratic politicians remembered that in that year he had run for district attorney on the independent ticket."
In 1875, the 22-year-old White lost to the Democratic nominee, Rodney Hudson, in the election discussed here last week.
Though the winds were soon to shift, the Democratic nomination in those days virtually assured victory. The exception had come in the 1873 election in which Volney Howard was elected district attorney on the ticket of the fleeting People's Reform Party, comprised of leading Democrats as well as Republicans. A Republican, labeled as such, could not win election in Los Angeles County then; pro-slavery sentiment had been strong in Southern California during the Civil War, and bitterness persisted against the party of Lincoln.

Two years later, White sought the Democratic nod, and his candidacy was seriously regarded. The Los Angeles Star in a Page One news story on Aug. 11, 1877, reports that a Democratic rally would take place that night, commenting:
"All who have not heard the rising young orator and advocate of this county, or of Southern California, in fact, Mr. Stephen White, had better attend, even if they are not inclined politically the way of the speaker."
The article adds:
"Mr. White, while advocating claims of his party earnestly, never says anything that can offend."
White was defeated for the nomination by Cameron Thom, a figure well known to delegates to the party's county convention. He had served two previous stints as district attorney.
On Sept. 5, by a vote of 3,513-3,048, Thom defeated Republican Anson Brunson, the former Napa County district attorney, prominent Los Angeles lawyer, and practical jokester mentioned in the last column who had been a law partner of Hudson while he was DA. Brunson was also the candidate in 1877 of the Temperance Party and the Labor Organization. (He was elected to the Los Angeles Superior Court in 1884.)

Again in 1879, White sought the Democratic nomination...the same year his father was the gubernatorial nominee of the Workingmen's Party, another of the here-today, gone-tomorrow political bands. As related in Edith Dobie's 1927 book, The Political Career of Stephen Mallory White":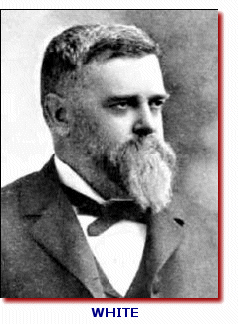 "When a resolution was adopted by the convention that 'the candidates be called upon to pledge themselves to an active support and canvass for the ticket,' White, in view of the efforts that he would thus be required to make against his father, withdrew from the contest. In doing so, however, he turned the occasion to his own advantage in a way which must have made a strong appeal to those attending the convention. In a dramatic speech he set his 'duty as a son' over against his 'duty as a partisan'; and assuring his hearers of his desire for the office at the hands of his party, he added, 'Yet rather than sever the bonds that bind a son to his father I would sacrifice every present and prospective interest that I have — nay I would even give away my life.'
White drew the unsolicited nomination of both factions in the county of the Workingmen's Party. Although his name did appear on the ballot, he announced shortly before the Sept. 3 that he was withdrawing from consideration by voters…a scenario closely paralleling that in 1992 when DA Ira Reiner backed out of the race. White's action drew plaudits from the Los Angeles Herald, a pro-Democratic newspaper. An editorial published Aug. 20, 1879, says:
"THERE is much to commend in the course of our fellow citizen Stephen M. White, Esq. That gentleman has peremptorily declined to be a candidate for District Attorney in opposition to the Democratic nominee. In the span of the life of a man so young as White a slight postponement of political preferment amounts to nothing. Every one understands the extreme delicacy of his position, and he has acted with admirable judgment. He appreciates the fact that no man who desires to enjoy enduring popularity can be a candidate for office at the hands of one political party and appear within a few weeks as the nominee of a rival political organization. The temporary success, were success attainable so secured, would be dearly bought. We congratulate our townsman on his determination to keep his record clean. The future is all before him."
In the Sept, 5, 1879 election, Democrat Thomas B. Brown drew 2,105 votes; Republican H.A. Barkeley attracted 1,926 ballots; the "non-candidate" White was favored by 1,866 voters, George M. Holton, nominee of the New Constitution Party trailed with 929 votes. (Holton—who had been a candidate for district attorney El Dorado County in 1875 on both the Republican and Independent tickets, losing to the Democratic contender—would in 1884 be elected Los Angeles County's first Republican DA.)

"At the next election," Graves says, White "was nominated for district attorney on the Democratic ticket, was elected by a large majority, and was ever afterwards the idol of the party, in Southern California."
The "next election" did not take place, as it would have under the state Constitution of 1849, on the first Wednesday in September. Nor did it occur, as it would have under previous legislation, in an odd-numbered year. The Constitution of 1879 provided that after that year, general elections of state officers would take place on the Tuesday following the first Monday in November, and the Legislature on March 7, 1881 extended that provision to county elections. Too, on April 16, 1880, lawmakers shifted elections to even-numbered years.
The California Supreme Court held in an Aug. 19, 1881 opinion that by virtue of that legislation, county officials who were elected in 1879—with terms set to start on March 1, 1880, and to expire on March 6, 1882—were to be continued in office until the date on which terms of state officials would expire under the new Constitution (Jan. 8, 1883). So, Brown got an extra 10 months in office as DA.
(Justice Erskine M. Ross—who, as you may recall from the last column, had spurned the Independent Party nomination for district attorney in 1875 because he planned to vote a straight Democratic ticket—was elected to the high court, as a Democrat, in 1879. He penned one of two dissenting opinions in the election case. He couldn't understand how tenure could be lengthened when the new Constitution expressly provided that the term of no official was to be extended "beyond the period for which he is elected or appointed." He argued that balloting ought to have been slated for Sept. 7, 1881—the first Wednesday in September—to elect county officers to terms from March, 1882 to January, 1883.)
Brown served as DA from 1880-83—not 1879-82 as listed on the website of the Los Angeles County District Attorney's Office—and White was in office from 1883-85…not 1882-84 as the website contends. However, as I noted a few weeks ago, that website has the dates for terms in the 1800s quite jumbled, and even omits one administration.
White was elected on Nov. 7, 1882 over Ebenezer Williams, nominee of the Republican Party as well as the Prohibition Home Protective Party.
Graves says of White:
"He made a most admirable official, and was a terror to evil-doers. He was a vigorous and relentless prosecutor, when he was satisfied of the guilt of the defendant, but was willing to temper justice with mercy, when there were serious doubts as to the guilt of the defendant or there were mitigating circumstances which rendered the offense less revolting, or which entitled the defendant to leniency."
It was while he was district attorney that White got married. "On June 5, 1883 in great pomp and splendor, Stephen married Hortense Sacriste in St. Vibiana's Cathedral," according to information provided by Lindalouise White De Mattei of Morgan Hill, Calif. (near Gilroy), a great-granddaughter of White.

White came from a political family…the Kennedys of their time.
As just mentioned, Stephen White's father ran for governor on the Workingmen's Party ticket in 1879. William Francis White, who had emigrated with his family from Ireland when he was 4, came in second in that gubernatorial race, ahead of Hugh J. Glenn, who represented both the Democratic and New Constitution parties. Republican George Clement Perkins won the election. (The anti-Republican sentiment I mentioned was largely confined to the southern part of the state, and was even here rapidly subsiding.) In 1885, William White ran for state senator from Santa Cruz, San Benito, and Monterey counties, losing to Thomas Flint Sr., the Republican contender. He was a member of the state constitutional convention in 1878 and was appointed that year as a state bank commissioner.
Stephen White's brother, Edward, was a county supervisor in Santa Cruz.
An uncle (by marriage) was William Bourke Cockran, a multi-time Democratic member of the U.S. House of Representatives.
And, Stephen Mallory White was related to Stephen Russell Mallory (after whom he was named), a U.S. senator from Florida and later secretary of the Confederate Navy. White was also related (it would follow) to the senator's son, who bore the same name as his father (without use of "Jr."), and who later attained a seat in the U.S. Senate. Newspapers across the nation in 1898 carried a story noting that California's Stephen Mallory White and Florida's Stephen Russell Mallory (the younger) were both serving in the Senate, and that "Senator Mallory's father and Senator White's mother were brother and sister." There was no such relationship.
I'm indebted to De Mattei for untangling the family tree for me. White's mother, Francis "Fannie" Russell, was orphaned in Ireland, and came to live in Florida with her aunt Ellen and her son, Stephen Mallory (the older), De Mattei explains. She spells out "Fannie's father was Ellen's brother, thus Stephen Russell Mallory and Fannie were first cousins."

Aside from serving as DA and as a United States senator, White was a state senator.
A biographical sketch of him appears in "History of the Bench and Bar of California," published in 1901, written prior to White's death that year. It mentions his election as district attorney and continues:
He received more votes than any other candidate on his ticket, either a State, county or township office. A few years after that time the city of Los Angeles, and the county, changed in politics most radically, by an inflow of population from New England, and while Mr. White could not now carry the county, probably, for any political office, he is held in universal regard for his great abilities and unchallenged integrity. He is attorney for General Otis, the proprietor of the great Times newspaper, the leading Republican organ of Southern California.
Mr. White is familiarly known in every community in the State, having 'stumped' for his party in many campaigns. He is a man of large build, has a powerful and finely-toned voice, is a ready debater, and a masterful public speaker. He has the oratorical gift. He is really a wonderful man in this field, and the man to address great assemblies. We have said that his county changed its polities but he represented it as State senator from March, 1887, to March, 1889. Governor [Washington] Bartlett, dying in office on September 12, 1887, Lieutenant-Governor [Robert] Waterman became Governor. Mr. White having been in March of that year elected by the State senate its president pro tem, now succeeded to the office of Lieutenant-Governor.
He was elected United States senator in January, 1893, at the age of forty, and served a full term of six years, ending March 3, 1899. He was chairman of the Democratic national convention of 1896.
At that convention, William Jennings Bryan was nominated for the presidency. The California Democratic State Convention in June had endorsed White for that nomination, but White chose not to seek the presidential nod.
"But for the feeling against White because of his religion," which was Roman Catholic, "he might have been nominated and carried his party to success," according to an article in "California and Californians," Vol. III, published in 1932. The article continues:
"Had he lived Senator White would undoubtedly have risen to the highest offices the American people may bestow. In his relatively brief life he became one of California's most famous and most loyal sons."
An addendum to the biographical sketch in "History of the Bench and Bar of California" notes the death of White, and comments:
"On the morning following his death the leading paper of Southern California [the Los Angeles Times], which was always opposed to Mr. White in politics, but whose proprietor was his personal friend and professional client, declared him to be 'the greatest man the State has produced in the half century of its existence.' The language was not stronger than that employed by many other journals, of all shades of political opinion, and by bar leaders in memorial council."
Copyright 2006, Metropolitan News Company