Tuesday, September 5, 2006
Page 7
PERSPECTIVES (Column)
State High Court Decides Outcome of 1867 Race for District Attorney
By ROGER M. GRACE
Eighth in a Series
VOLNEY E. HOWARD and ALBERT B. CHAPMAN were combatants in the 1867 race for the post of district attorney of Los Angeles County, then held by Howard. The question as to which of these Democratic faithfuls won the election was ultimately decided by the state Supreme Court.
Howard you've met, if you read the past few columns. He led the state's troops in trying, without success, to quash the vigilantes who had seized control of San Francisco in 1856. A Southern sympathizer, he was elected DA during the Civil War.
Matthew "Don Mateo" Keller, a wine-maker and civic leader, had nicknames for local attorneys; he dubbed Howard "Ponderosity," according to lawyer Jackson Graves' "Seventy Years in California" (1927), the moniker "referring more to his physical rather than to his mental make-up."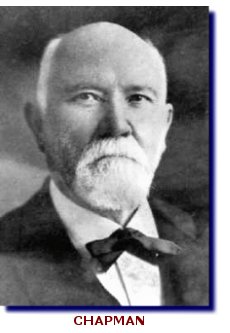 Chapman was mentioned briefly in the last column. He served as district attorney in 1863-64, filling out the unexpired term of Ezra Drown, who died in office.
Well regarded within the bar, Chapman had strong name recognition among the populace through daily newspaper advertisements for his legal services. He was a graduate of West Point in 1854 and served in the Army until 1859, retiring with the rank of major. In 1863, Chapman became Los Angeles city attorney, retaining that post while assuming chores as district attorney (and also maintaining his private law practice).
He was not the first to serve as city attorney and district attorney at the same time. His law partner, Cameron Thom, previously held both offices contemporaneously.
In 1865, Chapman went into private practice with Andrew Glassell, who was later to become the first president of the Los Angeles Bar Assn.
While it was customary in those days for candidates to run only if they had been nominated by a political party at its convention, a nomination was not a legal requisite. Chapman ran for district attorney as an independent in 1865, as did an aspirant for the office of assessor.
An Aug. 2, 1867 editorial in the Los Angeles News bemoans the effrontery of two unnamed maverick office-seekers who two years earlier ran without the party's nod, and warns that destruction of the Democratic Party could ensue from such activity. It notes:
"[A]…candidate for District Attorney, Gen. Howard intimated very plainly and we are informed, said in private conversation, that if Mr. Chapman received the nomination of the Democratic convention for District Attorney, he (Howard) would not submit to such action of the convention, and Mr. Chapman in a public speech indicated the same action on his part, should Gen. Howard receive the nomination…."
The county Democratic Party held its convention four days later and did not nominate a candidate for district attorney.
The Union Party's county convention on July 24 nominated for district attorney Ambrose Merrick, a Republican who came to Los Angeles the very year of the election. He had previously served as president of the city council in Springfield, Mass. Merrick stuck around Los Angeles for two years, then moved on, later becoming the first city attorney of Minneapolis.
The Los Angeles Weekly Republican was started up in 1867 and endorsed Howard, but with faint praise…explaining its stance by saying that "his official acts had been less censurable than those of his opponents."
The tally was 598 votes for Chapman, 590 for Howard, and 512 for Merrick.
One of Howard's supporters, the wine-maker Keller (owner of the 13,330-acre Rancho Malibu), brought suit to throw out the results from two precincts because the elections there were not supervised by a clerk appointed by the Board of Supervisors. Keller alleged that one appointed precinct clerk, Paul Prior, showed up on election day and tapped Juan Abila—who had neither been duly appointed nor sworn—to act in his stead. If the results for that precinct, alone, were disregarded, Howard would be the winner by 11 votes, Keller's statement of contest set forth.
A trial was conducted in the County Court before Judge William G. Dryden, who found the allegations proven, and declared "[t]hat the certificate of election of A. B. Chapman, as District Attorney for the County of Los Angeles, is null and void, and that the next person receiving the greatest number of votes for the office of District Attorney, as aforesaid, was V. E. Howard, who is hereby declared duly elected and entitled to a certificate of election as District Attorney."

Chapman appealed to the state Supreme Court. He was represented by his law partner, Glassell, and by Thom & Smith. (Thom was a former district attorney and George H. Smith, Glassell's brother-in-law, would later become a partner in Glassell Chapman & Smith.)
Howard represented Keller.
Chapman's lawyers argued, in part:
"Admitting that all the provisions of the Registry Act were not strictly complied with by the Boards of Election, is that to cut off the voters of those precincts from voting? If so, it would always be in the power of a few unscrupulous individuals to disfranchise a whole community. But the Courts do not countenance any such harsh and absurd construction of the statute. When the voters are in no fault, their fair and honest expression at the ballot box will not be set aside on account of a harmless and immaterial omission of one or more of their officers."
Howard asserted:
"While minor irregularities are to be disregarded, the validity of an election depends on its being held at the proper time and place, and by the officers required by law....There must be a substantial compliance with the law....The election at San Juan was not held by the Clerk of the Election appointed by the Board of Supervisors, but by a person by the name of Abila, who was not Clerk, either de facto or de jure, but a mere intruder, and his acts were void."
The high court, at its January, 1868 term, issued its ruling, reversing Dryden. The opinion by Justice Augustus L. Rhodes says:
"The contestant is not permitted to take judgment by default....He must, therefore, prove the allegations of his statement. He failed to prove that Howard received any votes except at the precincts the returns of which were rejected by the Court, and certain others which were in controversy, at which the respondent received the majority of the votes. This error is fatal."
The opinion also declares that Dryden's decision could not be affirmed because even if there were election irregularities, "it does not appear that any injurious results accrued therefrom, either by the reception of illegal votes or the rejection of legal votes, or that either of the candidates lost or gained votes thereby."
So, Chapman was in, Howard was out.
This does not mean, however, that "Ponderosity" was jobless. Like Chapman and others who had held the office, he had maintained a civil practice while serving as DA.

Chapman, in assuming the post of district attorney in 1868, not only continued his practice, but was engaged in real estate dealings.
He and Glassell represented two prominent families in 1867-68 in connection with the dividing of Rancho Santiago de Santa Ana, located in the southeast portion of Los Angeles County, into 1,000 parcels, distributed among heirs and creditors. They received some of their fees in the form of land, and also bought some sections. By 1870, they held title to approximately 5,400 acres. In 1872, Chapman and Glassell founded there what they called the "Richland Farm District."
When efforts were made to set up a post office in 1873, it was found that the name "Richland" was already taken; there was such a place in Sacramento County. One theory is that Richland was renamed "Orange" in honor of Orange County, Virginia where Glassell was born.
Orange was incorporated as a city on April 6, 1888, and the following year, became part of the newly formed Orange County.
Chapman Street and Glassell Street converge in the city at the traffic circle in the center of the business district.
On March 8, 1869, Chapman purchased the southern portion of Rancho San Rafael (previously judicially partitioned) at a foreclosure sale. The price was $58,750, the amount that the landowner, Don Julio Verdugo, owed. Beneficiently, Chapman quitclaimed the ranchhouse and 200 acres to the aging Verdugo.
Chapman and Glassell acquired additional portions of the erstwhile rancho, located north of the City of Los Angeles. As previously recounted here, parcels owned by them, Thom, and a multi-time mayor of Los Angeles, Prudent Beaudry, became the City of Glendale.

During the period when Howard was out of office, a family tragedy occurred. In "Sixty Years in Southern California," Southwest Museum founder Harris Newmark writes:
"Late on February 14th [1869], the news was circulated of a shocking tragedy in the billiard saloon of the Lafayette Hotel, and at once aroused intense regret, affecting, as the affair did, the standing and happiness of two well-known Los Angeles families. About eight o'clock, Charles Howard, a young lawyer of prominence and a son of Volney E. Howard, met Daniel B. Nichols, son of the ex-Mayor; and some dispute between them having reached its climax, both parties drew weapons and fired. Howard was killed and Nichols wounded, though not fatally, as was at first thought. The tragedy—the cause of which was never generally known—made a profound impression."
Howard had, himself, fought a duel as a young man in Mississippi. While a state legislator, he had opposed a bill requiring the state to back debts of a bank. After the bank failed, Howard, in his Democratic newspaper, the Mississippian, castigated the bank and its officers. According to a 1910 article in the Quarterly of the Texas State Historical Association:
"Hiram G. Runnels, the president and manager of the bank, challenged Howard to fight a duel. The challenge was promptly accepted and the duel was fought at Columbus. Howard was shot, the ball striking a rib and coursing through the breast."

Howard was again to become the editor of a newspaper. Journalist James J. Ayers, in his 1922 book, "Gold and Sunshine," recounts:
"The Legislature of 1871 had to elect a United States Senator. There were a number of prominent candidates whose friends made the session memorable by charges and countercharges of bribery and corruption. It looked to an outsider as if it was not the longest pole, but the longest purse, that would knock down the Senatorial persimmon. Eugene Casserly was elected; and General Volney E. Howard, who was one of the defeated candidates, came to San Francisco with blood in his eyes. He declared that he would expose the shameful corruptions and bargains and sales that had taken place in the Legislature. Mr. Sam Butterworth and others of his friends tried to restrain him, and finally hit upon the plan of buying an evening newspaper for him, and controlling him in his ebullitions till his indignation had subsided. A little evening paper, named the Dispatch, which was not a financial success, was purchased, and I was selected as the associate of the General."
Ayers continues:
"He was kept well in hand for a couple of weeks, when he received a dispatch to go at once to Los Angeles on an affair of great urgency. When he started he left with me a box full of editorials to publish while he was gone. I looked over the articles, and there was not one that would make less than three columns. Indeed, they were all essays upon finance and other large national questions, which, from their interminable length, would kill a daily paper in short order. They were very ably written and would have been acceptable and of great value to a political magazine; but no daily newspaper could handle them and live. I saw the object of the General's backers when he had gone. They complained that the day he left an editorial paragraph with a sting in it had appeared about the senatorial election. They wanted me to scrupulously suppress any allusion to that subject, and intimated that the General would not come back. I saw that I was spending my time on a dead horse, and resigned. I have since suspected that the dispatch which called the General suddenly to Los Angeles was manufactured…."
In 1873, Howard sought to recapture the post of district attorney, taking on the incumbent, Thom. That contest will be a focus of the next column.
Copyright 2006, Metropolitan News Company