Friday, June 30, 2006
Page 6
PERSPECTIVES (Column)
Los Angeles County Bar Assn. Offers 'Virtual Museum' on Website
By ROGER M. GRACE
"Did you know? The hands and numerals of the clock on the exterior of the Stanley Mosk Courthouse, also appeared on the exterior of the previous two Los Angeles County courthouses?"
That information is offered in the "Virtual Museum," recently added to the website of the Los Angeles County Bar Assn., LACBA.org. The museum is at http://www.lacba.org/museum.
I hadn't known about the hands and numbers of the clock, and found that fact, and others in the "museum," fascinating.
Here's the "Clocktower Courthouse" of almost 150 years ago, as depicted on the website: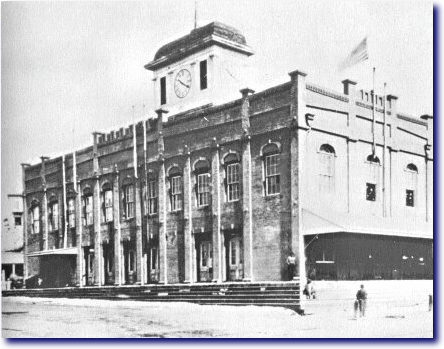 The photo was taken from the late W.W. Robinson's book, "Lawyers of Los Angeles," published by LACBA in 1959. Robinson's caption reads:
"Originally built by John Temple in 1859 for a city market (with the upper story to be used as a theater), it was leased to the county in 1861 and then purchased by the county in 1869. Famous pioneer lawyers and judges used the courtrooms of this building, which gave way in 1891 to the Red Sandstone Courthouse. Witnesses and attorneys, rather than crowd into the stuffy courtrooms of this Courthouse, sat in the shade of the building or in some office near by, while waiting their turn. At the right moment the bailiff poked his head out of a window and yelled for the man wanted—calling the name three times at the top of his voice and with 'esquire' appended."
The Sandstone Courthouse was abandoned shortly before the Oct. 31, 1958 opening of the Central Courthouse, now named after the late California Supreme Court Justice Stanley Mosk.
Photos also appear of the Sandstone Courthouse as well as the present structure.

The "virtual museum" is the brainchild of Joanne Williamson, an attorney who serves as editor of LACBA.org. How did she get the idea? In e-mail correspondence, Williamson responds:
"It started last year, when I was posting information about the Shattuck-Price Award on LACBA.org. I realized I knew little of the award or its history — or who Mr. Shattuck and Mr. Price were.
"I began doing some research, and became intrigued with the history of LACBA. I discovered a treasure-trove of information on the history of the L.A. legal community, and I got the idea for an online museum. LACBA was formed the same year as the American Bar Association. We have a rich history, and it needs to be preserved."
The museum includes, of course, information on the Shattuck-Price Award, and has pages from a 1968 issue of the old Los Angeles Bar Bulletin, a booklet sized magazine, about Ira M. Price II, the 1967-68 president who died in office. Edward M. Shattuck was the 1965-66 president, who also died during his term.
All of the past LACBA presidents are listed, starting with Andrew Glassell, elected Dec. 10, 1878 to head what was then known as the Los Angeles Bar Assn. You can click on some of the names—those of all of the presidents since Augustus F. Mack Jr. who served in 1957—and see their photos and in some instances their biographies. The site reflects that one president, Paul Nourse, served only month (in 1947), resigning to accept an appointment as a Los Angeles Superior Court judge. He was one of 18 bar chiefs to go on to serve as judges or justices.
Also, there are biographies of those whose names appear on the Wall of Fame at the Clara Shortridge Foltz Criminal Justice Center
What additional features are planned? The editor says:
"We have some audio and video interviews of past presidents. The interviews were conducted upon the occasion of LACBA's 125th anniversary. I want to make these available for viewing, as they are 'living history.'
"I'm hoping that LACBA members will contribute to the information and exhibits in the Virtual Museum. Also, I plan to upload more historical articles and information, and an expansion of the information on past presidents is in the works."

Williamson says she wants to "bring the past to life for our members." And she intends to go far back in the county's past, to the days when Los Angeles was a part of the "wild west," and the lawyers and judges were rowdy. She plans to post excerpts from Robinson's book which chronicles those early days.
One county judge about whom Robinson told was William G. Dryden, who served from the time of his election on Sept. 5, 1855 until his death on Sept. 10, 1869. Williamson said she'll be posting this excerpt:
"Even Judge Dryden became alarmed at the informality and levity in the courts of Los Angeles. So he issued this order: 'It is ordered that hereafter attorneys while in attendance upon court will be required to wear a coat of some kind and will not be allowed to rest their feet on the tops of tables or whittle or spit tobacco juice on the floor or stove....' ''
(I wonder if a judge who reads this and gets a chuckle out of it will have such a sign posted in the courtroom.)
Williamson also pointed to this excerpt:
"[I]t was normal procedure to throw inkstands in the courtroom. One day, when angry attorneys began drawing not only upon inkstands, but also upon canes, chairs, and finally pistols, the marshal tried in vain to restore order. In the midst of the uproar Judge Dryden crouched behind the platform upon which his bench rested. Out of range of flying objects and bullets, he yelled: 'Shoot away, damn you! and to hell with all of you!' "

LACBA.org is becoming extensive. Is it going to be publicized to the general public as a one-stop information source on the courts and legal profession?
Williamson responds:
"My 'prime directive' is to bring LACBA to our members, who are spread out over a large geographical area. We are currently looking into 'podcasting' and RSS feeds, as well as creating a weblog ('blog') for our members. I'm also interested in offering one or more "wikis" – web pages that can be edited by our members.
"But, at the same time, we have many resources for members of the public. The Lawyer Referral and Information Service has many great resources for members of the public, including recorded audio messages (the 'Smart law' feature) which explain aspects of the legal system. We also have information on a variety of public-service programs."



IN RE LYNN OLSON: I've learned that political consultant Fred Huebscher in 2000 was talking about his theory that Los Angeles Superior Court Judge Dzintra Janavs (who was up for reelection that year) could be defeated based on her name. Huebscher, himself, does not confirm nor deny it, saying: "I don't recall."
However, he relates in an e-mail:
"I did say at the Judge's Convention in October 2004 that judicial candidates including incumbent Judges with unusual names might have a difficult time being reelected or elected in big counties."
It was Huebscher who guided the campaign this year against Janavs by Lynn Diane Olson, a non-practicing attorney who runs a bakery-sandwich shop. Olson prevailed in the June 6 primary by 8 percent of the vote.
Does he deny that prior to Olson becoming a candidate, he imparted to her his theory that Janavs could be defeated based on her name? Huebscher responds:
"I said that Judge Janavs had a lot of problems including her unusual name."
Yet, Olson told the Los Angeles Times and the Easy Reader (which covers the beach communities) that Janavs' name had nothing to do with the decision to challenge her.
In light of her mentor, Huebscher, having been spouting his theory since at least 2000 that Janavs could be toppled based on her moniker, and Huebscher acknowledging that he conveyed it to Olson before she entered the contest, Olson's statement does not quite ring true.
When MetNews staff writer Ken Ofgang asked her pointblank on March 10 if she were targeting Janavs because of her foreign-sounding name, Olson just looked at him and did not respond.

How credible is Olson? Well, she's publicly admitted that she lied to Ofgang in the course of that March 10 interview. She told him that she would not be spending more than $1,000 on her election effort.
The Daily Breeze, a beach cities daily, reported on June 8, two days after her election victory, that Olson "acknowledged...that was a political strategy designed to encourage Janavs not to take fund-raising seriously."
As it turned out, Olson spent about $120,000 in the campaign, primarily on slate mailers. Huebscher made the arrangements with the slate vendors.
Olson also told Ofgang that she would not have a campaign consultant. Although Huebscher notes "I was not nor will I be paid for my advice to her," he does not deny he acted as a campaign consultant.
Olson met last week with Los Angeles Superior Court Presiding Judge William MacLaughlin to get advice on how to prepare for being a judge.

The closing word will go to Huebscher. Here's how he sums up the outcome in the Olson-Janavs race:
"I find it astounding that Judges seemed so 'shocked' about the result. You'd think they don't understand that they are elected officials who are subject to election and re-election. That means you need to raise funds and anything can cause you to lose an election—that's life in the big city. Perhaps, we ought to elect only politicians to Judgeships, at least they understand campaigns and that anything can cost you an election. It's unfortunate that the late Claude Pepper isn't around to talk about losing re-election to the US Senate in 1950 in a campaign where he was branded a member of 'homo sapiens' and his sister was called a 'thespian in New York.' George Smathers won that race fair and square—it's not his fault that the voters of Florida didn't know the meaning of those words. And it's not Lynn Olson's fault that voters don't want to vote for a candidate who has a name that doesn't reveal whether she's a man or a woman. I can tell you after the election I talked to a number of politically informed people who all thought that Judge Janavs was man! My mantra about this race is 'That's life in the big city.' "
Copyright 2006, Metropolitan News Company