Metropolitan News-Enterprise
Thursday, April 6, 2006
Page 1
JUDICIAL ELECTIONS: Los Angeles Superior Court Office No.120
20-Year Incumbent With Foreign-Sounding Name Draws Challenge

The sole Los Angeles Superior Court incumbent to be challenged in the June 6 primary election is Dzintra Janavs, a native of Latvia, who has been a judge for 20 years.

The challenger is Lynn Diane Olson, co-proprietor of a bakery and sandwich shop in Manhattan Beach. Olson has been on active bar status for roughly six of the 16 years she's been licensed to practice law.

Olson, running a silent and invisible campaign, has launched no criticism of the incumbent.

Speculation is that Olson entered the race because she viewed Janavs as vulnerable to a challenge in light of her foreign-sounding name. Olson has not denied that motivation.

In 1992, little-known attorney Patrick B. Murphy unseated incumbent Abraham Aponte Khan in a Citrus Municipal Court race, with the election outcome generally attributed solely to Khan's name having been a political drawback.

The current race tests the strength of the ballot designation of "Judge of the Superior Court" in a context in which it has not previously been tested.

Janavs has hired the political consulting firm of Cerrell Associates, Inc. and will be holding fundraisers, while the challenger has said she will not spent even as much as $1,000.

______________________________
DZINTRA JANAVS
Veteran Jurist Attracts Both Plaudits and Brickbats
Los Angeles Superior Court Judge Dzintra Janavs, who sits in Department 85 of the Stanley Mosk Courthouse—one of the two high-volume writs and receivers departments—has her boosters. They praise her as brilliant and exceedingly hard-working. Some of them concede, however, that she can be curt.
Janavs also has her detractors, their criticism centering on her demeanor. Some say she'll scream at lawyers and, if they don't understand what she's saying because of her accent, she'll become all the more agitated. Yet, when complaints about her are voiced, her legal abilities and her work ethic do not come into question.
One booster is Deputy Attorney General S. Paul Bruguera, who is himself a candidate in a judicial race. Asked by the METNEWS editorial board what sitting judge he would seek to pattern himself after, he said that (in addition to his wife, Los Angeles Superior Court Judge Soussan Bruguera) it would be Janavs.
He hailed her as "very thorough, very knowledgeable."
Bruguera acknowledged, however:
"I've heard attorneys who were disappointed with her temperament."
One of the county's top litigators remarked that Janavs is "not perceived as warm, fuzzy, friendly—although I've never heard anything derogatory about her intellect."
Turner Comments
Court of Appeal Presiding Justice Paul Turner of this district's Div. Five commented:
"For the past 16 and one-half years, I have reviewed the decisions of Judge Janavs. She consistently follows the law and does so with efficiency and integrity."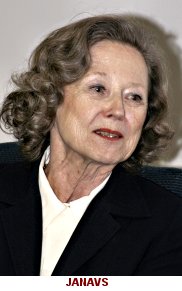 If she had temperament problem, he said, it would come through in the transcripts of proceedings in her courtroom. He's viewed dozens of such transcripts, he noted, and spotted not "a single instance" of demeaning conduct.
Nonetheless, through the years, there have been grumblings among attorneys about her deportment. Putting it about as strongly as it's apt to phrased, Torrance attorney Christopher S. Davis said of Janavs:
"In my experiences appearing before Judge Janavs, I recall a short-tempered, narrow-minded, mean spirited and extremely biased judge."
He added:
"Other attorneys with whom I have spoken regarding Judge Janavs comment that she heavily favors the Deputy A.G. on every case and turns a deaf ear to private counsel."
Another lawyer, who requested anonymity, remarked:
"My own experience and observations are that Judge Janavs is frequently aloof and surly, and always very punctilious."
Criticisms Not Anticipated
Confronted with the disapproving comments, Janavs, 69, appeared taken aback. She knew that some lawyers considered her "too demanding," she said, but had not realized that there was a perception that she lacked appropriate temperament.
"I have to run a pretty tight ship because I have a huge calendar," she pointed out, saying:
"I may have to tell a person, 'This argument must end in the next two minutes.' "
Yet, she related, some observers of proceedings in her courtroom have told her they don't know how she can remain so patient.
"There are times when one is frustrated," Janavs said, giving as an example when she sees a declaration under penalty of perjury that doesn't ring true, causing her to inquire as to the facts.
"Who doesn't get frustrated occasionally?" she asked.
She acknowledged that hers is a "demanding court," and described herself as a "perfectionist."
Research Attorneys
Janavs' high standards have not only ruffled feathers of some of the attorneys appearing before her, but also court research attorneys. One source at the Stanley Mosk Courthouse contended: "None of the experienced permanent research attorneys have worked for her or have expressed an interest in working for her."
She can only get new admittees to work for her, the source said, remarking: "It's basically been a revolving door in Department 85."
Until last November, law clerks could only be assigned to a particular judge for two years; now it's two-and-a half years. Most leave Janavs within a year, "some don't even make it past six months," the insider noted.
Janavs responded: "I've never heard of that," and maintained that she has no problem working with staff lawyers. She noted, however, that she does the best she can to minimize reliance on them, working 12-hour days.
"I do three-fourths or so of my own work," she said.
Preparation of rulings on applications for temporary restraining orders, Janavs noted, "I do myself, exclusively."
Unique Departments
Janavs hears matters on odd-numbered days in Department 85, while David Yaffe, the judge in department 86, has a calendar on even-numbered days. The two courtrooms constitute the Writs and Receivers Department which Janavs supervises.
She spends the non-calendar days and, generally, the afternoons of the days when she does hear matters, reading the papers—including, often, volumes of records in administrative mandamus matters.
Janavs noted that while the need to devote time to preparation militates against allowing argument to stretch into the afternoon if it can be avoided, it sometimes can't be.
"I will never, ever cut my time short [in hearing argument] if I think it's needed," she said.
Turner pointed out that Janavs and Yaffe handle "some of the most complex cases in the state."
Los Angeles Superior Court Assistant Presiding Judge Stephen Czuleger remarked that having Janavs in the Writs and Receivers Department "these past many years"—it's been since August 1999—"has given the Los Angeles Superior Court an unparalleled resource to deal this most complex and demanding of calendars."
Seemingly signaling that he intends to reassign her to that department during his tenure next year and the year after as presiding judge, Czuleger added:
"Judge Janavs is simply one of the most tireless and intelligent bench officers sitting today....Having her skill and dedication has made the job for court administration a much easier one and the public which we all serve is blessed with the quality that she brings every day to work."
Emigrated in 1950
Janavs' native Latvia was invaded by Russian troops in 1941 when she was 4; became an unwilling constituent of the Soviet Union; was raided by Nazis during World War II; and remained under Communist domination after end of the war in 1945. Janavs and her family took refuge in 1944 in a camp for displaced persons in southern Germany. Rather than return to their native land, under Soviet rule, they sought entry into the United States, and succeeded in 1950, under the sponsorship of the Unitarian Church.
Janavs' father, who in Latvia had been a court clerk studying law at night, became a gardener here, and her mother, who was a lawyer in their homeland, was reduced to working as a housekeeper.
Both, she noted, were alive when Gov. George Deukmejian appointed her to the Superior Court in 1986, and attended her enrobement.
At the time of her appointment, Janavs was first assistant chief of the Civil Division of the United States Attorney's Office for the Central District of California. One of the numerous attorneys she supervised in that capacity was Fumiko Wasserman, now a judge of the Los Angeles Superior Court.
Wasserman recounted that in that role, Janavs "was highly regarded for her integrity, intelligence, work ethic, and knowledge of the law" and "was an excellent supervisor, who was accessible and supportive," adding:
"She instilled her core values of doing what was fair and just."
Wasserman went on to say:
"As a judge, she continues to promote and maintain those high standards. Our court has benefited from her legal acumen, hard work, and collegiality."
Janavs had been a member of the U.S. Attorney's Office since 1962, the year she was admitted to practice. She received her law degree from the University of California at Berkeley in 1961 and her undergraduate degree, summa cum laude, from San Jose State University in 1958.
Considered for Federal Bench
Then-U.S. Sen. Pete Wilson, R-Calif., in 1990 recommended Janavs for appointment to the U.S. District Court for the Central District of California. President George H. W. Bush did not take Wilson's advice.
Janavs recounted that she came under consideration at the same time as William Masterson (who became a member of this district's Court of Appeal, and is now retired). Masterson was then 60.
The perception on the part of the administration, she said, was that Masterson "was too old and I was too liberal."
She identified herself as a moderate Republican.
Janavs noted that Court of Appeal Justice (now Presiding Justice) Norman Epstein of this district's Div. Four had urged her to seek appointment to his court, but she decided not to.
"I really sort of enjoy what I'm doing," she explained.
Janavs lives with her husband, retired architect John R. Janavs, in a Studio City apartment. They have three adult children—a daughter who is a neurologist, a son who is an art director in the film industry, and a son who is an investor—and six grandchildren.
"I have thought over the years that maybe I should retire," she said. "I just couldn't do it.
"I'm just not ready yet."
The judge related that when she was challenged, the immediate support lent by colleagues was "uplifting, heartwarming, incredible."
Now, she's revving up as a candidate, readying to attend bar meetings and speak before civic groups.
"I'm not looking at this as something that's going to be a misery," she said.
—R.M.G.
______________________________

LYNN DIANE OLSON
Manhattan Beach's 'Bagel Lady' Seeks a Career Change

Lynn Diane Olson has a spotless reputation as a lawyer. On the other hand, she has no virtually no reputation as a lawyer.
Olson, 42, was admitted to practice on Dec. 11, 1989. She worked briefly for Adams, Duque & Hazeltine, then Christensen, White, Miller, Fink, Jacobs (neither of which now exists), and assumed voluntary inactive status on Jan. 1, 1996. Olson became an active member from Feb. 10, 1998 until she resumed inactive status on Jan. 1, 1999, and reactivated her license last Dec. 29 as she prepared to run for a judicial post.
This is not to say that Olson is obscure. To the contrary, she is well known in the Manhattan Beach business community as co-owner with her husband of Manhattan Bread & Bagel, which sells bakery goods and sandwiches. The business is incorporated, and she's president of the corporation.
At the Sepulveda Boulevard establishment, they make their own bagels, boiling them for 10 minutes before putting them in an oven.
In 1998, she appeared at least twice before the Manhattan Beach City Council to protest the proposed implementation of the county's letter-grade rating system for restaurants—an unfair system, she argued on one occasion, under which a restaurant could be penalized for something like a burned out light bulb, in no way affecting public health. That system is now in effect, and her store has a placard in its window with a large blue "A." It has, however, no placard, as of yet, touting Olson's candidacy for the Superior Court—and might not have one, given the non-existence of any campaign.
Chamber of Commerce
Olson has been on the board of the Manhattan Beach Chamber of Commerce, and was board pr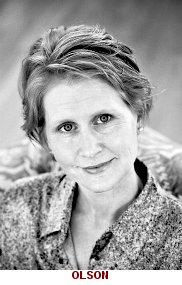 esident in 1998.
Richard Frank, publisher and editor-in-chief of the Beach Reporter, is also a former board president. When Olson held that post, he said, "I believe she ran the board in an ethical and professional manner."
He added that she volunteers her time to local charities.
Debra A. Lauzon of the Hermosa Beach law firm of Lauzon & Euler, LLP—who is active in the Manhattan Beach Chamber of Commerce and in 2003 was given its "Business Woman of the Year" award—said this:
"I have known Lynn for years and know her to be intelligent, sensitive and trustworthy, all traits of an excellent judge. I would not hesitate to vote for her. She is dedicated and hard-working in every endeavor which she has undertaken, and I would expect nothing less of her on the bench. The judiciary would be blessed to have her as a member."
Olson is known also in neighboring Hermosa Beach, where she and husband Michael D. Keegan reside in a condominium. Keegan is a member of the Hermosa Beach City Council, first elected in 2001.
Husband Recounts Background
Olson does not have campaign literature and no biography of her (or even a bare listing) is included in Martindale-Hubbell. However, some basic biographical facts have been gleaned from her husband's 2001 candidate statement and from information Keegan supplied by e-mail in response to an inquiry.
Keegan said in his candidate statement:
"Hermosa Beach is a very special place. I moved here 15 years ago after graduating from the University of Illinois. Two years later I bought a home and married my college sweetheart, Lynn. Nine years ago, we opened our business Manhattan Beach Bagel & Bread Co."
The State Bar's website reveals that Olson received both her undergraduate and law degrees from the University of Illinois.
In the e-mail, Keegan advised the METNEWS that he and his wife met during their senior year of college and graduated together in 1985; that she was a business major; and they have a daughter, Juliann Marie.
Husband's Assessment
As to the qualities he discerns in her that would make her suited for the bench, Keegan remarked:
"Lynn is an asset to any organization or project. She's the kind of person who you'd say: 'I want her on my team.' She has broad experience in law, business, and charitable work. She has taken a company of eight and helped it grow to over 100 people; she knows what it's like to make a payroll every week for over 15 years. She has a thorough understanding of complex legal, accounting, tax, employee relations, technology and patent issues related to business.
"Lynn's involvement in charitable work includes serving on the LA Bio-Med Foundation Board of Directors. She also chaired the Foundation's annual gala for two years and raised over $160,000 for the Foundation. She understands the needs of the working poor and the tough decisions and issues that face the underserved.
"She is highly organized, energetic, focused, honest, good natured and the citizens will be well served by electing her to this office. I have no doubt that she will be one of the Los Angeles Superior Court's best judges."
Legal Community Outsider
While Olson is no outsider in the beach-area business community, she does appear to be such in the legal community.
Queried about Olson, probate attorney Daniel V. DuRoss of Manhattan Beach, a former president of the Irish American Bar Assn., said:
"I have been going into Manhattan Bread and Bagel in Manhattan Beach, California since it opened and even served on the Chamber Board with Lynn. I never knew she was an attorney."
Lorraine Davidson, Manhattan Beach practitioner who is not a member of the Chamber of Commerce, related:
"I have never had any dealings with Lynn Olson. I know of the Manhattan Bread & Bagel company, but that is it."
Won't Discuss Campaign
Olson has not been available for comment since a METNEWS reporter encountered her March 10 at the Registrar-Recorder's Office when she filed her nomination papers. As to why she is opposing Los Angeles Superior Court Judge Dzintra Janavs, Olson said only: "I think I'll be a better judge."
She disclosed that she will not spend $1,000 on the campaign, the minimum outlay necessary to trigger the requirement of filing an itemized list of contributions and expenses.
Asked pointblank whether she is challenging the incumbent because she has a foreign-sounding name which might meet with disfavor with the electorate, Olson looked at the reporter and did not respond.
Olson was reportedly not present at an orientation reception the Los Angeles County Bar Assn. Judicial Election Evaluations Committee held March 23 for this year's judicial candidates, whom it will rate as "not qualified," "qualified," "well qualified," or "exceptionally well qualified." Nearly all of the other candidates, including incumbent Janavs, were there.
—R.M.G.
Copyright 2006, Metropolitan News Company