Friday, May 12, 2006
Page 5
JUDICIAL ELECTIONS: Los Angeles Superior Court, Office No. 8
Court Commissioner, Two Government Lawyers Compete in Primary
Rivals for Los Angeles Superior Court Office No. 8 speak highly of each other.

The candidates are Los Angeles Superior Court Commissioner Alan H. Friedenthal, Deputy Attorney General Bob Henry, and Los Angeles Deputy City Attorney Deborah L. Sanchez.

In separate interviews, Friedenthal spoke warmly of "Bob" and said that he and "Deborah" had engaged in two or three conversations of late and he found her to be "very nice."

Henry remarked that voters will find it "hard to choose between us." Whichever candidate in the race wins, he said, the public is "going to wind up with a good judge."

Sanchez said:

"No matter who is victorious, I think that the public is going to get a really good deal," pointing out that all three candidates are "in public service."

Friedenthal has the lion's share of the endorsements, including those of the Los Angeles Times, the Los Angeles Police Protective League, the Association of Los Angeles Deputy Sheriffs, and nearly 60 judicial officers.

Sanchez, on the other hand, has a Hispanic surname—increasingly an asset in judicial races. Being the sole female in a field of three, in itself, creates a strong possibility she will be in a run-off. Catapulting her chances is the ballot designation of "Criminal Prosecutor," which has aided candidates in past elections.

Henry, in his third race for a judgeship, has acquired some name recognition. (He also ran for the Assembly and for Congress.) He, too, has a strong ballot designation: "California Deputy Attorney-General."
______________________________

ALAN H. FRIEDENTHAL
Superior Court Commissioner Says Judicial Experience Gives Him an Edge
Judicial experience is the advantage which Los Angeles Superior Court Commissioner Alan H. Friedenthal claims over his two rivals in the race for an open seat on the county's trial bench.
Friedenthal, 50, has been a commissioner since Aug. 3, 2005, having been elected by the judges of the court. He was sworn in by his wife, Commissioner Steff Padilla.
Before that, he served as an as-needed referee since 1997. Until there was a budget cut-back in October, 2002, Friedenthal sat three or four days a week. After that, he continued to serve about once a week on a volunteer basis.
Working as a subordinate judicial officer, Friedenthal said, has given him the "acquired skills of judicial temperament" and "fairness."
He's serious about trying to win the election outright in the primary.
He said:
"Is it likely? Probably not.
"Is it realistic? Maybe."
Times Endorsement
Boosting his chances of meeting that goal is the endorsement of him by the Los Angeles Times, which said:
"Alan H. Friedenthal already does much of a judge's work as a Los Angeles Superior Court commissioner. He has a steady command of the law and has shown himself to be an impartial and dedicated administrator of justice."
Friedenthal has a professional campaign consultant, Evelyn Jerome. He noted that he has raised "just over $60,000."
The candidate has the endorsement of 55 Los Angeles Superior Court judicial officers. They include the presiding judge of the court, William MacLaughlin; the supervising judge of the criminal courts, David Wesley; and the supervising judge of the civil courts, Charles McCoy. Two justices of the Court of Appeal, Paul Boland and Sandy Kreigler, have also endorsed him.
Hill Comments
The site judge at the San Fernando courthouse where Friedenthal sits, Alice Hill, is making no endorsements in any race this year, but commented in response to an inquiry:
"Commissioner Friedenthal has been a wonderful addition to the North Valley family law bench. He brings a lot of energy and enthusiasm to his work and has been well-received by staff, lawyers and his fellow bench officers. He routinely volunteers to take on additional work and has had a number of new ideas on how to improve operations in San Fernando. He is a real pleasure to work with."
The judges endorsing Friedenthal are listed, along with other public officials and numerous attorneys, on his campaign website. The website tells of Friedenthal's involvement with "the Constitutional Rights Foundation, the Society of Professionals in Dispute Resolution, the Anti-Defamation League and the Sherman Oaks Rotary Club."
Varied Activities
A Google search reveals yet other interests and activities.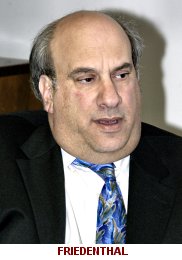 •The "Political Graveyard" website has this mention of him:
"Friedenthal, Alan H. — of California. Democrat. Delegate to Democratic National Convention from California, 2000. Still living as of 2000."
•USC's website includes a page from the Winter 2001 "Alumni News" which reported:
"Alan H. Friedenthal MA '80, an attorney in Sherman Oaks, Calif., has steadily donated books and videotapes about lawyers to his alma mater, Southwestern School of Law in Los Angeles. Nearly every book in Southwestern's law library bears his name on the donor plate. Friedenthal has also donated every film in the collection that has become available on videotape since 1996."
•On the same website, The Trojan Family Magazine for Autumn, 2003 noted:
"Alan H. Friedenthal MA '80 is managing director of the Southern California Jewish Repertory Theatre."
•"The Daily Trojan Alumni Link" tells what former staff members of the campus newspaper are now doing. It refers to the commissioner thusly:
"Friedenthal, Alan. Staff writer, Copy editor 1974-1977
"Not much known."
•The Southwestern University School of Law website contains issues of the "Alumni News." It was said of the 1983 graduate: "ALAN H. FRIEDENTHAL is serving as Project Chair of a fundraising campaign for the creation of a Children's Waiting Room at the Van Nuys Branch of the Los Angeles Superior Court, under the auspices of the Valley Community Legal Foundation (VCLF)."
•The California Women Lawyers website includes its newsletter from Fall, 2005. In announcing Friedenthal's selection as a commissioner, it alluded to his status as a lifetime member of the organization.
•A theater website shows Friedenthal as the producer of "Nathan the Wise" at the Lillian Theater in Hollywood in 2003.
•"IMDb," billed as "Earth's Biggest Movie Database," lists Friedenthal as an "actor." He played "Refugee #1" in the 1997 film, "Visas and Virtue."
In that movie—which won the 1998 Oscar for "Best Short Film, Live Action"— Friedenthal's presence was not prominent. "I had two lines in the final print," he said.
The director, lead actor, and one of the writers was Chris Tashima, son of A. Wallace Tashima, a judge of the Ninth U.S. Circuit Court of Appeals. Friedenthal said in planning the financing of the film, a meeting was held "in Judge Tashima's house in Silverlake."
The film deals with the true story of a Japanese diplomat in Luthuania who arranged for visas for Jews fleeing Nazi Germany.
Friedenthal noted he helped raise "just over $60,000" from the "Jewish community" to help get the film made.
He got involved in acting while a lawyer, he said, because it was "partly therapuetic" and party because it was it was useful in "honing" his "lawyering skills."
Back Burner
But acting and producing, he said, has been put on the "back burner" since he's become a commissioner.
While Friedenthal does not moonlight in show business, he does have a job teaching torts one night a week at the University of West Los Angeles School of Law. He will be listed on the ballot as "Court Commissioner/Professor."
The Election Code restricts ballot designations to "principal professions, vocations, or occupations of the candidate." Is the parttime teaching a "principal" pursuit?
"I'm not conversant with what the requirement is for 'principal occupation,' " Friedenthal said, adding:
"I don't know if it's a principal occupation. How about a co-principal occupation?"
Friedenthal has been admitted to practice in California, New York, Texas and the District of Columbia.
—R.M.G.
______________________________

DEBORAH L. SANCHEZ
Deputy City Attorney to Leave Job, Wants Next Post to Be Judgeship
"I think I've outgrown the City Attorney's Office," prosecutor Deborah L. Sanchez said in explaining her decision to seek a seat on the Los Angeles Superior Court.
The deputy Los Angeles city attorney has been prosecuting accused misdemeants for 18 years. Before that, she was briefly in private civil practice.
During her legal career to date, Sanchez said, she's handled everything from personal injury and family law to pro bono unlawful detainer cases, adding:
"I've done jury trials. I've been before the court almost every day for about 15 years."
If she doesn't get elected, Sanchez reflected, she'll still be leaving the City Attorney's Office.
"I want to do other things," she said. "I want to explore what's out there."
If, on the other hand, she is elected, Sanchez vowed, she will avoid the sort of inappropriate behavior she's observed in a few judges, such as shouting at attorneys. While she said she knows that judges encounter frustrating moments, she declared that it is just not her style to be loudly confrontational.
"That wouldn't be really in my personality," she said with a smile.
Respectful Attitude
Sanchez, who now supervises six lawyers in the City Attorney's Office, said her attitudes were molded by her experiences of growing up poor and being a single parent on welfare while going to college. The disrespect she sometimes encountered from others, she said, taught her that you "have to treat everybody respectfully."
Becoming a judge, Sanchez said, would provide a "different way" for her to "continue with my public service."
How much money she will be able to spend on the campaign remains an open question, Sanchez related. The decision to run was made suddenly, she explained, though it is something she has "been thinking about for a long time."
Spending Choice
She has about $25,000 in savings that was earmarked for remodeling her kitchen, Sanchez said, but she was not sure she wants to put all of that into a race she has no guarantee of winning.
She will have to find "a balance" between prudence and making a serious run for the office, Sanchez noted, remarking that if she invests everything and loses, "I have no kitchen and I'm not on the bench."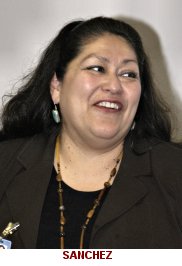 Sanchez, 46, conceded that she faces a pair of tough opponents in a well-respected and well-funded court commissioner and a deputy attorney general who went to law school at Harvard.
"I think I can overcome that because of the broadness of my experiences," she said, and being a woman with a Spanish surname and the ballot designation of "Criminal Prosecutor" may help as well.
Sanchez grew up in Wilmington, living there for the first 30 years of her life before moving to Long Beach and then to Lakewood, where she has resided since 1998.
Her Native American heritage was an important part of her life growing up, she explained, and when she was 16 she lived for a year with her grandparents on the Morongo reservation where her grandmother worked in a senior food program.
Sanchez has never married, and her own career was nearly derailed when she became a mother as a teenager.
"Everything changed," she recalled.
He son is now grown, working in the vending business, and his father died in 1998.
Turning Point
Even after she graduated from Cal State Long Beach, where she and her mother were students at the same time, law school seemed "too far to achieve," Sanchez recounted. A turning point came when she attended a recruitment seminar offered by a local law school at which a series of "brain teasers" were presented which purported to measure aptitude for the profession.
"I was getting these answers right," Sanchez recounted, and surprising herself by doing so. Though she was too shy to speak up—"I wouldn't raise my hand," she said—the experience emboldened her.
"I said, 'Wow, maybe I could do this,' " Sanchez recalled, and she applied and was admitted to Loyola Law School.
She gained membership in the State Bar on June 2, 1987.
Joining the City Attorney's Office was sort of a strange choice for her, Sanchez remarked, noting that she had a "very negative opinion of prosecutors and police, because of where I grew up."
But the office, she said, "helped me grow up" after some negative experiences in private practice that almost led her to abandon her legal career.
She said she temporarily soured on the practice of law when she handled her first trial. Opposing client lied to her as to a witness being dead and treated her in a demeaning and sexist manner, Sanchez recounted.
The City Attorney's Office, she said, has been "a secure place, a diversified place, and a friendly place."
Although she said she would not run again if she loses this time, Sanchez mentioned that it's possible she would seek an appointment.
—D.W., T.E.
______________________________

BOB HENRY
Veteran State Lawyer Says Third Try for Bench to Be His Last
Bob Henry has fortitude, but he says there are limits to it.
At age 61, and with four election campaigns—two for partisan office and two for judgeships—behind him, Henry says he will not run again if he loses the June 6 primary.
A California deputy attorney general since 1974, and the office's "Deputy of the Year" in 1992, Henry faces two other candidates from the public sector, and acknowledges that both have significant credentials.
What he has that his opponents cannot match, he said, is "a breadth of civil and criminal experience." He notes that one of the two candidates running against him, Superior Court Commissioner Alan Friedenthal, was a civil lawyer whose experience on the bench has been in juvenile and family law, while Sanchez has spent her entire career on the criminal side of the City Attorney's Office.
He boasts of having been on the cutting edge of state enforcement of worker safety laws, helping the state Department of Education close diploma mills, and handling important constitutional cases, and saving taxpayers large sums of money by investigating complex welfare and unemployment compensation frauds.
Hundreds of Appeals
He has also handled 800 criminal appeals and been involved for several years in death penalty litigation, notably In re Hawthorne, 35 C.4th 40, in which the Supreme Court clarified the standard and procedure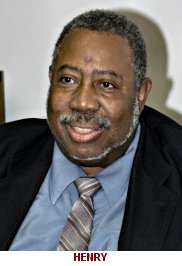 for resolving a post-conviction claim that a Death Row inmate is mentally retarded and not subject to execution.
Henry has also been involved in politics. An Altadena resident, he was twice nominated by the Democratic Party to challenge Republican incumbents—then-Rep. Carlos Moorhead in 1978 and then-Assemblyman William Ivers in 1982. He unsuccessfully challenged Los Angeles Superior Court Judge Joyce L. Karlin in 1992 and came in third when he sought the open Superior Court seat that was eventually won by Zeke Zeidler two years ago.
He is not the only political figure in his family. His sister, Inola Henry, is well-known in Democratic circles, having held a number of positions in the party.
She is currently a member of the Democratic National Committee, and was a delegate to the party's last two national conventions. Sources said she was instrumental in the Los Angeles County Democratic Central Committee's decision not to endorse in the race, which is among three Democrats, after a screening committee recommended Friedenthal.
Democratic Governors
After looking at his background and credentials, one is inclined to wonder why neither of the two Democratic governors who have served in the years he has been practicing has appointed him to the bench.
Henry said he applied during the terms of Jerry Brown, governor from 1975 to 1983, and Gray Davis, who served from 1999 to 2003.
He was optimistic in the closing days of the Brown administration, he said, because he was told by an aide to the governor to "please stay by your phone" for a possible appointment just before the governor left office. But the slot went to a colleague in the Attorney General's Office, Jerold Krieger, since-deceased.
He also applied under Republican Govs. George Deukmejian and Arnold Schwarzenegger, he said. He speculated that his challenge to Karlin, which took place against the backdrop of the incumbent's decision to grant probation to a Korean immigrant storekeeper convicted of manslaughter in the shooting death of a black teenager the defendant allegedly thought was trying to steal some juice, may have damaged him in the eyes of the State Bar Commission on Judicial Nominees Evaluation.
Henry came in second of four candidates, but Karlin got over 51 percent of the vote and avoided a runoff.
Some speculate that Henry's lack of a judicial appointment may be a result of his outspokenness, which was on display at a candidate forum sponsored by the League of Women Voters during his 2004 race.
Henry, who had recently appealed his Los Angeles County Bar Association rating and been successful in changing his tentative rating of "qualified" to a final "well qualified," told the audience that the association's evaluating process was worthless.
"You can take those ratings and throw them in the trash can," Henry said.
Of this year's rating, Henry would say only that his was "in process."
An Oklahoma native, Henry first came to California at age 14 on a visit to his grandmother and found he like it here. He graduated from Fremont High School and attended college at Purdue University and UC Berkeley before going on to Harvard Law School.
Brought Lawsuit
He spent about $20,000 on his last campaign and said he was unlikely to spend much more than that this time.
He had hoped to place a candidate statement in the official ballot pamphlet, but without having to pay $45,000 to do so. He has twice sued, claiming that the requirement is unconstitutional.
The most recent suit, now pending in the Ninth U.S. Circuit Court of Appeals, revolves around Henry's claim that the statute is capricious because it fails to set standards as to how the amount is determined, and gives counties unfettered discretion to waive the fee entirely and pass the cost on to the taxpayers.
—K.O.
Copyright 2006, Metropolitan News Company