Wednesday, May 17, 2006
Page 5
JUDICIAL ELECTIONS, Los Angeles Superior Court Office No. 28
Second-Time Candidate Faces Two Opponents for Open Seat
There are three candidates seeking election to the Los Angeles Superior Court, Office No. 28, the seat now held by Judge Stephen Petersen, who is retiring next month. Deputy District Attorney Judith L. Meyer ran for the court two years ago; her opponents, Deputy Attorney General S. Paul Bruguera and private practitioner Douglas W. Weitzman, are both first-time candidates. Bruguera has been a lawyer for 23 years and is married to a Los Angeles Superior Court judge. Weitzman argues that his experience as a judge pro tem qualifies him to serve as a full-time judicial officer, while the Los Angeles County Bar Association's evaluating panel disagrees.
______________________________

JUDITH L. MEYER
Second Time Could Be the Charm for Candidate With County Bar's Highest Rating
By all measurements, Judith L. Meyer is a formidable candidate for the Superior Court.
The only non-incumbent in this year's eight contests to win the County Bar's new "exceptionally well qualified" rating, she boasts the potent "Criminal Prosecutor/Professor" designation and has been endorsed by the Los Angeles Times, which described her as "outstanding."
She also has the backing of Sheriff Lee Baca, District Attorney Steve Cooley, and about 40 active and retired judicial officers.
Lost Runoff
When she ran for the bench the first time, two years ago, she was outpolled by Donna Groman, then a Superior Court commissioner, in the runoff after finishing first in the primary with just over 247,000 votes, or 32.6 percent,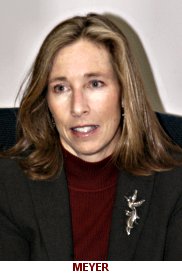 while Groman received just under 221,000, or 29 percent.
The race set records for spending in a judicial campaign, with Meyer and Groman spending over $200,000 each between the primary and runoff campaigns.
She is trying again, she says candidly, because she still "want[s] this very badly."
Campaign consultant Fred Huebscher, who is not working for any candidate in the race, said there is a "very good chance" that Meyer will win this time without a runoff. Huebscher, whose specialty is slate mail, said he based that prediction on the fact that Meyer will be on "many slates," possibly including his, while her opponents apparently will not be on any.
One change that she has made this year is a new ballot designation. Two years ago, she ran simply as "Criminal Prosecutor," although she was teaching at Pacific Coast University School of Law, an unaccredited school located in Long Beach where she holds the title of assistant professor.
Law Professor
The difference this year, she explained, is that she is now teaching an "upper class subject," constitutional law, rather than first-year legal writing, as she was two years ago. It takes up enough of her time, she said, to justify calling it a "principal occupation, vocation, or profession"—the standard set forth in the Elections Code—although it pays no more than $4,000 per year, a small sum in comparison with her county salary of more than $100,000.
It's good politics as well, Huebscher said. While Meyer would be the favorite with or without calling herself a "professor," he said, the title could be what pushes her over the 50 percent mark that would elect her June 6 without a runoff.
Meyer, 39, is a graduate of UC Santa Barbara, having worked as an emergency medical technician during her last two years of school, and Pepperdine University College of Law. She worked for the federal Organized Crime Strike Force in Los Angeles as an extern while in law school, then became a Ventura County deputy district attorney after being admitted in 1993.
Family Support
A San Fernando Valley resident at the time, she explained, she took the Ventura job because she wanted to be a prosecutor and the Los Angeles District Attorney's Office had a hiring freeze at the time. But three months after taking the job, she met Steve Meyer, an engineer from Orange County, and later took the Los Angeles job in order to cut down on the distance between them.
They were married five years ago.
To make the move, Meyer had to take a job on the family support side of the District Attorney's Office, doing civil work that has now been transferred to an independent county department. She did that for three years, then moved to the criminal side of family support for two years.
Forcing recalcitrant fathers to support their families, and to reimburse the taxpayers for welfare payments, is generally not thought of as a choice assignment. But Meyer touts it as a qualification for the bench, since it gave her a civil and criminal background.
She had to learn family law, along with how to enforce civil judgments.
She eventually moved to juvenile court, then spent several years at the Torrance courthouse as part of the Victim Impact Program, a special unit that handles adult and child sexual assault, family violence, stalking, elder abuse, and other serious felonies. She now prosecutes elder abuses cases downtown.
______________________________

S. PAUL BRUGUERA
Longtime Lawyer, First-Time Candidate, Runs Minimal Campaign
Deputy Attorney General S. Paul Bruguera has never run for office before, and it shows.
In a recent interview, Bruguera indicated that he had done a good deal of thinking about what kind of judge he will be, but little about how to run a judicial campaign.
He has no consultant and is spending little money on the race, and did not begin seeking endorsements until several weeks after he filed to run. He still lists no endorsements on the League of Women Voters' candidate Web site, and a link from that site to his supposed campaign site reveals a page with no content.
Lack of Endorsements
His lack of published endorsements is a surprise given that he is married to one of the court's veteran judges.
Paul and Soussan Bruguera have been married for 23 years, and she has served on the court for 17 of them. They have two children who, he said, are "very articulate" and may become lawyers.
His approach to campaigning, he acknowledged, is much like his courtroom style—"fairly laid back."
His strategy, he said, is to "reach as many communities as I can" in hopes of getting into a runoff with Deputy District Attorney Judith Meyer, believed by many, including Bruguera, to be the frontrunner in the race after having run strongly two years ago.
Not Critical
He has nothing bad to say about Meyer or his other opponent, Douglas Weitzman, and said he did not know them before entering the race. He chose to run for Office No. 28, he explained, because it was less crowded than some of the other races—he was the second candidate, after Meyer, to take out papers for the seat—and because he did not want to run against a judicial officer.
Bruguera was rated "qualified" by the County Bar. He did not return MetNews phone calls regarding the rating.
Political consultant Fred Huebscher, who is not working for any candidate in the race, said he has seen no evidence of advertising purchases or other campaign activity on Bruguera's behalf.
Loyola Graduate
The candidate is 49 years old and joined the Attorney General's Office six years ago after practicing litigation at the Los Angeles firm of Burke, Williams & Sorensen, which represents many local government entities. He is a Loyola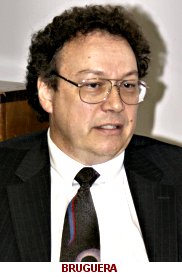 Law School graduate and has been doing civil litigation since 1982, focusing in recent years on condemnation and land use law after having done insurance defense work earlier in his career.
The work remains interesting, he said, especially since he learns "more about state government with every case."
He decided to run for a judge because his years of advocacy have convinced him that he would "be good...in the role of decision maker." He applied for a judicial appointment during Pete Wilson's administration, but has not done so since, he said.
He is a registered Republican, but not politically active. He had not considered running in the past, he commented, but thought his timing would be good this year.
"What caught my attention was the last election cycle," in which two of his fellow deputy attorneys general, Bob Henry and Gus Gomez, ran and Gomez was elected. Henry, who was eliminated in the primary, is running again this year, for Office No. 18.
With a contested race for attorney general this year, he added, he expects there will be more focus than usual on what the office does, a factor he said could accrue to his benefit.
He said on a Web page sponsored by the League of Women Voters that is running, in part, because he "want[s] to continue the good work of the Los Angeles Superior Court in its outreach to the community, the media and the Legislature."
Well Traveled
One advantage he would bring to the bench, he said, is that his years of practice have taken him to many counties, giving him experience in dealing with a diverse spread of lawyers.
He is, he said, well suited to serve the Los Angeles County citizenry, which includes many persons who, like himself, are first-generation Americans. He came to this country at the age of four with his parents, retired librarians who live in Northern California.
His father is Spanish, while his mother hails from Finland. They met in Paris, as students at the Sorbonne.
They settled in Palo Alto, where their son attended high school before coming south to attend Claremont McKenna College, where he majored in psychology. But he was "always interested in law," he said, so he went on to Loyola Law School, graduating in 1981.
______________________________

DOUGLAS W. WEITZMAN
Candidate With No Money and No Endorsements Admits He's A Long Shot
Of the three candidates seeking election to Superior Court Office No. 28, one of them admits that his chances of being elected are not very good.
Douglas W. Weitzman, 50, has no campaign consultant, no endorsements, and has filed a short form campaign report stating that he does not intend to spend more than $1,000, excluding the $1,491.60 filing fee, on the campaign.
He declined an invitation to sit down for an interview with the MetNews. But in telephone conversations, he said he was aware that private sector attorneys generally do poorly in judicial elections and acknowledged that his plans to campaign with no candidate statement, no campaign consultant, and little money made victory improbable.
Big Aspirations
He decided to run anyway, he said, because he aspired to be a judge ever since he became an attorney in 1980.
A graduate of Southwestern University School of Law, with a master's degree in tax from USC, he said that after hearing thousands of small claims and traffic cases and arraignment proceedings as a judge pro tem, he feels he has a lot to offer as a bench officer.
But while he is a prolific judge pro tem, claiming to have heard more than 50,000 proceedings, it is not clear just how much law he has been practicing.
Realtor/Attorney
A telephone call to the phone number listed by Weitzman on the State Bar Web site was answered "Paradise Realty." Weitzman, a licensed real estate broker for 25 years who is listing himself as "Corporate Attorney/Professor" on the ballot, explained that he practices law in connection with the brokerage, and that he has some private tax clients as well.
The "professor" part of the designation referred to his teaching law-related courses at the University of Phoenix, a for-profit institution which bills itself as the nation's largest accredited private university. The accreditation comes from an organization called the North Central Association.
'Adjunct Professor'
Weitzman said he was an "adjunct professor," although the school said that his title was "instructor." He acknowledged that he has not taught there "in about a year," but said was "still a professor at the school" and said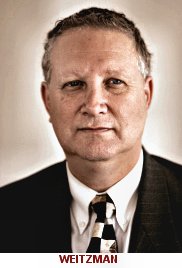 "[the] director of the school told me it's OK" to use that title.
Elections Code Sec. 13107 says that a ballot designation, other than "incumbent" or the title of an elected office, must refer to the candidate's profession or occupation "during the calendar year immediately preceding the filing of nomination documents."
In a phone conversation last week, Weitzman accused the MetNews of trying to torpedo his election by reporting, based on information from an anonymous source, that he had tentatively been rated "not qualified" by the County Bar panel that evaluates judicial candidates.
He said he was appealing that rating, but was unable to raise it. The final ratings were released Monday.
Weitzman declined to say what explanation he was given for the rating. He faxed a statement, but would only authorize its use if it were printed in full.
The candidate, whose priorities if elected, according to his page on the League of Women Voters smartvoter.org Web site, include "To be fair, and have the highest integrity," used to be a personal injury lawyer. He apparently got out of the field after Allstate Insurance Company sued him in connection with allegedly staged accidents.
Qui Tam
The case resulted in a published opinion, People ex rel. Allstate Insurance Company v. Weitzman (2003) 107 Cal. App. 4th 534, in which the court held that Weitzman and his co-defendants could be sued on a qui tam theory under the California False Claims Act.
Weitzman would not discuss the suit, and Allstate's counsel, Dennis B. Kass of Manning & Marder, Kass, Ellrod, Ramirez, did not return a phone call.
— Kenneth Ofgang
Copyright 2006, Metropolitan News Company