Friday, May 19, 2006
Page 5
JUDICIAL ELECTIONS: Los Angeles Superior Court Office No. 144
Seven Candidates Seek Judicial Seat in Busiest Contest This Year
The largest field of judicial candidates in Los Angeles County this year is seeking the seat previously held by Judge Paula Mabrey, who retired April 28.

The diverse group includes two women, one of whom is also the only Hispanic candidate in the race. Three of the candidates have run for the court before, one of them seven times.

Three of the candidates are rated "well qualified" by the County Bar. At least three are known to have purchased space on multiple slate mailers, and another has a candidate statement in the official ballot pamphlet.
______________________________

JANIS LEVART BARQUIST
Candidate Snares Sought-After Democratic Endorsement
Of the four candidates in this race who have never run before, Los Angeles Deputy City Attorney Janis Levart Barquist has demonstrated the most political savvy.
She has retained Evelyn Jerome, the consultant who oversaw Donna Groman's come-from-behind runoff victory for a judicial seat two years ago; won the endorsements of the Democratic Party, several individual Democratic clubs, and a couple of labor unions, and will be listed on several of the slates that will be showing up in voters' mailboxes in the next two weeks.
Jerome said her candidate has done "a fabulous job of getting out there and telling people why she's running." Barquist said in a recent interview that she expects to be in a runoff—she declined to predict her opponent—based on her experience and background.
"I'm in it to win," she said.
The candidate is a graduate of the University of Michigan, where she won a prize for her history of the United Mine Workers. She then moved on to Boston's Northeastern University School of Law, then began her legal career in New York representing members of teacher unions.
Barquist, 52, has been a lawyer for over 27 years. In her current role as a deputy city attorney, she represents the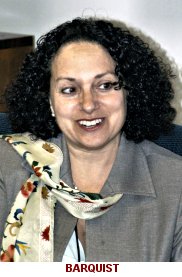 Los Angeles police and fire departments, among other agencies, with respect to employment issues.
Before this year, she said, her work involved a substantial amount of litigation. She received a merit promotion in December, she explained, and her current work primarily consists of giving advice.
She said she applied for a judgeship under former Gov. Gray Davis, but he was recalled right after she turned the application in. She now has an application pending but as a registered Democrat, felt that the odds of winning an election were better than those of getting an appointment, she said.
"I have a fairly balanced perspective," she commented, having worked for a union, a city, and in private practice, as well as as a mediator and arbitrator, She has also sat as a judge pro tem at the Stanley Mosk, Metropolitan, Robertson, and Beverly Hills courthouses, mostly hearing small claims cases.
She also conducted traffic arraignments, but can no longer do so since she works for a city.
A graduate of the University of Michigan, she practiced in New York and San Francisco, with an intermediate stop in Tokyo.
That moving around is not a matter of wanderlust, but a byproduct of marriage to Charles Barquist, an intellectual property lawyer who is a partner in Morrison & Foerster. She did not practice law in Japan, she explained, but was active in a professional women's group and learned to speak fluent Japanese, to got with the French she learned in college.
The couple has two children. The live in Beverly Hills, where Janis Barquist is active in civic activities, having taken second place in the city's Pie Bake Contest three years ago.
Of the four judges listed on her Web site as endorsing her candidacy, two—Presiding Justice Dennis Perluss and Justice Laurie Zelon, both of this district's Court of Appeal, Div. Seven—are former law partners of her husband.
The others are retired Los Angeles Superior Court Judge Lawrence Crispo and Superior Court Judge Harvey Giss. Giss is married to Barquist's City Attorney Office colleague, Susan Lopez-Giss, who is also running for judge and who is also a client of Jerome.
______________________________

STEPHEN H. BEECHER
Self-Styled 'Republocrat' Fights Uphill Battle
Stephen Beecher, 55, is a University of West Los Angeles School of Law graduate and 1988 admittee to the State Bar. He practices business and tort litigation, as well as bankruptcy and criminal law.
He was among the first candidates to take out papers to run for the court in the current cycle, but it took him a while to settle into the race he is currently in.
He originally took out papers for the seat held by Judge Mary Ann Murphy, but later said he did not expect Murphy to run for reelection. When Murphy made it clear she was running, he pulled papers for the seat from which Judge Michael Knight had just retired, but got out of that contest after the governor made an appointment to fill the vacancy.
Instead he wound up in the seven-candidate field for the seat of retired Judge Paula Mabrey, where he has been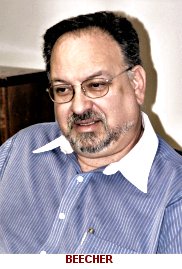 overshadowed by candidates with more money, more potent ballot designations, and more endorsements.
Beecher came into law practice after working as a credit manager for 12 years in two manufacturing businesses.
He also had a real estate salesperson's license, but records show it expired in 1987.
He currently holds a license as an armed security guard, but said he is not employed in that field, and is an NRA-certified firearms safety instructor.
He worked with Hayt, Hayt & Landau, a national firm whose practice consists primarily of collecting medical bills, before moving into medical and other litigation. He became a sole practitioner in 1994 and currently shares a Woodland Hills practice with Robert Marshall, whom he met while attending law school at night.
He serves periodically as a judge pro tem.
If elected, he said, he wants "to see things done more evenhandedly" in the courts. Pressure to dispose of civil cases quickly, he said, means that "fairness and justice for litigants has been thrown out in exchange for efficiency," costs of litigation have gone up, and "the baby has been thrown out with the bath water."
He has not sought an appointment to the bench, he said, because he "not involved politically." He is a registered Republican, but said he considers himself a "Republocrat," citing Thomas Kuchel, a U.S. senator from California from 1953 to 1969 who was generally described as a moderate-to-liberal Republican, as a model.
______________________________

MARIA RIVAS HAMAR
Family Law Attorney Seeks New Challenge
Having began her career as a criminal defense attorney, then transitioned into family law, Maria Rivas Hamar is ready for a change.
Hamar has been practicing with her husband, Richard Hamar, for the entire 23 years she has been a lawyer. The firm of Hamar and Hamar started in Miami, then moved to the West Coast about 15 years ago.
Practicing with her spouse has been "great," she said. "We've been very lucky."
It was law that brought the couple together, she explained. She was a University of Miami law student working in the Miami office that had been opened by Henry Rothblatt, a prominent New York City criminal defense lawyer; her husband-to-be, a lawyer since 1970, had an office in the same suite.
As partners/spouses, they became part of the busy Miami legal culture of the 1980s, when drug and money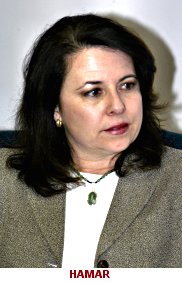 laundering cases filled the docket of the federal courts. The practice became national in scope, much of it centered in California, where Richard Hamar had originally been admitted and to which they eventually relocated.
They raised two daughters, and now that both are attending East Coast colleges, Maria Hamar said, there is time for other activities; her husband can indulge his passion for surfing, while she can run for judge, she said.
If elected, she said, she wants to be the kind of judge who "helps people." She cites as a role model Los Angeles Superior Court Judge Judith Chirlin, who has endorsed her candidacy and who Hamar said she admires for Chirlin's work helping train judges in nations that have only recently developed modern, independent judicial systems.
She also expressed admiration for Judge Jesse Rodriguez, like herself a child of Cuban exiles.
Hamar, who has been endorsed by the Mexican American Bar Association, predicted that she will be in a runoff with Deputy District Attorney David Stuart, and a political consultant who has run a number of judicial campaigns said there's a chance she will prove prescient.
Fred Huebscher, who is not working for a candidate in the race, said he is fairly certain Stuart will be in the runoff, and that either Hamar or Janis Barquist, but more likely Barquist, will be his opponent.
Hamar and Barquist, Huebscher reasoned, will benefit by being the only women in a field of seven, while Hamar will benefit further because her maiden name identifies her as Hispanic.
What may hurt, the consultant argued, is her chosen ballot designation, "Litigation Attorney." The word "litigation," he opined, "has a negative connotation even when you're running for judge."
Hamar should have run as "Family Law Attorney," he said.
If her bid does come up short, Hamar said, she will stick with the practice and will apply for a judicial appointment, she said. It is not a bad way to earn a living, she noted.
"Sometimes I enjoy it a lot, sometimes I don't," she explained. "It's family law."
______________________________

RANDOLPH M. HAMMOCK
Busy Trial Lawyer Says He's Best Qualified
Randolph Hammock has a rather unique pastime.
When he is not litigating cases, he is taking bar exams. He is admitted to practice in 15 states, and said in a recent interview that he is currently handling at least one case in each of them.
A glance at his PDA shows this to be no exaggeration, with hearings sometimes scheduled in different states on the same day, a practice he finds well-suited to his evident high-energy way of operating.
He has no doubt of his abilities. Not only is he "the most competent of the seven" candidates for the seat vacated by retired Judge Paula Adele Mabrey, he said, he is the "most qualified of all the candidates in the open seats."
He is a member of the American Board of Trial Advocates, which says it limits its membership to the top 1 percent of trial lawyers in America. He has done probate, family law, insurance bad faith, and civil rights litigation, and isone of three candidates in the race to draw a "well qualified" rating from the County Bar.
Before the ratings were released, he told the MetNews he "expect[ed] no less."
While his campaign is short on endorsements, the impact of his ballot designation of "Consumer Law Attorney" is uncertain, and he is apparently not going to be on any slates, he is the only judicial candidate in the county in this election to pay the $45,000 to have a candidate statement printed in the official ballot pamphlet.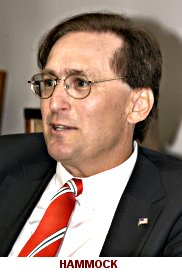 The outcome of his race could thus furnish arguing power to one side or the other in the longstanding debate as to the relative value of the candidate statement versus slate mail as the focus of a judicial campaign.
Hammock's own analysis is that 80 percent of voters choose judicial candidates based on name and ballot designation, and that the most effective way to reach the other 20 percent is through the candidate statement. He has also been looking for groups interested in having him as a speaker, but acknowledged that no one was "tearing down the walls to hear Randolph Hammock speak about Office No. 144."
He said he was "confident I'll make the runoff."
A Democrat, he said he applied for a judicial appointment when Gray Davis was governor, but his bid never went anywhere because Davis was recalled not long after he turned in his application. He did not reapply under the current administration, he explained, because he had already decided to make the race.
A native of Baltimore, Hammock's family moved to San Diego when he was 12. His father operated a linotype machine for the San Diego Union.
His first language was not English but American Sign Language, he explained, because both of his parents were hearing impaired.
He attended public schools, then went to San Diego State University. His aspiration was to become a film director, he said, but a professor convinced him he might have a bright future as a lawyer.
He went on to the University of San Diego law school, and did insurance defense work in San Diego for two years before moving to Los Angeles. He said he currently has an independent contractor relationship with Lester & Lester, a national law firm whose local office is in the San Fernando Valley.
______________________________

LARRY H. LAYTON
Perennial Candidate Makes Another Bid
This is Layton's eighth try for a judgeship. His first five attempts—including a 1994 write-in campaign against a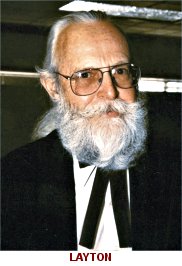 sitting judge—were to win election to the Antelope Municipal Court. With unification, the only court he could run for was the Superior Court, and he's now running for that court for the third time.
"I would like to win one before I die," he said prior to his last campaign.
He's the dean and proprietor of the Larry H. Layton School of Law in Acton, where enrollment typically varies between six and 12. A chart accompanying an article in the current issue of the State Bar Journal shows that in the past nine years, only five of his students have passed the bar exam.
Layton, 63, earned his law degree at Glendale University College. He was admitted to practice in 1975.
This year, he is running as a "Law School Professor." Previous ballot designations have included "Evangelist" and "Actor."
His acting roles have included Kris Kringle in the Palmdale Playhouse production of "Miracle on 34th Street."
______________________________

EDWARD J. NISON
Undaunted Also-Ran Takes Another Shot
Of the eight Superior Court candidates this year who have run before, perhaps the most surprising candidacy is that of Deputy District Attorney Edward J. Nison.
Nison, 48, turned in his papers late on March 15, the last day to file.
When he ran for an open seat two years ago, he finished next to last in a field of six in the primary balloting with less than 7 percent of the vote for the seat that eventually went to then-Deputy Attorney General Gus Gomez.
He also went through what he acknowledged was a perplexing process of being rated "not qualified" by the County Bar's Judicial Elections Evaluation Committee, an unusual development for someone who has been a prosecutor for nearly 20 years and has tried 30 homicide cases.
The committee rated him "qualified" this year after he appealed its tentative decision to rate him "not qualified" again.
His difficulties with the committee, Nison explained, stemmed from his handling of the murder prosecution of Calvin Broadus, better known as Snoop Dogg.
Prosecutors charged that Broadus told his then-bodyguard and co-defendant McKinley Lee to shoot Phillip Woldemariam, 20, in 1999 at a park in the Palms area of West Los Angeles, as a result of a gang dispute. The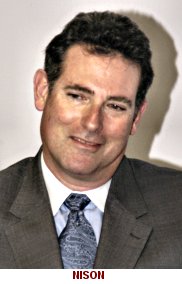 defense argued that Lee fired in self-defense after Woldemariam reached for a gun tucked inside his waistband.
The trial ended with jurors acquitting the defendants of murder and deadlocking, 9-3, in favor of acquittal on the lesser charge of manslaughter. The lesser charges were dismissed after prosecutors said they had no new evidence to present and doubted a jury would convict.
The trial was "not a particularly pleasant experience," Nison said, as Judge Paul Flynn held him in contempt.
Flynn fined Nison $200 for continuing to argue after the judge overruled a stenuous objection during cross-examination. In retrospect, he said that he "probably should have shut him," but continues to insist that he intended no disrespect.
Flynn also reported him to the State Bar after a detective, acting on Nison's instructions, went to an apartment looking for a potential witness who was also the subject of an outstanding warrant. Nison's explanation is that the detective went to he apartment, where he was surprised to find Broadus, but did not find the witness.
In Flynn's view, the incident was an effort to communicate with the defendant without his attorney present, a violation of the Sixth Amendment. The State Bar investigation resulted in his exoneration, Nison explained, but that did not satisfy some members of the JEEC, who brought the matter up again this year.
While he feels his years of service and his skills in the courtroom merit better than a rating of qualified, he said, he recognizes that it was the best he could realistically hope for as long as the Broadus trial remained an issue.
Some months after that trial, Nison transferred from hardcore gang member prosecutions to the unit that prosecutes environmental and job safety crimes, where he prosecuted the company that makes Morton Salt in the death of an employee. Jurors voted 11-1 to convict the company, but acquitted two managers who were individually charged.
Nison grew up in Ohio and graduated from Indiana University before coming west to attend Hastings College of the Law. His entire 20-year legal career has been spent in the District Attorney's Office.
He currently works in the Training Division of the District Attorney's Office. He said that he was running "for the same reasons I ran before." He told the MetNews he had "dedicated my career to public service."
He has not changed his campaign strategy since the last election, when he spent little money, eschewing a professional consultant and the slate mailers that are seen by others as a key to the outcome of judicial elections.
He said he is relying on his ballot designation of "Deputy District Attorney" and whatever personal contacts he can make with members of the vast electorate in hopes of making a runoff, at which time he said he would reevaluate the strategy.
______________________________

DAVID W. STUART
Youngest Candidate in Race Has Endorsements, Enthusiasm
Stuart, at 40 the youngest candidate in the race, is running for the second time. He is doing so, he said, because "as a published legal author"—he has written several law review articles—"and experienced trial attorney I believe I have a unique combination of legal skills to bring to the bench."
He ran for the first time six years ago, seeking an open Los Angeles Municipal Court seat. Because the Los Angeles county trial courts had just voted for unification, Stuart would have taken office as a Superior Court judge the following January, even though he would not have possessed the 10 years State Bar membership normally required of Superior Court judges.
Stuart received his undergraduate degree from California State University at Northridge and his law degree from Loyola Law School, where he graduated in June 1993. He worked as a research attorney for U.S. District Judge Manuel Real of the Central District of California from August, 1993 to August 1994, then joined the law firm then known as Manning, Marder & Wolfe.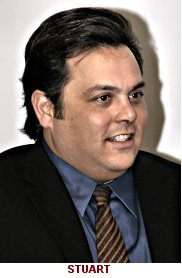 He was an associate there from September 1994 until he joined the District Attorney's Office in March 1995. His assignments as a prosecutor have taken him from misdemeanor cases in Newhall to felony trials in San Fernando to juvenile court in Sylmar to Compton and then to Van Nuys.
He currently works in the office's Healthcare Fraud unit, prosecuting allegedly injured workers who have collected workers' compensation benefits while healthy.
The work, Stuart explained, generally consists of showing the defense the tape of the defendant "water skiing or bowling or something like that." Since a case will not be prosecuted "unless it's dead bang," most of the defendants negotiate guilty pleas, he said.
Stuart lives with his wife and two daughters in Ventura County and has served as a judge pro tem in the Simi Valley branch of the Ventura Superior Court. One of his great passions away from work, he said, is baseball—he has played in adult leagues and attending this year's Dodgers Fantasy Camp in Vero Beach, and enjoys taking his daughters to games.
After finishing fourth of five candidates in his first race, Stuart is enthusiastic about his chances this time. He boasts the endorsements of District Attorney Steve Cooley, the Los Angeles Times, several labor unions and law enforcement and victims' rights groups, and 22 judicial officers.
Like Barquist and Hammock, he was rated "well qualified" by the County Bar.
He is investing heavily in slate mail, and is doing it without a consultant. His experience six years ago, he said, gave him valuable insights into "how the slate game works."
—Kenneth Ofgang
Copyright 2006, Metropolitan News Company