Monday, November 28, 2005
Page 1
MacLaughlin Keeps Bulk of Court Management Team Intact for 2006
By a MetNews Staff Writer
Los Angeles Superior Court Judge Richard W. Lyman Jr. has been named supervising judge of the South District for next year, the only new supervising judge in the courtís management team.
Lymanís selection became public Wednesday as Presiding Judge William A. MacLaughlin issued the courtís assignment list for 2006. Lyman succeeds Judge Bradford L. Andrews, who held the post for three years and will serve under Lyman as assistant supervising judge.
Lyman, 58, has been a trial judge since 1995, when then-Gov. Pete Wilson named him to the Long Beach Municipal Court. A graduate of UCLA and Loyola Law School ó and a credentialed schoolteacher ó he was a name partner at Buckley, Moore, Greenberg & Lyman in Torrance from 1980 to 1990 and headed his own firm from 1991 until he was named to the bench.
MacLaughlin, who is heading into the final year of his two-year term as presiding judge, retained the rest of the supervising judges whom he named last year, including Charles W. McCoy, supervising judge of the civil courts in the Central District; Aviva K. Bobb, probate; Robert A. Schnider, family law; Thomas C. Falls, East District; Michael R. Hoff, Northwest District; and Margaret S. Henry, dependency courts, all of whom will be entering their second years at those posts.
MacLaughlin also retained several supervising judges who originally served under his predecessor, Robert Dukes. They include Thomas R. White in the North District; Coleman A. Swart, who supervises both the North Central and Northeast Districts; Peter Espinoza, who remains at the helm in the Southeast District; Mark S. Arnold of the Southwest District; Linda K. Lefkowitz in the West District; Alice C. Hill in the North Valley District; and John Cheroske in the South Central District.
David S. Wesley remains supervising judge of the criminal courts in the Central District, while Michael Nash remains presiding juvenile court judge.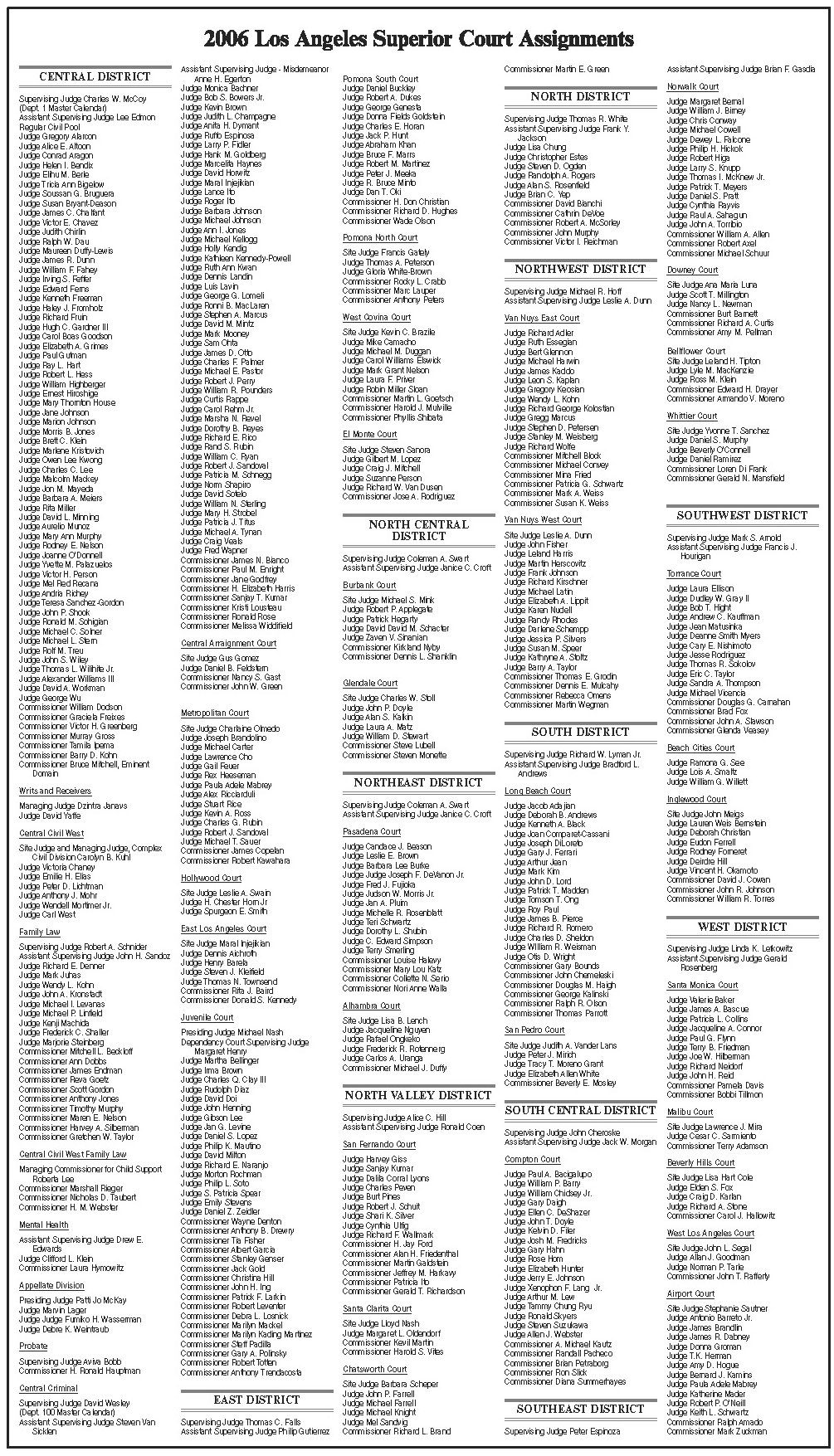 Copyright 2005, Metropolitan News Company