Metropolitan News-Enterprise
Thursday, December 22, 2005
Page 15
REMINISCING (Column)
Santa Claus Was 'Property' of Coca-Cola
By ROGER M. GRACE
Nowadays, no type or brand of soda pop is distinctively associated with Christmas or with Santa Claus. But, at one time, there was, indeed, a single soft drink that was linked in the public's mind with that jolly, rotund gent from the North Pole.
Coca-Cola was the beverage. The time was the 1930s to '40s, maybe early '50s.
Santa was hardly a protectible Coca-Cola trademark. He goes back to the real St. Nicholas who lived in Turkey in the 4th Century…was popularized in America through Clement Moore's "A Visit from St. Nicholas" (AKA "The Night Before Christmas") written in 1822…and was depicted in drawings by Thomas Nast published in Harper's Weekly from 1863-66.
Notwithstanding that St. Nick was in public domain, the Coca-Cola Company, through massive yuletide advertising, rendered Santa Claus its symbol.
It was in 1931 that the manufacturers of Coke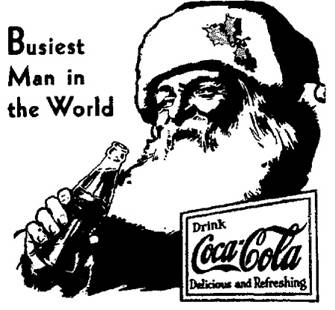 commissioned Swedish-American illustrator Haddon Sundblom of Chicago to produce a likeness of Santa. Coke had previously used Santa in its ads—for example, the one appearing at right, from 1930:
What Sundblom was to create, however, was not a drawing, but a "portrait," on canvas. And he kept on painting Santa for Coca-Cola through 1964. Below is a typical Sundblom rendering, from 1939.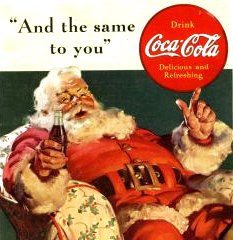 Snopes.com, a web site that debunks urban legends, labels as "false" the claim that "[t]he modern image of Santa Claus—a jolly figure in a red-and-white suit—was created by Coca-Cola." It quotes the New York Times as observing on Nov. 27, 1927:
"A standardized Santa Claus appears to New York children. Height, weight, stature are almost exactly standardized, as are the red garments, the hood and the white whiskers. The pack full of toys, ruddy cheeks and nose, bushy eyebrows and a jolly, paunchy effect are also inevitable parts of the requisite make-up."
Also reflecting the pre-1931 standardization of the Santa image is this lead paragraph in a Dec. 22, 1924 issue of the Gettysburg Times:
"It will be 'the night before Christmas' and the place will be Center Square, when more than 500 kiddies of Gettysburg will be royally treated by Santa Claus in his red and white suit, black boots, long white whiskers and stocking-cap."
No, Virginia, Coca-Cola did not invent the modern image of Santa. However, as snopes.com observed:
"All this isn't to say that Coca-Cola didn't have anything to do with cementing that image of Santa Claus in the public consciousness. The Santa image may have been standardized before Coca-Cola adopted it for their advertisements, but Coca-Cola had a great deal to do with establishing Santa Claus as a ubiquitous Christmas figure in America at a time when the holiday was still making the transition from a religious observance to a largely secular and highly commercial celebration."
Santa appeared in Coca-Cola TV commercials on Walt Disney's Christmas Day specials in 1950 and 1951.
Though Santa is no longer pictured in annual Coke ads, those ads are not forgotten. In 1973, Hallmark issued Christmas cards with images of Santa Claus painted by Sundblom, as well as renditions by Norman Rockwell.
(Rockwell's depiction of the bearded philanthropist was featured on the cover of the Saturday Evening Post in 1916 and in seven years to follow, ending in 1946, as well as being used by Pepsi-Cola in 1965.)
Sundblom's original oil paintings of Santa went on exhibit in December, 1995, at the Louvre in Paris.
Copyright 2005, Metropolitan News Company