Thursday, June 23, 2005
Page 11
REMINISCING (Column)
Pssst! Hey, Buddy. Wanna Buy A Can of Campbell's Soup?
By ROGER M. GRACE
Did you know that it was unlawful to sell canned soups anywhere in the United States from midnight, Feb. 20, 1943, until March 1, 1943?
'T'is true.
While it's difficult to imagine a can of Campbell's chicken noodle soup being a black market item, the Office of Price Administration did impose an 8-day ban on the sales of any foods that, as of March 1, would be subject to rationing. The anti-hoarding decree included not only canned soup, but also canned baby food, dried fruits, and canned and frozen fruits and vegetables.
(Meat rationing started four weeks later than that of processed foods.)
Initially, it was announced that while canned soups would be rationed, dehydrated ones—such as those made by Lipton, Betty Crocker and Wyler's—wouldn't be. But the exemption was rescinded prior to the March 1 starting date of the rationing.
Grocers' shelves became clogged with canned and dehydrated soups, and with the summer months approaching, an uplifting of sales appeared unlikely. The Office of Price Administration slashed the number of ration points needed to obtain these items. The Associated Press on April 21, 1943 reported:
"The customary 10½ ounce can of tomato soup was cut from 6 to 3 points and other canned soups from 6 to 4 points. For dry or dehydrated soups the new values are only a fourth of what they started out to be when processed food rationing began March 1. The points were cut in half March 29, and again approximately in half, effective tomorrow. The 24 ounce package will take a single point."
On May 1 of 1943, rationing of dehydrated soups was lifted altogether.
After the war, Campbell's entered the baby soup market. There were five varieties—chicken, beef,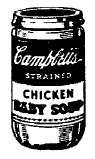 lamb, liver, and vegetable—and they were sold in glass jars, rather than cans.
Clapp's baby soups had been around since the late 1920s, and in the 1930s, Heinz, Libby's and Gerber's became its competitors.
Campbell's did not, however, long remain a purveyor of strained baby soup. It's efforts lasted from about 1946-49.
In 1954, there came a significant advancement in soup-making. Campbell's introduced frozen soups. The varieties were snapper, clam chowder, oyster stew, cream of potato, cream of shrimp, and green pea with ham.
An ad for Campbell's frozen oyster stew in February, 1956 explained that "[o]nly by the quick-frozen method" was it possible "to bring you this soup" with its full "flavor and goodness."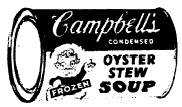 The oyster stew was superb. At least it was until just before Campbell's discontinued frozen soups. Apparently not making money on its frozen soups, the company started skimping on the ingredients.
I was sorry to see the frozen oyster stew discontinued. Apparently many were disappointed over the unavailability of frozen soups because Campbell's placed advertisements in newspapers in February, 1972 headed: "The Soups That Came in From the Cold." The text began: " 'Why can't I find your frozen soups any more?' That's the gist of the hundreds of letters and phone calls that have been pouring into the Campbell Soup Company in recent weeks—since Campbell's discontinued their popular line of frozen soups."
It declared that when the line of frozen soup was introduced 18 years before, "fast-freezing was the best process available for reserving the delicate flavors of such soups as New England Clam Chowder, Cream of Potato, Oyster Stew and Cream of Shrimp."
The ad continued:
"Over the years, technological advances have gradually made it possible for Campbell's to make similar varieties of the same high quality in their regular condensed soup form. And these soups in regular cans now represent greater convenience for consumers."
"Same high quality"? That was utter malarkey. Canned oysters and canned shrimp bear no resemblance to frozen seafood.
A canned oyster isn't even of the same consistency as a fresh or defrosted oyster. You can mash it with a fork.
By 1977, Campbell's was marketing a new array of frozen soups: tomato bisque, minestrone, beef vegetable and chicken vegetable. Every now and then Campbell's dabbles in freezing, but this form of soup, notwithstanding its vast superiority, has never caught on.
Copyright 2005, Metropolitan News Company