Thursday, May 19, 2005
Page 15
REMINISCING (Column)
And Before Condensed Soups...There Were Uncondensed Ones
By ROGER M. GRACE
I have no idea when canned soups were first marketed. That's not a date appearing on timelines.
However, it was well before the Joseph A. Campbell Preserve Company started selling its canned condensed soup. That occurred in 1898 (give or take a year). By then, various brands of uncondensed soups had become established, including Franco-American's, Armour's, Heinz's, Huckins' and Snider's. Campbell, itself, was known for its beefsteak tomato soup.
Canned soup was apparently a familiar dry goods item as of 1878. A humor column that appeared in the Boston Commercial Bulletin that year, which was picked up by some California newspapers, told of a husband who, in going off to the city, was handed a list by his wife of items to procure. He lost the list and relied on his memory—which proved faulty. One item he was to fetch was "[h]alf a dollar's worth of nainsook" (a type of soft fabric); instead, he brought "half a dollar's worth of canned soup."
In an ad appearing in the Fort Wayne (Ind.) Daily Gazette on April 30, 1881, a grocer offered "Ox Tail Soup twenty-eight cents per can. [¶] Mock Turtle thirty-four cents per can."
The Daily Kennebec Journal in Augusta, Maine on Aug. 30, 1888, carried a grocery store ad offering...
A "wit/humor" column in the Davenport (Iowa) Morning Tribune observed on Dec. 23, 1888: "Canned soup is excellent—if never taken out of the can,"
An 1891 trademark application filed by Nelson Morris & Co of Chicago showed that the company was using the words "Matchless Brand" on various products including canned soups. (The company later merged with Armour & Co., now owned by ConAgra.)
Once Campbell introduced its condensed soup, rival products went on the market. Some are referred to in this Aug. 30, 1900 ad in the Mansfield (Ohio) News: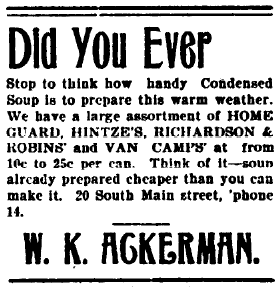 Schimmel's Condensed Soups were "the best 10c condensed soup ever put on the market," a 1901 advertisement claimed. "There's no other condensed soup quite as good as TRI-COLOR," a 1902 ad boasted."
An article on provisions toted by hunters, trappers and soldiers appeared in Elyria, Ohio's Daily Chronicle on Sept. 29, 1902. Telling how backpacks had become lighter in recent years, it noted:
"Canned soups of the standard brands were put up ready to serve without dilution, and the only portable substitutes were the time-honored 'soup cakes' of the kind used in the 'Swiss Family Robinson.' As soon as the idea was conceived of manufacturing something between these two extremes, it was taken up by several makers. The condensed soups of to-day are thick and require to be mixed with several times their bulk of water...."
Canned soup was apparently a reflection of the times in 1910. An article in the Oct. 26 edition that year of Fort Wayne, Ind.'s Weekly Sentinel made note of the Navy Department's report of finding a tomb containing an account of an English monk's foray to the North Pole in the Fourteenth Century, and commented:
"The notion of it! A monk, barefooted, most likely, wearing only the wonted coarse robe of his order, with no special types of clothes with fur inside and outside, no condensed soup...no kodaks, no stop-watches, no fountain pens, no gumdrops, no wireless telegraphy...goes up over the snow and ice and finds the pole and comes back making no noise about it and finally allowing the news to subside into a secret of the centuries to be sprung as this tale has been sprung."
Copyright 2005, Metropolitan News Company