Thursday, May 12, 2005
Page 15
REMINISCING (Column)
Condensed Soups Bring Success to Campbell Company
By ROGER M. GRACE
Campbell's soups evoke nostalgia and good feelings. Most of us have known them from the time we were toddlers.
I remember that whenever I stayed home from school with a cold, I got either Campbell's chicken noodle soup or Campbell's chicken rice soup for lunch. It was warming and seemed to be just the right thing.
The "Campbell's Kids," first featured in ads in 1904, and the slogan "M'm, m'm good," which originated in 1930s radio commercials, are familiar to just about everybody.
Because they're condensed, most of the soups can be used as sauces. There's no better sauce for meatloaf than Campbell's cream of mushroom soup. The cheese soup is ideal for bockwurst. Two cans of cheese soup and one can of tomato soup make a delicious sauce for shrimp with bacon and sautéed onions.
Innumerable recipes have gushed from Campbell's through the decades since the early 1900s, with booklets initially being offered at no charge.
The problem today is that there are so many varieties of Campbell's soups—all sorts of new and sometimes gimmicky ones, including types that aren't condensed—that the one you want is apt not to be on the grocery stores' shelves. Trying to find Campbell's tomato soup can be like seeking to locate a carton of vanilla ice cream.
The invention of condensed soup is generally attributed to an employee of the Joseph A. Campbell Preserve Company, chemist John T. Dorrance. At the age of 24, he was given a job there in 1897, at a weekly salary of $7.50 per week. He was hired by his uncle, Arthur Dorrance, who had formed the company along with Joseph Campbell and owned a major share of it.
The concept of condensed soup was known to others. The Weekly Nevada State Journal on July 14, 1877, reported that France was buying army supplies from Chicago companies and that a "condensed soup, capable of preservation for a long period and of speedy preparation, has been contracted for." The Daily Oregonian on March 12, 1878 carried an article headed "Condensed Soup," telling of the development by an "old lady" who was withholding her identity of what we would now call bullion cubes. But it is Dorrance who gets the credit for the process by which some of the water is removed from soup before canning it.
Condensing the soup lowered Campbell's costs of shipping and storage. A 10-ounce can retailed for 10 cents each, and was said to yield, once water was added, the equivalent of a 32-ounce can of Campbell's uncondensed soup which sold for 30 cents or more.
While the precise year Campbell started marketing condensed soup is not a matter of particular significance, it is curious that this, like dates in the history of many major products, is uncertain. The Campbell's U.S. website says Dorrance devised condensed soup the very year he was hired, 1897, and that the product went on the market that year. The company's UK website, however, says it was the following year that Dorrance figured out how to remove water from soup. An early Campbell's trademark application lists the date the condensed soup first entered commerce as 1898. (An ad in the Oct. 23, 1898 edition of The Nebraska State Journal shows that Anderson's condensed soup was then on the market.) Various sources peg the date as 1899, including the Sept. 21, 1930 Associated Press obituary on Dorrance.
Dorrance became president of the company in 1914, and sole proprietor of it the following year when he bought the company from Uncle Arthur, retaining complete ownership until his death.
The original varieties, according to the Campbell website, were tomato, consommé, vegetable, chicken, and oxtail. But the number of soups quickly doubled, as seen from this ad, appearing in the Sept. 3, 1899 issue of the Atlantic Constitution: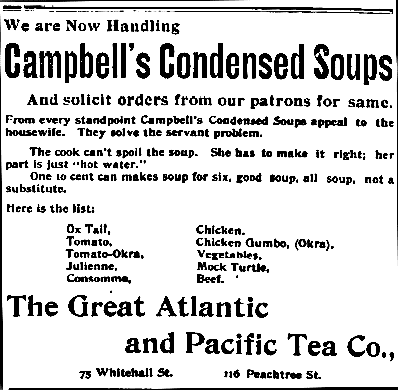 By 1905, Campbell's was marketing "21 kinds" of soup, maintaining that number into the mid-1930s.
Copyright 2005, Metropolitan News Company