Thursday, March 3, 2005
Page 15
REMINISCING (Column)
Smearing the Mustard on the Skin
By ROGER M. GRACE
Etched on a clay tablet in cuneiform (picture writing) is this medical advice from ancient Sumer (now Southern Iraq):
"Sift and knead together, all in one turtle-shell, the sprouting naga plant and mustard; wash the sick spot with quality beer and hot water; scrub the sick spot with all of the kneaded mixture."
Dated at around 2100 B.C., the tablet is said to contain the world's oldest known prescription.
Through the succeeding centuries, mustard came to be utilized for medicinal purposes in a variety of forms. Among them were mustard plasters, mustard poultices, and mustard baths, already discussed here. Add to the list mustard-based liniment (liquid or semi-liquid applied to the skin to relieve pain or as a counterirritant), mustard salve (greasy gook applied to sores and wounds) and mustard ointment (salve spread on the skin).
Such mustard-based agents were used by the Greeks and Romans to counteract a variety of maladies. They were employed by American Indians to treat rheumatism. Mustard-based preparations were marketed in Europe and were imported by colonists in the New World.
Makers of mustard-based preparations ascribed versatility to their products. An ad in the Edinburgh (Scotland) Weekly Journal on June 3, 1801, for example, represented that Whitehead's Essence of Mustard "has frequently succeeded in curing the most desperate Cases of Rheumatism, Rheumatic Gout, Lumbago, Sciatica, Head-ach, Numbness, Palsy, and Complaints of the Stomach, after the best advice and every other Medicine has failed."
An ad in the Gettysburg, Pa. "Republican Compiler" on Nov. 11, 1821, contained this testimonial: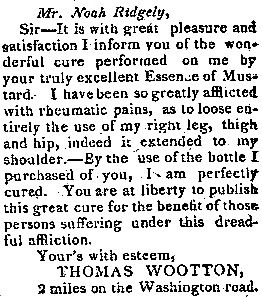 Ridgely, to whom the letter was addressed, was proprietor of "the Late Michael Lee & Co.," manufacturer of various "family medicines."
Bufferin, introduced Nov. 7, 1949, was touted as an advancement over regular aspirin because its buffering agents precluded stomach upset. Likewise, rub-on compounds containing mustard and buffering ingredients were heralded four decades or so earlier as modern replacements for mustard plasters because they eliminated blistering.
Taking major credit for buffered mustard was a New Yorker. Typical of his ads was one in the March 26, 1910 edition of the Newark (N.J.) Advocate which said:
"The man who put mustard plasters out of business had to invent something better, for mustard plasters have been used for aches, pains and other afflictions for scores of years and have given relief to millions.
"But when J. A. Begy, the well known chemist, of Rochester, N.Y. compounded, after years of experiment, a preparation which he named Begy's Mustarine, he gave to the world something so much quicker in action than mustard plasters, that medical authorities recognized its supremacy at once."
Foremost among the mustard ointments in the early 1900s was Musterole. An ad in the Feb. 18, 1913 issue of the Daily Review in Decatur, Illinois said:
"Takes the place of the old-time Mustard Plaster. Brings the same quick and delicious relief. And does not raise a blister.
"You get this clean, white ointment out of a clean, white jar. You simply rub it on—and the pain is gone!"
The ad went on to claim:
"It relieves everything that grandmother's mustard plaster ever relieved—Sore Throat, Bronchitis, Tonsillitis, Group, Stiff Neck, Asthma, Neuralgia, Headache, Congestion, Pleurisy, Lumbago, Pains and Aches of the Back or Joints, Sprains, Sore Muscles, Bruises, Chilblains, Frosted Feet, Colds of the Chest (it prevents Pneumonia)."
Mustard-based products intended for external use are on the market in the U.S. yet today, billed as "natural" remedies.