Thursday, January 27, 2005
Page 15
REMINISCING (Column)
Add Liquid to Dry Mustard, and Voila! A New Product for Spice Companies
By ROGER M. GRACE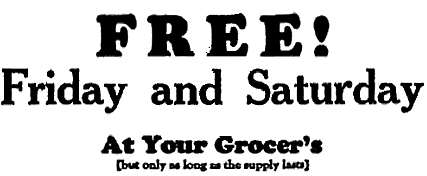 That was the heading on a large advertisement for A. Schilling & Company published in the Hayward (Calif.) Review on Feb. 27, 1930.
There would be a free 2-ounce tin of Schilling Cinnamon going to anyone purchasing the company's tea, the ad explained, and a 1-ounce bottle of "maple" (presumably syrup) going to any purchaser of Schilling Baking Powder. And to those paying for Schilling coffee, there would be a 4-ounce jar of Schilling Prepared Mustard Sauce, a new product of the San Francisco-based company.
The ad would appear in a newspaper in Hayward one week; another week it would be published in a Reno, Nevada paper; another week in Bismarck, North Dakota.
Schilling had a traveling spice display, with its impending arrival in town announced in ads in the local press. The specials might be for the week, Friday and Saturday, or just Saturday. There was some variation in the products offered, but a special on prepared mustard was a constant.
| | |
| --- | --- |
| <![if !vml]><![endif]> | |
It was by this-by-city approach in 1930 that Schilling introduced its prepared mustard to consumers from the West Coast to the Great Plains.
It made sense for Schilling, a spice company founded in 1881, to launch a prepared mustard. It was already selling a leading brand of ground dry mustard.
In powdered form, mustard is considered a spice. Once water, vinegar, or some other liquid is added, it's a condiment. By adding some liquid to its dry mustard, and presumably some other spices, Schilling in 1929 became a condiment maker.
Another spice company that was selling dry mustard likewise had undertaken—several years earlier—to wet its product and render it a ready-to-use one. McCormick & Co., founded in 1889 in Baltimore, Maryland, marketed prepared mustard in the east under the "Banquet" brand starting in 1902, and also used its "Bee" brand label, commencing in 1897.
| | |
| --- | --- |
| From a 1929 grocery store ad | |
In 1947, McCormick bought out Schilling, though the demise of that company was not apparent in the western half of the U.S. For years, McCormick perpetuated the use of the Schilling brand name here, while employing its own moniker in the east, and other labels in Canada and the U.K.
It continued manufacturing Schilling's Prepared Mustard at least through the early 1950s.
Gradually over the past few years, McCormick has phased out the Schilling name.
My wife and I have in our pantry a small cylindrical cardboard container of ground black pepper bearing the Schilling logo. Turning it 180 degrees, the McCormick logo appears. This was apparently transitional branding.
Nowadays, the only place you'll possibly find Schilling products is in your cupboard. (My wife and I have some Schilling food colorings which we used for tinting Easter eggs, to the delight of our daughter. Given that she's now an attorney, real estate broker, and publisher of her own newspaper, you'd be correct in assuming that the dyes are not of recent vintage.)
McCormick remains in the mustard business. It markets a dry mustard and mustard seeds. Additionally, in 2003, it purchased Zatarain brand for $180 million, becoming the maker of Zatarain's Creole mustard and its Creole mustard and herb sauce, as well as its chow chow (mustard and pickle relish).
Ironically, Emile A. Zatarain Sr of New Orleans began his business operations in 1889, the same year as Willoughby M. McCormick of Maryland. Both of their companies from the start made root beer.
Copyright 2005, Metropolitan News Company
MetNews Main Page Reminiscing Columns