Thursday, November 18, 2004
Page 15
REMINISCING (Column)
A.1. Sauce Derives Its Name From Utterance of a King
There were no Frigidaires in the 19th Century, and meat quickly lost its freshness. To cover up the tang of decay, steak sauce was used. One of the sauces concocted in that century was A.1. Sauce.
That steak sauce is today the best-selling brand in the United States, and used not to conceal staleness (or hopefully that's not the purpose of restaurants that offer it) but to enhance flavor.
It was created in 1824* by a chef named Henderson William Brand. He worked for an English king, George IV, who reportedly proclaimed the sauce to be "A.1." That term had only recently come into existence. Lloyd's of London had begun categorizing ships for insurance purposes, with "A Number 1" indicating the sturdiest of vessels. "A.1." became a term in common parlance connoting high quality.
* *Doubt was subsequently cast on the accuracy of that date. See column of Sept. 14, 2006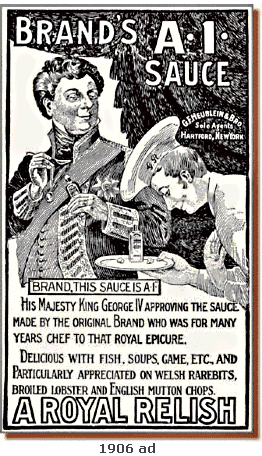 George IV died in 1830. The following year, Brand started selling the sauce under the Brand brand. He couldn't make a go of it, however, and sold his business to one W.H. Withall, who continued to market the sauce under the name Brand & Co.
Withall, in turn, sold the company in 1873. Brand proceeded to sue the new owners, Dence and Mason, for trademark infringement. The litigation lasted eight years, and a settlement was, in the end, reached, with Brand receiving an annuity.
Marketing of "Brand's A.1. Sauce" in the U.S. began shortly after the turn of the century. The product was introduced here by G.F. Heublein & Brothers, a liquor company, which reportedly survived Prohibition based on its sales of the steak sauce.
In 1991, the United States District Court for Connecticut found in favor of Nabisco Brands, Inc., which then owned A.1., in an action for infringement of its trademark. A delicatessen was marketing "A.2. Sauce," dismissing the similarity by saying it was merely a "pun."
The court found the likelihood of confusion on the part of consumers as to the source of "A.2. Sauce" to be "extremely high" and declared that "Nabisco's reputation and the consumer goodwill vested in the 'A.1.' mark stands to be jeopardized." It ordered that all bottles of the offending sauce be recalled and destroyed, enjoined further production of it, and ordered that defendant Arnie's Deli disgorge its profits from sales of the sauce.
Philip Morris Cos. purchased A.1. Sauce and a spate of other brands in 2000 when it acquired Nabisco Holdings Corp. for $14.91 billion. It already owned Kraft Foods to which it entrusted these new products.
Under the Kraft label, Philip Morris manufactures the "original" A.1. sauce, plus five variations which include a low-carbohydrate version.
Would a king in 1824 have pronounced these new sauces "A.1." or banished the concocter of them to the dungeon? I can't even speculate; I haven't tried them.
Ironically, A.1. Sauce had earlier been owned by R.J. Reynolds, another tobacco company, which had merged in October, 1982, with Heublin.
In its promotional materials aimed at restaurants, Kraft seeks to boost A.1. purchases by pointing to the higher tabs of patrons who order steaks. It advises:
"More than 7 out of 10 consumers say seeing A.1.® Steak Sauce on the table reminds them of steak. Help your waitstaff net more steak orders by putting A.1.® Steak Sauce on your tables."
That's an interesting Pavlovian approach.
Another innovative stratagem was used during the recession of 1974. Advertisements said of A.1. Sauce: "It isn't just for sirloin anymore."
A catchy advertising phrase in the early 1990s was that splashing A.1. Sauce on a steak is "how a steak is done."
Effective advertising was utilized more recently after A.1. sales fell 2.1 percent between 1999 and 2001. Kraft determined that some diners just weren't sufficiently assertive when they asked for A.1. Sauce and got something else. It launched a campaign based on the phrase "Yeah, it's that important." Up went its sales by 5.4 percent.
The words "A.1. Sauce" are often preceded by "slathered with," "doused in," "swimming in," or "drowning in." The name is not apt to be preceded by "lightly glazed with" or "dabbed with." You either like the stuff or you don't. I do. My wife, Jo-Ann, doesn't. She rates it as an insult to beef, and would be apt to precede the name with words like "ruined by" or "assaulted with."
Copyright 2006, Metropolitan News Company