Tuesday, January 20, 2004
Special Section
PERSON OF THE YEAR, 2003: Los Angeles County Supervisor Yvonne Burke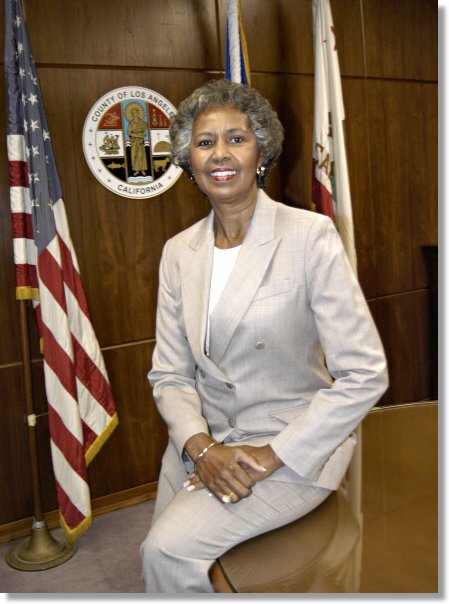 Supervisor Yvonne Burke
Board's Only Attorney Member Has Constituents for Her Clients
By DAVID WATSON, Staff Writer
Veteran Second District Los Angeles County Supervisor Yvonne Burke had a busy year in 2003.
Taking her turn as chair of the five-member governing body, Burke had to confront the county's latest budget crisis, which seemed to turn even more acute when newly elected Gov. Arnold Schwarzenegger followed through on campaign promises to revoke a vehicle license fee hike that was a major source of local government funding.
In her own district, the county's Martin Luther King Jr./Drew Medical Center—in the creation of which she played a part-—was making headlines as the target of harsh criticism from regulatory agencies. A rash of fall wildfires ravaged parts of the county, and a prolonged transit strike tried the patience of commuters, with some anger directed at the supervisors, all of whom sit on the Metropolitan Transit Authority board.
Fourth District Supervisor Don Knabe, to whom Burke relinquished the gavel early last month, says Burke had "a very, very difficult year," but calls her "just a class act."
He explains:
"It was a very volatile year. She handled it with the same class she handles everything else. She did a great job of working through all the issues and making peace when peace needed to be made. Her style is not confrontational. When she is passionate about an issue she certainly defends it to the end. But she's not a bomb thrower. She tries to keep everything on an even keel."
Burke is the 2003 Metropolitan News-Enterprise Person of the Year.
| | |
| --- | --- |
| | |
| The Burkes: step-daughter Christine Burke, daughter Autumn Burke, Yvonne Burke, husband Bill Burke. | |
When asked about recent events a few weeks before her term as board president ended, Burke typically chose to focus on a different issue—one that had only briefly captured public attention.
A freak mid-November storm dumped snow on Watts and caused flooding in many areas of Burke's district, which includes some of the county's most economically marginalized regions. Ironically, Burke says, it was a disaster made worse by county flood control improvements that two years ago relieved residents and businesses of flood insurance requirements.
"They determined it would take a 50-year storm [to cause flooding in the area], so people didn't have to have flood insurance," Burke explains. "It was just terminated, the requirement for flood insurance to get a loan—this was a 100-year incident."
While government has a direct role to play in helping an affected region recover after such an event, Burke says that help is seldom enough.
"The first thing I did was call every market, every company, to try to get monies in or goods in or food in or whatever," she declares.
Private Resources
Using her public position to mobilize private resources in times of crisis has been a Burke trademark at least since her first brief stint on the board in the late 1970s in the wake of Proposition 13, which almost overnight dried up the local government revenue stream. She was appointed by then-Gov. Jerry Brown to replace Jim Hayes as the Fourth District representative when Hayes abruptly resigned.
Like Brown and other supervisors, Burke was opposed to Proposition 13. Unlike some, she had a plan to deal with the fallout: what she sometimes calls "partnershipping."
Burke recalls that in those days, representing a conservative district where support for the tax reform measure was strong, she realized new methods would be needed to make government work under radically changed circumstances.
"My approach—which I still utilize—was to say okay, you have to have new partnerships," Burke explains. "So what I did was I went out to the private sector and tried to raise money to carry on various things. And of course that's what I do now. And I spend a lot of my time in terms of the kind of things that I put on, I raise the money separately."
An example from her first term on the board, she says, was raising money from private sources to pay for keeping county beaches clean. The flooding crisis is a more recent example.
Her willingness to work within the limits imposed by straitened local government budgets does not mean she has abandoned the liberal beliefs that drew her into politics nearly 40 years ago, the supervisor—whose youthful appearance makes it shocking to realize she is now 70 years old—is quick to point out.
Tax Changes Urged
County government has never recovered from the implications of Proposition 13, Burke says, adding she believes the time has come for some changes. The benefits that tax reform brought to homeowners should be maintained, she suggests, but there have been windfalls for corporations that have been undeserved.
"I think there are a lot of people who are pushing for a split roll," Burke says, under which homeowners and corporate landowners would be assessed under differing sets of rules. At the time of Proposition 13, homeowners paid only a third of all property taxes, she asserts.
"Now they pay two-thirds of the property tax," Burke points out. "So there obviously is something that needs to be done. So I believe that when they transfer some of these big buildings, if it's done by a stock transfer, that there should be the same kind of reassessment that occurs when I transfer my house. So I believe there has to be some equity."
Whether that is likely to happen anytime soon the supervisor hesitates to predict, noting that a state constitutional amendment would probably be required. But the impact on local government's cash flow crises would be substantial, she says.
If Burke sometimes seems like an apolitical politician, that may be because of the way she came into politics. She had to struggle to become an attorney during a time when the profession was still dominated by white men.
By her own count—the State Bar of California has no official figures—Burke was only the fifth African American woman to be certified to practice law in the state. And it happened at a time when women and people of color were rapidly breaking down barriers that had stood for decades if not centuries.
Burke gives much of the credit for her own entry into the field to the few African American California women who preceded her—among them Vaino Spencer, now presiding justice of Div. One of this district's Court of Appeal; retired Presiding Justice Arleigh Woods of this district's Div. Four; and Martha Malone Jefferson Louis, who was married to boxer Joe Louis.
| | |
| --- | --- |
| | |
| Burke in 1978 with Mayor Tom Bradley and Los Angeles Superior Court Judge Vaino Spencer. Spencer, now presiding justice of Div. One of this district's Court of Appeal, was the third African American woman to be admitted to the State Bar of California; Burke was the fifth. | |
Martha Jefferson was a particular model for her, Burke says.
"She was the one who I actually saw and whom I knew," Burke says, noting that Martha Jefferson practiced criminal law. Burke recalls as a child being with her parents in a Chinese restaurant at 8th and San Pedro when Jefferson entered with a group of people celebrating.
Lasting Impression
Burke says her mother explained that Jefferson had just been admitted to the bar. The experience left a lasting impression, as did a college sorority event which took place at the Jeffersons' home.
"I had a chance to really look around and say, 'Wow, so this is how they live,'" Burke remembers.
"I always had a different perspective of what was possible for me than maybe other young women, because my mother was a real estate broker," Burke observes. Spencer, she notes, had been a real estate broker as well.
Her father, a janitor for MGM Studios, was active in the Building Employees Union, and Burke—then Yvonne Watson—accompanied him on several picket lines.
| | |
| --- | --- |
| | |
| Burke with her father, James T. Watson, in 1974 at the christening of her daughter, Autumn Burke, the first child born to a sitting congresswoman. | |
With a union scholarship, she enrolled first at UC Berkeley and then at UCLA, where she received her undergraduate degree.
A union scholarship also helped see her through USC's School of Law, where she became the first black woman to be accepted to a sorority.
Her aim then, she says, was to become a civil rights lawyer, not a politician. She began her legal career as a private practitioner, specializing in probate and civil rights law.
But in 1964 she became a state deputy corporations commissioner and also served as a hearing officer for the Los Angeles Police Commission, and after the Watts riots in 1965, she was active in efforts to secure legal representation for persons arrested during the riot and became an attorney for the McCone Commission, which investigated the causes of the riots.
Burke remembers she did a lot of work on housing issues for the commission, finding that discrimination by lenders was keeping African Americans out of the housing market. The McCone Commission also said the absence of a hospital in south Los Angeles contributed to the riots, leading to the establishment of King-Drew.
First Run for Office
A group of attorneys involved in the McCone Commission talked her into her first political effort, Burke says, which led to her becoming the first black woman elected to the state Assembly in 1966. She defeated then-City Councilman Billy G. Mills in a bruising primary fight, and won not just the nomination but the heart of Mills' campaign manager, Los Angeles businessman William Burke, who became her second and current husband.
Among her colleagues during her years in the Assembly was now-Rep. Jerry Lewis, R-Redlands. Lewis, who later served with her in Congress as well, remembers her as "a talented and energetic young woman who cared about public affairs and was oftimes willing to set aside partisan political considerations."
| | |
| --- | --- |
| | |
| Burke, circa 1968, with Gov. Ronald Reagan. She had been elected to the Assembly in 1966. | |
The congressman adds:
"Yvonne was one of those people who was always willing to listen to human concerns."
Burke, who had investigated housing discrimination for the McCone Commission, became a victim of such discrimination herself while in the state Legislature.
After living with a roommate during her first term in the Assembly, Burke asked a legislative colleague to lease an apartment for her. When the landlords learned she was black, she says, "then they just cancelled my lease."
Burke was taken aback, she explains.
"It never crossed my mind that that could happen," she recalls. She filed a complaint and asked a white friend to apply for the same apartment.
When the friend was given a lease, demonstrating the unit was available, "that was the end of the case, and I moved in there too," the supervisor remembers.
Miami Convention
Burke made the move onto the national scene in 1972 when she chaired a volatile session of the Democratic National Convention in Miami, and later that year she was elected to Congress, becoming the first woman elected to the House from California in 20 years and the first black California congresswoman ever. Her daughter Autumn was born while she was serving in Washington—the first child ever born to a sitting congresswoman.
Burke fondly remembers her time in Congress, especially the tightly knit group of woman—about 19 of them—who made up the then-small contingent of female members of the House. Some of them remember her with equal warmth.
Then-Rep. Patricia Schroeder, D-Colo., says Burke's charm captivated many of her colleagues of both genders.
Schroeder, who is now president of the Association of American Publishers, came to Congress in the same year, as did the late Texas Rep. Barbara Jordan.
"We were under siege," Schroeder says, recalling how hard it still was then for women to be taken seriously in politics.
The always stylish Burke was then "drop dead gorgeous," Schroeder says. "She always looked like a model. Everybody fell in love with her."
She recalls the baby shower the women members organized before Autumn's birth, a "double date" she and Burke went on with their respective husbands, and a trip to China that included nearly the entire female House contingent during the International Year of the Woman.
Trip to China
The Chinese "had not thought through" the invitation to the American female politicians, and "had no idea what they were going to do with all of us," Schroeder explains, noting that while some of the congresswomen had a decidedly leftist bent that somehow did not lead them to sympathize with the way the Chinese communist regime was treating women. The members of the contingent "spoke a lot more freely" than anything their hosts were accustomed to, she says.
"It was hysterical," Schroeder recalls, though she quickly adds the trip—one of the first to China by any large American delegation—proved valuable to both sides.
Then Rep. Elizabeth Holtzman, D-N.Y., now an attorney with Herrick, Feinstein in New York, calls the China trip "really important," noting the women met with Deng Xioping, though the man who eventually succeeded Mao Zedong as China's leader was not then a familiar figure to Westerners.
Holtzman says she is "proud to be associated" with Burke and the other women who served in Congress in the early and middle 1970s, and recalls the supervisor as a "very intelligent, very nice, very gracious person."
Most impressive to her, Holtzman says, was the run for California attorney general that Burke made when she left Congress.
"I was very impressed that she was doing that," Holtzman says. "And I was very disappointed when she didn't win."
So, of course, was Burke. The 1978 race, in which she defeated now-Los Angeles Superior Court Judge Burt Pines for the Democratic nomination but lost in the general election to George Deukmejian, was her first serious political defeat, and it still rankles.
It was soon followed by a second, when Burke was unable to win election in 1980 to the Fourth District supervisorial seat to which Brown had appointed her, losing to Republican telephone company executive Deane Dana.
Both races were uphill battles for her. In her bid for attorney general she was handicapped by her lack of prosecutorial experience, and in the mostly conservative Fourth District a liberal Democrat was never an obvious choice for voters.
Burke won't come right out and say it, but she clearly believes race was a factor in both defeats. In the race against Dana, she recalls, she started polling at a little under 48 percent and was never able to climb higher.
"But see, I got caught up in two things—the same things I got caught up with in the attorney general race—busing and capital punishment," Burke comments. "Neither of which we have much to do with [on the Board of Supervisors]. Those were the issues that were used. And when you have a minority candidate those kinds of issues—."
She trails off, leaving the implication hanging.
Deukmejian, asked about the 1978 race, shows the graciousness of a winner.
"I don't think it was the right fit for her," he observes. "She did not have a strong record as it related to law enforcement issues. Her main approach in the campaign related to dealing with environmental issues, which are a part of what the Attorney General's Office does, but in the minds of the public, the public looks more to the Attorney General's Office for its law enforcement activities."
Deukmejian, noting he served with Burke in the Assembly, joins others who have worked with the supervisor in praising her demeanor.
"I always found her to be very serious in terms of her work," the former governor says. "She worked hard at what she did and she approached her tasks in a professional manner. She always conducted herself as a lady."
Her decision to leave Congress after three terms, Burke says, was not based on any dissatisfaction with the job. It was the commute that bothered her, she explains.
"I wanted to come back to California," the supervisor says, noting her husband remained tied to his work in Los Angeles. "Just commuting back and forth with a child at that point, I just—it was very difficult for me."
Return to Law Practice
After the 1980 defeat Burke returned to the practice of law, saying she was happy to be out of public life. For a decade she was a partner in the Los Angeles office of Cleveland's Jones, Day, Reavis and Pogue (now Jones Day).
Her law practice consisted mostly of public and municipal finance matters, but she also served on the Los Angeles Olympic Organizing Committee, the University of California regents, and the Board of Trustees of the Ford Foundation, the top grant-making private foundation in the country.
By 1992, Burke was ready for a return to politics, and she ran—with the incumbent's endorsement—to succeed Second District Supervisor Kenneth Hahn, a figure of almost mythical proportions in Los Angeles County's political history, who was retiring after 40 years in office.
The district, which includes the area in which Burke grew up, is a more natural fit for her than the Fourth District, though Burke is quick to point out that the Second District's African American population is only about 35 percent.
Two years after the election, in which she defeated state Sen. Diane Watson, Burke told the MetNews the county's dire financial straits were a major part of her motivation for making a run for the board. More recently, she also cited Hahn's wish to have a voice in choosing his successor.
Hahn health had been poor, and Watson and others had suggested he was no longer in tune with the needs of the majority-minority district he had represented for so long.
"Supervisor Hahn felt so strongly that he wanted to have input into the successor," Burke comments. "I think that he was sensitive to the fact some people said they were going to run no matter what—they were going to run against him if he didn't retire."
Though Burke won re-election without opposition in 1996 and 2000, there are some who suggest that the supervisor—who would by the end of another term in office be older than Hahn was when he retired—has herself lost touch with the needs of her constituents.
Roy Burns, president of the Association of Los Angeles Deputy Sheriffs, calls her approach to leadership "lethargic." Noting that ALADS has backed Burke in the past, Burns now says she has "been in office too long."
He adds:
"We believe her day is gone. She has become sedentary and fails to be a proactive leader. Look at your streets, look at your neighborhood. Why did Yvonne Burke let this happen?"
The current problems with King/Drew reflect badly on Burke's leadership, Burns says, describing the troubled facility as "on the verge of being shut down."
The deputies' union is engaged in a festering dispute with the county over stalled contract negotiations, and Burns has pledged to put $1.5 million into a campaign to unseat her. But while Burns acknowledges Burke has not supported the union's bid for a pay raise, he denies that is the sole basis for his opposition.
"This isn't about that pay raise," Burns asserts. "She no longer gets out in the community. She sits in her office all day long."
ALADS has recruited Guy Mato, a retired deputy, to run against Burke. Mato concedes he will have to battle a perception among some in the district that the Sheriff's Department has a bias against minorities, but says that when he was with the sheriff's street gang unit in Lynwood he had a good relationship with most area residents.
"The people that were not always in negative contact with us, loved us," Mato declares. He says he has gotten a positive reception in the district by stressing constituent services issues as well as public safety.
Welcomes Challenge
Burke says she is raising money and is ready for the challenge. Though she concedes she considered retiring after her current term ends, she says her health is good and she did not want to leave in the midst of a budgetary crisis.
"It was a close question for me," she says. "People say this is just not the time to have a change. At this point we have so many problems, that there is just a real need to get us through this fiscal crises, and once that's over, you know, hopefully in four years we'll be in a different economy."
She adds:
"My decision was really one of where, you know, you just have to decide, is this the time for me to quit? And frankly, at this age, my own personal feeling is that I'm not ready to retire and do nothing."
As for the deputies' union, Burke says she is sympathetic to their concerns and has raised private funds to support Sheriff's Department services.
Burns, she suggests, "probably thinks that I might be the key vote, that I might go on some of his issues, that I might more likely shift over."
She adds:
"I'm always willing to talk to people about anything, but I'm not going to bankrupt the county."
Burke's influence on the California political landscape can be seen in Sacramento as well as in Los Angeles County. Assembly Speaker Herb Wesson Jr., D-Los Angeles, served as her campaign manager and chief of staff with the Board of Supervisors before running for the Legislature and credits her for his subsequent political success.
"I wouldn't be the speaker of the California Assembly, I don't believe, if it was not for her," Wesson declares.
Wesson, who was then-Councilman Nate Holden's chief of staff before going to work for Burke, calls her "one of the most phenomenal persons I've ever worked for."
Burke, he says, is "in total control of her ego."
The Assembly speaker explains:
"You take your ego, you leave it at the door, and you get the job done. Working for her was a pleasure."
Of the decision by the MetNews to honor her as Person of the Year for 2003, Wesson says:
"You could not have picked a better person. She is a trailblazer."
Disagreements Not Personal
Knabe, who was on Dana's staff before succeeding him as Fourth District representative and often finds himself disagreeing with Burke on issues that come before the board, says their political disagreements have never become personal.
"We've always had a very, very good working relationship," Knabe says. "We never disagree on trying to solve problems together."
Third District Supervisor Zev Yaroslavsky calls his colleague a "political legend," noting that she was once the answer to a question on Jeopardy—though he says he can't remember what the question was.
"She has a tremendous amount of political courage, and an ability to make tough decisions," Yaroslavsky declares. "I consider it a privilege to serve with her."
The Third District supervisor says he remembers watching Burke on television during the 1972 convention when he was involved in the George McGovern presidential campaign.
Echoing Knabe, he observes:
"She's a class act, and she's got more experience than most people in politics and government and public service will ever have. She brings quite a bit of perspective to decisionmaking. She's result oriented, she's a problem solver—she is a relatively fiscally conservative person for a Democrat."
He gives Burke high marks for her performance as chair of the board this time around, noting she has also served as chair of the MTA board.
"She's fair but she's firm," Yaroslavsky says. "She keeps her cool. I don't think she exhibits a temper very often."
The job of chair, whether of the MTA board or of the supervisors, is "tougher than it looks," Yaroslavsky comments. For one thing, he notes, "when you're not chair you can do a lot of things while the meeting is going on."
Spencer, who has been a close friend of Burke's for many years, says she became a fan of Burke's even before meeting her in person, having heard reports of her law school moot court performances from friends.
"I do remember vividly the time when she first appeared in my court, and I was truly impressed," Spencer recalls. Spencer was a Los Angeles Municipal Court judge at the time, she remembers.
Spencer says she later encouraged Burke to run for the Assembly.
"I can't tell you how much pride I have taken in everything she has done," the jurist comments. "In my opinion she is a model for what a public servant should be."
Hostility Avoided
Among Burke's accomplishments, Spencer says, she counts her ability to be both feminine and strong without incurring hostility from the men around her.
"I have never heard any caustic remarks from the male population regarding her," Spencer says, explaining that such remarks regarding professional women were especially common in the years when Burke was launching her legal and political careers.
"She is quite an orator," the Court of Appeal presiding justice adds, observing:
"She has a tremendous sense of integrity, and sincerity just glows from her. I just marvel at her. If all of us did as well as she does this would be a much better world."
Burke says this will be her last election campaign. If she wins and completes another four-year term on the board, she says, she will retire.
"That's it," she asserts. "Just one term. This is absolutely it."
She foresees that issues like gang violence, housing, transportation, the extension of the Red Line, and federal funds for Exposition Park will play a part in her campaign to win a fourth term representing the Second District on the board.
"I don't think busing will, and capital punishment," she says with a mischievous smile.
Copyright 2004, Metropolitan News Company